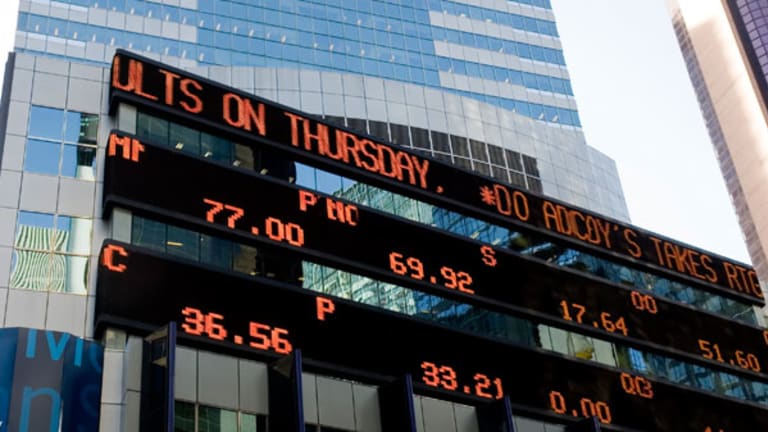 5 Euro Stocks From 5 Countries
Amid Europe's financial troubles, there are several eye-catching investment opportunities.
MILLBURN, N.J. (Stockpickr) -- There is no doubt that Europe is having its troubles. You can attribute this to a long list of problems that are evident across the pond. Here are several of those problems:
A central bank that continues to obsess on inflation rather than the dual mandate of the US Federal Reserve which concerns itself with both economic growth and inflation.
An economic confederation of many countries, called the European Union or EU that for centuries have battled; conquered; and, hated one another. Those cultural and nationalistic biases still exist despite the signing of the Maastricht http://www.eurotreaties.com/maastrichtec.pdf and subsequent Treaties.
Deep rooted socialism in many countries
A single currency for some but not all European Union members. This conflicts with the fact that each sovereign nation issues its own debt and has a different set of taxation laws and policies.
Commercial banks that are undercapitalized
Related:
Yet despite all of the above, there are many European companies that offer excellent investment opportunities. This Stockpickr article will offer up five European companies from five different nations which are worth consideration.
Statoil
(STO)
Home Country: Norway
Home Currency: Norwegian Krone (NOK)
Market Cap: $74.9 billion
P/E Ratio: 8.4
Dividend Yield: 4.7%
Statoil ASA is a global oil & gas drilling and exploration company. There are some interesting aspects to this company that allow it to stand out in Europe and within its sector. First is the fact that Norway is neither a member of the EU nor utilizes the Euro as its currency. This insulates that country and its companies from some EU problems.
Second is that the country's geographic location places it squarely in the areas where North Sea Brent oil is found. It is estimated that the Norwegian section of the North Sea contains a majority of the oil and natural gas reserves in the North Sea. North Sea Brent crude oil currently sells at about a $25 per barrel premium to the lighter
West Texas Intermediate
crude oil. Third, the company's dividend of 4.7% per annum, which is only paid annually, exceeds the annual dividend yields of
Exxon
(XOM) - Get Exxon Mobil Corporation Report
, 2.56%;
Chevron
(CVX) - Get Chevron Corporation Report
, 3.2%;
Conoco Philips
(COP) - Get ConocoPhillips Report
, 4.00%; and
BP
(BP) - Get BP p.l.c. Sponsored ADR Report
, 4.25%.
Reckitt Bensicker
(RBGPY)
Home Country: United Kingdom
Home Currency: Pound Sterling (GBP)
Market Cap: $39.5 billion
P/E Ratio:15.1
Dividend Yield: 3.6%
Reckitt Bensicker may not be a household name, especially in the U.S. However you might be quite familiar with many of its products. This nearly 200-year-old company sells products under brand names such as: Air Wick, Brasso, Clearasil, d-Con, Easy Off, French's Mustard, Lysol and Woolite. Reckitt Bensicker is in many ways a British cousin to
Clorox
(CLX) - Get Clorox Company Report
which is currently being sought after by Carl Icahn.
Can Reckitt Bensicker be a future acquisition target? Do not rule that possibility out. As a British company, Reckitt Bensicker is subject to monetary decisions made by the Exchequer of the UK and is denominated in pound sterling rather than the euro. If you are concerned about global economic conditions then this company as a purveyor of consumer staples offers a low risk investment in uncertain times.
Bayer
(BAYRY)
Home Country: Germany
Home Currency: Euro (EUR)
Market Cap: $53.0 billion
P/E Ratio: 22.8
Dividend Yield: 3.1%
When you think of Bayer the first thing that comes to mind is Bayer Aspirin. You would of course not be wrong but that brand only scratches the surface of what Bayer has to offer the world. The company operates three major divisions:
Healthcare - besides aspirin, the company produces a wide range of products including pharmaceuticals, consumer products, medical testing products and devices, and animal health products
Nutrition - a portfolio of agricultural and bio science products to help grow better crops and protect against pests
High Tech Materials - one of Bayer's largest segments which produces chemicals, plastics and polymers
Looking at Bayer, the company has a wide portfolio of products which are: stable, such as healthcare; high growth, such as agricultural; and cyclical such as the chemical business. While Germany is part of the EU and uses the euro as its currency, that country is the largest and best managed economy in the Eurozone.
L'air Liquide
(AIQUY)
Home Country: France
Home Currency: Euro (EUR)
Market Cap: $7.2 billion
P/E Ratio: 18.7
Dividend Yield: 2.5%
L'Air Liquide is one of the world's leading producers of gases and related products for industrial usage, health sciences and emission control. The company's two leading competitors,
Praxair
(PX)
with a $28 billion market capitalization and
Air Products & Chemicals
(APD) - Get Air Products and Chemicals, Inc. Report
with a market capitalization of $16.5 billion, are both based in the U.S., giving Liquide a strong regional presence in Europe. The company is also growing in the developing economies.
Furthermore L'Air Liquide has several growth drivers in energy, environmental control and health sciences which are less prone to the vagaries of European credit and economic problems than banking and consumer discretionary oriented companies. France is the second largest economy for countries that use the Euro as its currency.
Portugal Telecom
(PT) - Get Pintec Technology Holdings Ltd. Sponsored ADR Class A Report
Home Country: Portugal
Home Currency: Euro (EUR)
Market Cap: $7.5 billion
P/E Ratio: 9.0
Dividend Yield: 21.6%
Yes, Portugal is one of the PIIGS nations -- Portugal, Ireland, Italy, Greece and Spain. Even in those countries, there are stocks far less prone to the banking and governmental problems that plague those poorly fiscally managed nations.
In times like this I always think of widows and orphan stocks. These are stocks in the telecom, utility, pharmaceutical and basic food stuffs businesses that always generate profits and pay healthy dividends in good and bad times.
In the eurozone, Portugal Telecom fits that description. The company pays a very healthy dividend. However, the 2011 dividend per share of $1.868 was significantly higher than the 77 cents paid out in 2009 and 2010. Even at those old payout amounts, the stock would have a dividend yield worth calling home about.
RELATED LINKS:
>>5 Big Stocks to Trade for Gains in This Market
>>Adding Alpha With Leveraged ETFs
>>5 High-Yield Stocks Set for a Short-Squeeze Pop
Follow Stockpickr on
and become a fan on
Facebook.
-- Written by Scott Rothbort in Millburn, N.J.
At the time of publication, Rothbort held no positions in any of the stocks mentioned, although positions can change at any time.
Scott Rothbort has over 25 years of experience in the financial services industry. He is the Founder and President of
, a registered investment advisor specializing in customized separate account management for high net worth individuals. In addition, he is the founder of
, an educational social networking site; and, publisher of
The LakeView Restaurant & Food Chain Report
. Rothbort is also a Term Professor of Finance at Seton Hall University's Stillman School of Business, where he teaches courses in finance and economics. He is the Chief Market Strategist for The Stillman School of Business and the co-supervisor of the Center for Securities Trading and Analysis.
Mr. Rothbort is a regular contributor to
TheStreet.com's RealMoney Silver
website and has frequently appeared as a professional guest on
Bloomberg Radio
,
Bloomberg Television
,
Fox Business Network
,
CNBC Television
,
TheStreet.com TV
and local television. As an expert in the field of derivatives and exchange-traded funds (ETFs), he frequently speaks at industry conferences. He is an ETF advisory board member for the Information Management Network, a global organizer of institutional finance and investment conferences. In addition, he is widely quoted in interviews in the printed press and on the internet.
Mr. Rothbort founded LakeView Asset Management in 2002. Prior to that, since 1991, he worked at Merrill Lynch, where he held a wide variety of senior-level management positions, including Business Director for the Global Equity Derivative Department, Global Director for Equity Swaps Trading and Risk Management, and Director for secured funding and collateral management for the Global Capital Markets Group and Corporate Treasury. Prior to working at Merrill Lynch, within the financial services industry, he worked for County Nat West Securities and Morgan Stanley, where he had international assignments in Tokyo, Hong Kong and London. He began his career working at Price Waterhouse from 1982 to 1984.
Mr. Rothbort received an M.B.A., majoring in Finance and International Business from the Stern School of Business, New York University, in 1992, and a B.Sc. in Economics, majoring in Accounting, from the Wharton School of Business, University of Pennsylvania, in 1982. He is also a graduate of the prestigious Stuyvesant High School in New York City. Mr. Rothbort is married to Layni Horowitz Rothbort, a real estate attorney, and together they have five children.