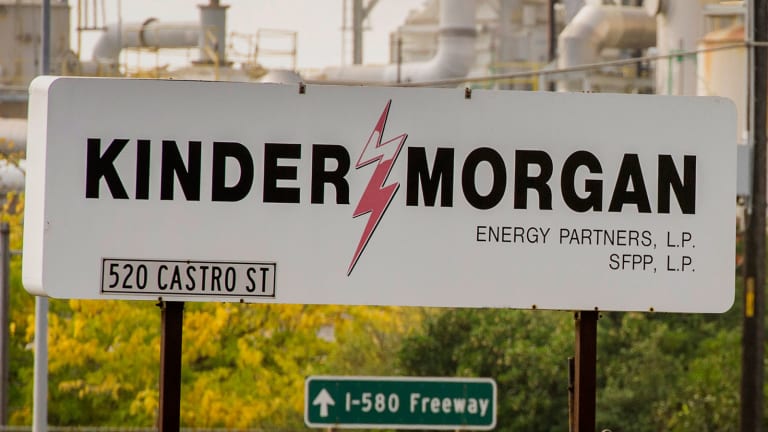 5 Energy Stocks Unfairly Tarred by Sliding Oil Prices
While energy stocks have spiraled amid a slide in oil prices, distribution companies like Kinder Morgan (KMI) will rebound more quickly because their business depends on sale volume, not revenue.
NEW YORK (TheStreet) -- While shares of oil and gas companies have plummeted as energy prices spiraled downward, firms that specialize in distribution are poised to rebound as investors figure out their business model depends more on the volume of oil sales than the cost.
So-called "midstream" energy companies, which typically use a fee-based business structure, have seen their shares hammered unfairly as investors flee oil stocks and investment bank Goldman Sachs predicts prices could drop as low as $20 a barrel. Already, spot prices for West Texas intermediate crude have dipped below $45.
Kinder Morgan (KMI) - Get Kinder Morgan Inc (KMI) Report , Dallas-based Energy Transfer Partners (ETP)  and Houston-based Enbridge Energy Partners (EEP)  are among the major North American energy storage and transportation companies whose income relies on volume and transportation fees, and consequently, is tethered much less directly to underlying commodity prices. Still, as crude oil lost about 50% of its value in the past 12 months, Kinder Morgan has dropped 20%, Energy Transfer Partners has fallen 22% and Enbridge has declined 29%.
"These companies have been thrown out with the bath water," Fadel Gheit, an analyst with Oppenheimer & Co., said in a phone interview. "It's similar to a domino effect, in the sense that if your neighbor gets the flu, so will you. People are selling everything that has to do with energy."
Part of the problem for midstream oil companies is that they're included in many exchange-traded funds, or ETFs, Gheit said. When investors sell holdings in the those funds, all the stocks suffer, regardless of whether falling oil prices crimp their revenue. The upside is that buyers stand to receive a considerably discount.
"Being that these companies are the largest in midstream, and people are selling out of energy, they've been punished more than they should have been," Eduardo Seda, an analyst with Ladenburg Thalmann, said in a phone interview. "I think when we get a floor with crude oil prices and you start to see a rebound, and as the sector starts to come back, that will take away the indirect pressure."
With more than 40,000 miles of natural gas pipelines in the U.S., as well as a host of crude oil distribution systems, Houston-based Kinder Morgan moves everything from natural gas to crude oil and gasoline throughout the southern U.S. Its business model "focuses on stable, fee-based energy transportation and storage assets that are central to the energy infrastructure of growing markets within North America," according to its annual filing with the SEC. 

The company has used the period of low prices to expand its distribution network to reach New England, in anticipation of a rebound in demand and prices, CEO Steven Kean said on the company's July earnings call. Since April, the company's backlog of projects has increased by $4 billion to $22 billion.
Other North American companies with large midstream businesses include Tulsa, Okla.-based Williams Companies (WMB) - Get Williams Companies, Inc. Report and Houston-based Spectra Energy (SE) - Get Sea Ltd. (Singapore) Sponsored ADR Class A Report , whose shares have dropped 22% and 30%, respectively, in the past year.
"Large cap energy infrastructure firms such as Kinder Morgan, Energy Transfer and Enterprise should be in a superior position to take advantage of energy sector turmoil via M&A," as Energy Transfer is attempting with its bid of about $50 billion for Williams, Ethan Bellamy, an analyst with Robert Baird, said in an e-mailed statement.
Crude oil prices will remain an "uber variable" for funds linked to energy stocks, he said, and widening credit spreads and global macroeconomic jitters, especially regarding the slowdown in China, will also play a role.
One indicator that energy distribution businesses face less risk, at present, is that movements in their stocks don't correspond as closely to changes in crude prices as do shares of producers. Sandridge Energy (SD) - Get SandRidge Energy, Inc. Report , Goodridge Petroleum (GDP) - Get Goodrich Petroleum Corporation Report  and Comstock Resources (CRK) - Get Comstock Resources, Inc. Report  tend to move nearly in lockstep with crude.
"Midstream has value because a lot of pipelines and transportation charge by volume -- it has nothing to do with price," Tim Crawmer, a senior investment manager with Aberdeen Asset Management, said in an interview.
Producers, on the other hand, have a long way to go before they find light at the end of the tunnel, with some needing oil to reach more than $100 a barrel just to start to break even. Some of the outstanding debt in those companies is now trading as low as 20 cents on the dollar, according to Crawmer.
TheStreet's Jim Cramer, portfolio manager for the Action Alerts PLUS charitable trust, blamed sliding oil prices on Saudi Arabian production, and said U.S. producers failed to anticipate the Middle Eastern country's actions. They never considered what might happen if Saudi producers decided to go to "everyday low pricing," he said.