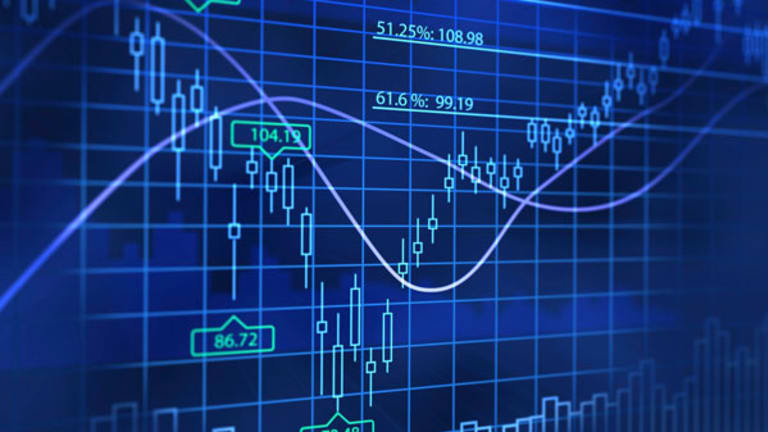 5 Energy Stocks Funds Love Right Now
Here's a look at five energy stocks that big-name money managers are holding right now.
BALTIMORE (Stockpickr) -- Crude. Black Gold. Texas Tea. Whatever you call it, we're talking about oil today.
That's because oil stocks dominated institutional performance in the fourth quarter of 2011. Last quarter, only three sectors -- consumer discretionary, energy and industrials -- saw an actual increase in buying pressure. But it was energy stocks (namely oil) that made the biggest moves; institutional holdings in energy increased more than discretionary and industrial stocks did put together.
Even though oil prices have been backing off for the last few sessions, there's still reason to believe that oil stocks are going to be seeing some of the biggest moves in 2012. Most important, crude oil still looks like a strong trade from a
, a factor that directly drives profits for oil firms.
>>10 Top Warren Buffett Dividend Stocks
That's why coattail investors (the retail investors looking to emulate big name portfolio managers) should be paying attention to the stocks big-name money managers are holding right now.
To do that, we're focusing on 13F filings. Institutional investors with more than $100 million in assets are required to file a 13F -- a form that breaks down their stock positions for public consumption. From hedge funds to mutual funds to insurance companies, any professional investors who manage more than that $100 million watermark are required to file a 13F.
In total, 3,151 firms filed the form for the fourth quarter of 2011, and by comparing one quarter's filing to another, we can see how any single fund manager is moving their portfolio around - and what investments are faring the best for them.
Today, we'll focus on
five institutional favorites in the oil business
.
Exxon Mobil
It shouldn't come as a big surprise that we're starting off with league leader
Exxon Mobil
(XOM) - Get Exxon Mobil Corporation Report
today. This $412 billion firm has been a favorite among institutions for years -- but Exxon really proved its worth last quarter when it was one of the few major fund holdings that managed to rally amid a tepid market.
All told, institutional investors' holdings in Exxon increased by $25.15 billion in the fourth quarter. For example,
picked up 1.09 million shares of Exxon, increasing its position in the stock to 1.18 million shares.
Exxon is the biggest integrated oil and gas firm in the world. The "integrated" part means that Exxon has its hand in every step along the way in the oil process -- the firm pulls crude out of the ground, transports it, refines it at one of its 36 facilities across the globe and even sells it to consumers through its gas stations. Not only does that give the company control over its product, but more important, it also gives Exxon control of its costs. That's a critical factor in Exxon's ability to keep wide profit margins.
In 2009, Exxon acquired XTO Energy in a $31 billion deal that dramatically increased Exxon Mobil's exposure to natural gas. As consumers cringe about the potential for a return to record high gas prices this summer, larger crude consumers could supplement their energy needs with dirt-cheap natgas, raising the price of the underperforming commodity.
That could have a big impact on XOM's bottom line in 2012 -- especially with the firm's already low-cost production.
Exxon shows on recent lists of
10 Companies in the "Ultimate Stock Pickers" Portfolio
and
10 Dividend Stocks to Own Until Retirement
.
Chevron
Chevron
(CVX) - Get Chevron Corporation Report
is another integrated oil name that fuelled gains for institutional investors last quarter. All told, the firm increased in value on funds' 13Fs by $16.21 billion, making it the second-favorite oil stock in mutual and hedge funds' portfolios in the final quarter of 2011.
In a very broad sense, the case for Chevron looks a whole lot like the one for Exxon Mobil right now. That's because they're both mammoth integrated oil supermajors with similar scale and operations. In the near-term, one benefit for Chevron is the fact that it has more of its production mix centered on high-priced oil rather than gas, an advantage that's at least in force for the time being.
>>Energy Stocks Bought and Sold by Hedge Funds
As with Exxon, Chevron's projects are spread across the globe, important diversification given the fact that oil production can be impacted on the whims of foreign leaders. Not concentrating production on a single region helps to ensure that the firm doesn't get shellacked from one geopolitical event.
From a financial standpoint, Chevron is in stellar shape, with $10 billion in debt more than offset by a $20 billion cash position. That's impressive for a capital intense business like oil exploration and production.
As the firm's financials reflect recent high oil prices, that cash should increase.
Chevron shows on lists of
15 Stocks to Ride the Energy Boom of the Next Decade
and
Large-Cap Dividend Stocks to Buy
. I also featured it earlier this month in "
5 Stocks to Trade for Breakout Gains
."
Schlumberger
While
Schlumberger
(SLB) - Get Schlumberger NV Report
isn't an oil producer, this well servicer still lives and dies by the oil industry. Schlumberger serves oil firms such as Exxon and Chevron, providing niche services like seismic surveys and well drilling and positioning.
It stands to reason, then, that SLB benefits when oil prices reach new highs. After all, new highs mean wells that were previously economically unfeasible now make sense. And more wells means more profits for Schlumberger.
The firm's expertise is critical to its success in the future. Oil firms turn to Schlumberger because the tasks they need to accomplish are too nuanced or proprietary to pull off in-house. So as long as the company continues to pour cash into R&D for drilling technology and software, the firm should continue to score contracts with everyone from supermajors to national oil companies.
International diversification is one of the big feathers in SLB's cap right now. In total, SLB has a presence in 85 countries, but the firm is a major player in Russia and Latin America, with smaller operations in Asia. That market positioning should keep SLB earning currencies that are backed by strong oil prices in 2012.
Institutional investors' holdings in SLB increased by $7.69 billion last quarter. Big holders include
Ken Fisher's Fisher Investments
and
.
Schlumberger is one of
7 Best Long-Term Stock Picks by Morgan Stanley
.
ConocoPhillips
Integrated oil supermajor
ConocoPhillips
(COP) - Get ConocoPhillips Report
isn't the biggest name in the oil business, but it's still not a small player. Last year, the firm produced more than 900,000 barrels per day of oil and 4.6 billion cubic feet per day of natural gas, and it ranked as the second-biggest refinery operator in the U.S. after Exxon Mobil.
ConocoPhillips' oil projects are one of the most unique things about the firm. That's because COP's projects are mostly located in the U.S., Canada, Norway and the U.K. While projects are fairly concentrated in those countries, they also happen to be countries with pretty limited geopolitical risk. Of course, that limited risk profile comes at a cost -- because ConocoPhillips bought many of its assets at inflated commodity prices, the firm doesn't enjoy the same levels of profitability as many of its peers do.
That said, ConocoPhillips' 3.42% dividend yield should keep investors interested in spite of lower margins. That dividend payout adds to the performance that this firm has already enjoyed in the last quarter and earns it a spot as one of
10 Top Warren Buffett Dividend Stocks
.
Funds saw their positions in ConocoPhillips increase in value by $4.7 billion at the end of 2011. The firm is the fourth-largest institutional energy holding right now.
ConocoPhillips also shows up on a list of
5 Stocks That Pay You Twise as Much as Treasuries
.
Occidental Petroleum
Occidental Petroleum
(OXY) - Get Occidental Petroleum Corporation Report
is having a good run right now. Year-to-date, shares of the $85 billion oil exploration and production firm have rallied nearly 13%, besting the broad market by a wide margin. And it's managed to turn out that performance by going against the grain with its growth strategy.
Unlike supermajors Exxon, Chevron, and ConocoPhillips, Occidental is a pure play on oil and gas production. The firm doesn't own refinery assets, and it doesn't own gas stations. But in many ways, that's a good thing -- refining and retail are lower-margin components of the business for integrated supermajors. By focusing on the big money part of the oil business, Occidental enjoys dramatically larger margins than the other three stocks.
Much of OXY's growth comes from squeezing every last drop out of oil and gas wells that are approaching the far end of the production curve. While those alternative oil recovery strategies are costlier than traditional approaches, they're paying off in spades for Occidental's projects right now. By buying older wells cheaply in places like California, Occidental should be able to capture more cost-effective oil in the near- to mid-term. And for oil companies, recovery cost is king.
Occidental Petroleum ranks as the fifth-largest energy position in institutional portfolios right now, thanks in part to a $13.6 billion increase in value in the fourth quarter. (
added 1.2 million shares.)
Occidental shows up on a list of
5 Oil & Gas Stocks Headed Higehr in 2012
.
To see these stocks in action, check out the
Institutional Energy Sector Buys portfolio
on Stockpickr.
-- Written by Jonas Elmerraji in Baltimore.
RELATED LINKS:
>>5 Stocks Poised for Breakouts
>>7 Hot Stocks on Traders' Radars
>>5 Stocks to Quench Your Portfolio's Thirst
Follow Stockpickr on
and become a fan on
Facebook.
At the time of publication, author had no positions in stocks mentioned.
Jonas Elmerraji is the editor and portfolio manager of the Rhino Stock Report, a free investment advisory that returned 15% in 2008. He is a contributor to numerous financial outlets, including Forbes and Investopedia, and has been featured in Investor's Business Daily, in Consumer's Digest and on MSNBC.com.