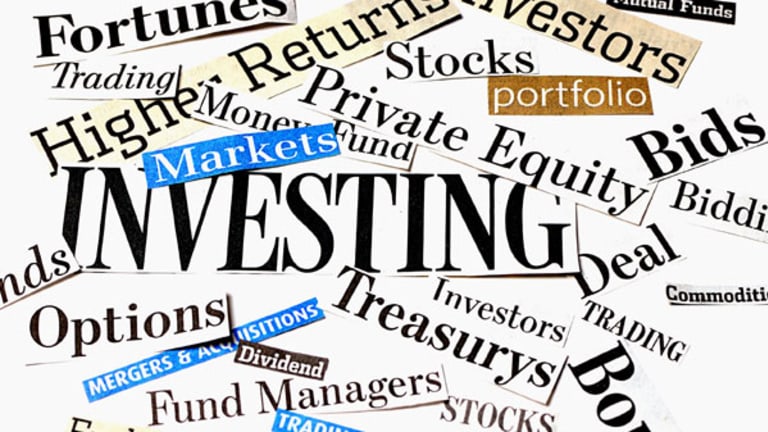 5 Earnings Trades for the Week
Here's how to play five stocks reporting earnings this week.
MINNEAPOLIS (Stockpickr) -- The earnings reports are coming fast and furious. So far it is a mixed bag. With stocks hitting Dow 12,000 today for the first time since June 2008, the numbers will have to be more inspiring. Perhaps that is what we will see with the plethora of reports coming during the remainder of the week.
Steel companies
U.S Steel
(X) - Get United States Steel Corporation Report
and
AK Steel
(AKS) - Get AK Steel Holding Corporation Report
reported losses for the fourth quarter. Excluding items, AK Steel posted a loss of 49 cents per share. Analysts were expecting a loss of 64 cents per share. More important, the steel company was optimistic in its guidance for 2011. The news sent AK Steel shares up by more than 7.5%.
Those betting against
Eastman Kodak
(EK)
were rewarded with a big stock dump on Tuesday. Shares plunged more than 13% after a court determined that
Apple
(AAPL) - Get Apple Inc. Report
and
Research In Motion
(RIMM)
did not violate Kodak patents with respect to viewing photos on popular cell phone devices.
Related:
Rubbing salt in the wound was Kodak's earnings report. The company missed revenue and profit estimates. Citing a 25% decline in digital revenue, Kodak lost 37 cents per share vs. the analyst estimate of a 2-cent loss. That is a big miss and offers further evidence that the former film giant is becoming irrelevant in the age of smartphone devices.
For the rest of the week we get numbers from companies in a variety of sectors. We'll get a good read on the economy with the results. Here is a look at
some of the many companies reporting results the rest of the week
.
Altria
Tobacco king
Altria
(MO) - Get Altria Group Inc Report
is likely to report strong earnings when it releases results on Thursday. No matter what transpires in the economy, tobacco does well. This company is a cash cow.
As for the stock, shares of Altria have done well in the past year, faring better than the overall market. Considering the stock pays a 6% dividend, the more-than-double-digit total return is fantastic. Given the addictive nature of its products the stock is a near no brainer.
Despite the gains, shares of Altria trade for just 12 times 2011 estimates. Traders may find an opportunity owning this stock in advance of earnings should the company beat estimates as it has done in two of the last three quarters.
Analysts expect big MO to post a profit of 44 cents in the latest quarter. With economic stress still high, I suspect the company found more tobacco sales than expected. I expect a beat and a 3% to 5% increase in share price as a result.
Altria is a top holding of
David Dreman at Dreman Value Management
, comprising 1.2% of the total portfolio, as well as a holding of the
(VICEX). According to some fund managers, the stock is one of the
best dividend stocks to play defense in 2011
, and with a
B buy rating from TheStreet Ratings
, it's one of the
.
AT&T
Verizon
(VZ) - Get Verizon Communications Inc. Report
reported strong earnings without the help of Apple and its iPhone. Investors can expect a good quarter from
AT&T
, too, but this might be the last hurrah. The company's exclusive contract with the smartphone king is over, and Verizon will soon get its share.
For the fourth quarter, analysts expect AT&T to make 55 cents per share. In the last year, the company has been fairly steady, essentially meeting estimates right on the button. Look for more of the same with this next report.
Shares are on tenuous footing heading into the report. If we see a miss, that could be the last straw for longs. It would be easy to bail on the company, and in the current environment most investors are taking the easy path.
More important than the results will be future guidance. Investors will want to know how the company plans to handle competition. I expect the company to discount products heavily in order to keep service plans intact.
That may just be enough to keep the stock at current levels.
As of the most recent reporting period, AT&T comprised 0.8% of
and 1.9% of
Louis Moore Bacon's at Moore Capital
. Based on cash flow per share, AT&T is one of the
10 cheapest Dow dividend stocks for 2011
, and with a
B buy rating from TheStreet Ratings
, it's one of the
top-rated telecommunications stocks
.
Caterpillar
If you want a barometer of the global economy, look no further than
Caterpillar
(CAT) - Get Caterpillar Inc. Report
. The giant truck and heavy equipment maker reports earnings on Thursday. Will recent efforts by Chinese officials to slow growth negatively impact Caterpillar in the short run?
I doubt it. Investors have taken a wait and see approach as shares have traded sideways over the last month or two. That sets the stage for a big rally if earnings and guidance support continued global economic growth.
The company has beaten estimates in a big way during the last two quarters. Traders should expect no different this time around. Estimates call for a profit of $1.28 a share, a number that has held steady throughout the quarter despite the big earnings beats prior.
I expect another strong report and with it a commensurate 3% to 5% rally in the stock.
Major holders of Caterpillar include
Ken Fisher at Fisher Asset Management
and the
Bill and Melinda Gates Foundation Trust
. Caterpillar recently showed up on a list of
10 Dow stocks with the best three-year dividend growth
, and according to Dan Burrows at DailyFinance, it's one of
six stocks to consider for revenue growth
.
Green Mountain Coffee Roasters
It really has been a tough go for momentum stocks in 2011, but
Green Mountain Coffee Roasters
(GMCR)
had its comeuppance in 2010. After reaching a peak of nearly $38, sellers took hold and slashed $10 off the share price early last fall. After that debacle, the stock has recovered somewhat and now trades back near its peak.
Investors will know more about the future for Green Mountain when it releases results on Thursday. Analysts expect a profit of 17 cents a share for this fast-growing company now dominating the single-serve coffee market.
The big problem for Green Mountain is the significant run-up in coffee bean prices. Tight supply has resulted in inflation in coffee. It remains to be seen if the consumer market can withstand price increases on the retail level.
I would bet against it. Estimates for the company have been dropping over the last three months due to the increase in coffee prices. Typically reductions like this are directionally correct, but miss the mark.
Look for an earnings miss from Green Mountain and a big drop in share price. A loss of 10% or more in share price is not out of the question.
Green Mountain comprises 1.4% of
Steve Mandel's Lone Pine Capital portfolio
as of the most recent reporting period. TheStreet Ratings
.
JetBlue
Jet Blue
(JBLU) - Get JetBlue Airways Corporation Report
has yet to participate in the big rally in airline stocks. The company has lagged hub and spoke carriers
Delta
(DAL) - Get Delta Air Lines, Inc. Report
and
United
(UAL) - Get United Airlines Holdings, Inc. Report
, trading flat over the last two years. Over the last six months, JBLU has traded sideways.
In the current reporting period, oil prices were accelerating higher. We already have seen such an environment negatively impact results at Delta. The results for Jet Blue may be a bit different.
Given the sideways action in the stock, investors have no gains to lock in. At the same time, oil prices have moderated in 2011, declining modestly. That should help the future outlook for profit margins at Jet Blue.
The way I would play this earnings report is on the positive side. Analyst estimates for profits are at 7 cents a share. From a valuation standpoint, the stock is cheap. The company is expected to grow profit in 2011 by 45%, yet shares trade for only 12 times the 2011 estimate.
A beat or strong guidance for the future could lift shares significantly.
JetBlue is one of the top holdings of
Donald Smith at Donald Smith & Co.
With a
, it's one of TheStreet Ratings'
top-rated airline industry stocks
.
To see these stocks in action, check out the
at Stockpickr.
-- Written by Jamie Dlugosch in Minneapolis.
RELATED LINKS:
>>3 Ways to Play the Economic Dat in 2011
>>3 Stocks Poised to Break Out
Follow Stockpickr on
and become a fan on
Facebook.
At the time of publication, author had no positions in stocks mentioned. Jamie Dlugosch is a founder and contributor to
MainStreet Investor
and
MainStreet Accredited Investor
. Formerly, he was president and CEO of Al Frank Asset Management. He has contributed editorially to
The Rational Investor
,
The Prudent Speculator
,
Penny Stock Winners
and
InvestorPlace Media
.