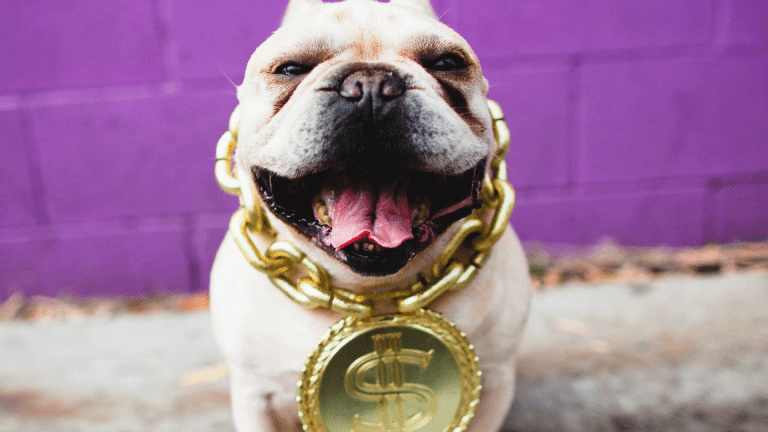 The Red-Hot Dow Has 5 Terrible Stocks That You Probably Should Avoid
They may not be dogs, but they're displaying canine-like qualities.
I have mentioned this in prior columns, but I am not a fan of the methodology of this well-known stock-picking method. Calling a stock a "dog" just because the company's management chooses to reward shareholders by returning what is truly their cash makes no economic sense. However, if you want to look at the Dow 30 and measure share price performance, as opposed to yield, that's a more valid exercise. Especially in 2017, as all three main indices race to record highs seemingly daily (and did so Thursday), owning a stock that is not joining the bull-market party can be painful. 
Looking at the "bottom 5" DJIA stocks in the first three quarters of the year indeed unearths some equities with canine characteristics. Will these dogs have their day? Here's my ranking of the DJIA's worst performers in terms of relative attractiveness today: 
Down 9.2% in 2017 through Sept. 29.
I frequently tell my clients, friends and basically anyone who will listen that investing in XOM is like investing in bonds (which I do regularly). Treat $80 as par value for XOM and when it dips below that level, buy it to lock in a 4% yield. XOM shares had a terrific September after starting the month at $76 a share (well into my "buy zone") and I am predicting a further rally in crude oil prices for the fourth quarter. So I am certainly not selling XOM here and keep reinvesting XOM dividends in more XOM shares. 
That can feel like treading water in a market dominated by FANG stocks, but it is generating a positive economic return. If West Texas Intermediate crude prices break out of their current range and head for $60 a barrel, XOM shares will surely pop through $90. The other variable for Exxon is the relative novelty of CEO Darren Woods, who took over the top slot in January. The 51-year old Woods has thus far done little to stamp his own image on a company whose culture was dominated for more than a decade by current Secretary of State "T-Rex" Tillerson. So watch out for Woods to make a big splash in the fourth quarter. Exxon could use a kick in the pants -- there are many potential M&A opportunities in energy -- and those generally help stock prices. 
Down 23.5% in 2017 through Sept. 29.
GE has been an eyesore on many long-term investors' screens for all of 2017. Much like Exxon Mobil, GE has undergone a leadership transition this year with John Flannery assuming the CEO reins from Jeff Immelt in June and the chairmanship (ahead of schedule) as of Monday. What can Flannery do to jump-start GE's moribund shares? Make acquisitions, and, as mentioned above, the most attractive valuations I see are in the energy sector. One can only speculate whether Flannery, who has never worked in any of GE's energy businesses, agreed with Immelt's aggressive push into the energy sector. That's irrelevant now. Given my bullish outlook for crude prices, I believe GE should continue to invest in Baker Hughes BHI -- GE still owns 62.5% of the shares after the partial spinoff -- and look to add other energy properties. Flannery needs to act quickly before GE slides further into irrelevance among institutional investors. 
General Electric is a holding in Jim Cramer's Action Alerts PLUS Charitable Trust Portfolio. Want to be alerted before Cramer buys or sells? Learn more now.
Down 7.3% in 2017 through Sept. 29.
VZ's solid and safe $0.59 quarterly dividend makes a nice addition to any income-stock portfolio. Verizon management needs to figure out how to maximize the company's returns as data usage skyrockets, and VZ's high yield gives investors cover until they do. 
Down 5.4% in 2017 through Sept. 29.
Cord-cutting, cord-cutting and more cord-cutting. Disney's 1.6% yield is not enough to offset a declining core business. I watch more sporting events than most Americans, but I rarely watch ESPN. The so-called "talent" at that network has done a great job of polarizing opinion by injecting their political views into sport and in so doing alienating ESPN's core audience. CEO Bob Iger is undermanaging this company. That puts the stock in the "avoid" category.
Down 12.6% in 2017 through Sept. 29.
I see no reason to own IBM shares and, for once, Warren Buffett and I actually agree on the attractiveness of an asset. "Avoid."
This column originally appeared on Real Money, our premium site for active traders. Click here to get great columns like this from Jim Cramer and other writers even earlier in the trading day.
More of What's Trending on TheStreet:
At the time of publication, Jim Collins was long XOM, although positions may change at any time.