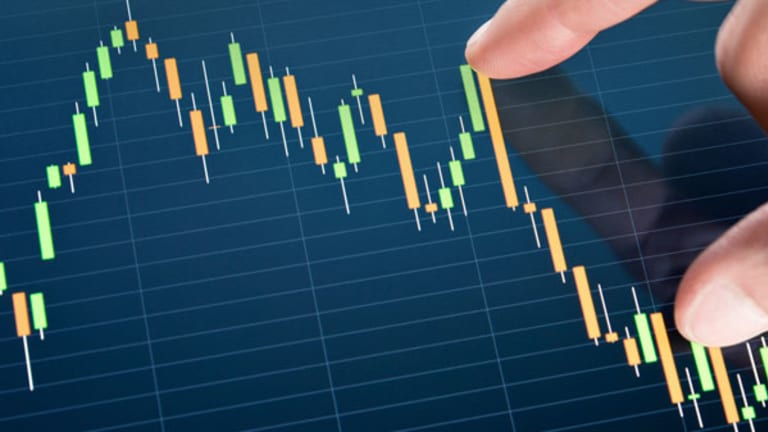 5 Dividend Winners Better Than Treasuries
With so many investors willing to take a penalty to jump into the safety of "risk free" assets such as Treasuries, these dividend winners offer a much more attractive alternative.
With so many investors willing to take a penalty to jump into the safety of "risk free" assets such as Treasuries, these dividend winners offer a much more attractive alternative.
BALTIMORE (
) -- As a dividend investor, it's critical to strike a delicate balance. After all, you want to find dividend payers whose payouts are big enough to be meaningful to your returns but not big enough to be at risk of a dividend cut. You want to invest for income, but not chase yield.
Those are hard objectives to achieve without the benefit of hindsight. But a handful of firms is doing just that. They're the dividend winners.
>>5 Stocks Poised for Breakouts
To fall into the group, a stock has to meet a couple of criteria. First, it's got to pay a growing dividend that's beat inflation over the last few years. Second, its share price has to have managed to keep its head above water over that same time period. While those criteria are pretty loose, only a handful of stocks made the cut.
I've said before that we're in a toxic environment for investors. Interest rates are smashed as close to zero as they can get, while the
Fed
keeps their foot floored on the inflation accelerator pedal. With so many investors willing to take a penalty to jump into the safety of "risk free" assets such as Treasuries, these dividend winners offer a much more attractive alternative.
They don't just beat Treasuries right now -- dividend payers also historically beat all other stocks as well.
>>5 Stocks With Big Insider Buying
Over the last 36 years,
have outperformed the rest of the S&P 500 by 2.5% annually, and they outperformed nonpayers by nearly 8% every year, all while paying out cash to their shareholders, according to data compiled by Ned Davis Research. The numbers are even more compelling when looking at companies that consistently increase their payouts.
That's why we pay close attention to the firms that are shoveling more corporate cash to shareholders. With that, here's a look at
five dividend winners worth owning right now
.
General Mills
Cereal lovers rejoice!
General Mills
(GIS) - Get Report
tops off our list of dividend winners this week. General Mills is best known for cereal brands like Cheerios and Lucky Charms, but the firm's food portfolio also includes diversified brands such as Pillsbury, Betty Crocker and Haagen-Dazs. Currently, General Mills pays a 3.31% dividend yield.
>>8 Stocks With Big Dividends, Steady Returns
General Mills' portfolio isn't just diverse, it's also powerful. The firm's Cheerios brand is the No. 1 cereal brand in the world, with more than 12% of the market. That brand power points to customer stickiness. While consumers are willing to trade down some household products when times get tough, food is one of the last things consumers are willing to switch to store brands.
Only around 25% of General Mills' revenues have come from overseas in recent years, leaving a large spot for growth. The firm's international distribution deal with
Nestle
(NSRGY) should help to accelerate the top line quickly.
Financially, General Mills is in strong shape, with more than $1.5 billion in liquidity on its balance sheet, and a more than tenable debt load. That should pave the way for GIS to keep upping its annual dividend payouts.
The firm's next quarterly dividend hits investors' accounts on Nov. 1.
CSX
Railroad giant
CSX
(CSX) - Get Report
is doing a good job of reminding investors that the railroad is still relevant in 2012. The firm boasts 21,000 miles of track spread across the eastern U.S., shipping coal, chemicals and intermodal containers across its network.
Efficiency has been the name of the game at CSX for the past few years. The firm has boosted net profit margins by trimming its biggest costs and working to keep its trains moving on time.
>>5 Big Stocks to Trade for Gains
In the world of triple-digit crude oil prices, trains make a lot of sense for freight shippers. While trucking (the biggest alternative to rail freight) is generally a more simple solution for a distribution chain, it's also more expensive -- generally four times more expensive than train shipping per ton. That's a material difference as fuel costs cause shipping costs to swell. CSX also has a big advantage in its location. The firm's tracks are focused on the eastern U.S., where the majority of the population is located; that means that products going to the big cities on the eastern seaboard need to use CSX's track.
While the railroad industry is pretty highly leveraged, CXS's debt load is better than most. That's helped the firm to continually increase its dividend payout for investors. Right now, the firm pays a 2.72% yield. CXS's next dividend gets paid out on Dec. 14.
McDonald's
With shares down more than 12% this year,
McDonald's
(MCD) - Get Report
isn't getting much love from investors right now -- but it should be. McDonald's is the standard bearer in the fast food business, with almost 34,000 locations in 119 countries. The firm has made some huge strides in improving its image, adding healthier choices and high-growth offerings like angus burgers and premium coffees to its menu. Those changes helped make McDonald's one of the few names that actually grew its business during the Great Recession.
>>3 Hot Stocks to Trade (or Not)
McDonald's has a pretty unique approach to opening new stores. While many investors don't realize it, McDonald's often owns the land underneath franchised store locations, generating bigger royalty streams from each location than rival quick service restaurant chains. That helps the firm generate substantial cash that it's historically passed onto shareholders in a big way. Currently, McDonald's pays out a Super Sized 3.53% yield.
At the end of the day, the amount of money that McDonald's stores generate acts as a positive feedback loop for MCD; with average annual sales of $2.7 million per location, franchisees will want to keep opening up McDonald's stores over other franchises simply because they're so much more lucrative to own. That abundance of locations, in turn, keeps McDonald's the dominant fast food franchise worldwide.
Despite this year's underperformance, McDonald's looks primed to keep besting the market in the long-term. The firm's latest dividend hike hits investors' accounts on Dec. 17.
Church & Dwight
Church & Dwight
(CHD) - Get Report
is a consumer product maker that's often ignored by investors who favor its bigger peers. But that doesn't change the fact that this mid-cap name owns a portfolio that's full of household-name brands: Arm & Hammer, Oxiclean, Nair and Orajel are some of the best known ones.
Arm & Hammer in particular is a cash cow for Church & Dwight. Close to 90% of American households buy Arm & Hammer products, a level of consumer stickiness that few other consumer stocks can boast.
With nearly saturated markets here at home, Church & Dwight has shifted its focus onto a few fronts: cutting costs on its mainline products, introducing new names to grocery shelves, and expanding its reach internationally. On the cost front, C&D has done an admirable job keeping costs low in an environment where cost inflation is a big concern for manufacturers; the firm has managed to keep its net profit margins in the low double-digits.
It probably goes without saying that Church & Dwight doesn't have the wherewithal of its blue chip peers. That said, the firm does have adequate liquidity on its balance sheet as well as a debt load that's more than manageable. Currently, C&D's dividend payout weighs in at just shy of 2%.
Digital Realty Trust
Last up is
Digital Realty Trust
(DLR) - Get Report
, one of my favorite real estate investment trusts. Digital Realty is a commercial real estate landlord that owns 16.8 million square feet of leasable space used for datacenters, internet gateways, and manufacturing facilities for technology firms.
Digital Realty's niche focus gives it some big advantages. For starters, demand for internet data centers and gateways continues to grow as data-driven services (like cloud storage) continue to grow in popularity. As long as firms need more virtual space to store data, they'll also need more physical space to store servers; that's space that DLR is uniquely qualified to provide. And as a result, switching costs are high for tenants who decide to lease space from Digital Realty.
The firm's legal status as a REIT effectively means that it's a purpose-built income generation machine. Like other commercial REITS, the firm leases properties on a triple-net basis, leaving costs like maintenance, taxes and insurance up to tenants.
DLR is obligated to pay out the vast majority of its income directly to investors in the form of dividends, one reason for the firm's massive 4.55% yield. Investors looking for real estate exposure could do a lot worse than this dividend winner.
To see these dividend plays in action, check out the
Dividend Stocks for the Week portfolio
on Stockpickr. 


And if you haven't already done so,
today to create your own dividend portfolio.
-- Written by Jonas Elmerraji in Baltimore.
RELATED LINKS:
>>5 Stocks Under $10 Set to Soar
>>Dow 55,000? It's Closer Than You Think
>>5 Fast-Growing Mid-Caps for a Rebounding Economy
Follow Stockpickr on
and become a fan on
Facebook.
At the time of publication, author had no positions in stocks mentioned.
Jonas Elmerraji is the editor and portfolio manager of the
Rhino Stock Report
, a free investment advisory that returned 15% in 2008. He is a contributor to numerous financial outlets, including
Forbes
and
Investopedia
, and has been featured in
Investor's Business Daily
, in
Consumer's Digest
and on
MSNBC.com
.