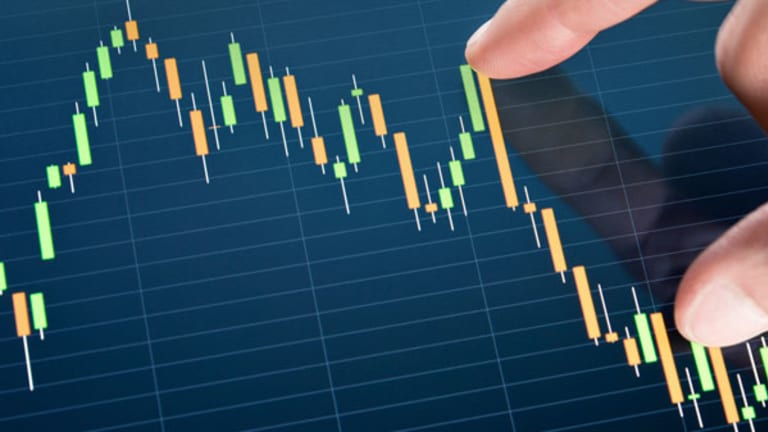 5 Dividend Stocks That Want to Pay You More
These companies could be about to increase their dividend payouts to shareholders.
BALTIMORE (
) -- Dividend stocks haven't exactly grabbed the spotlight in 2013. With the broad market up around 26% since the calendar flipped over to January, momentum -- not staid dividend payouts -- has been the place to be as an investor this year.
>>5 Stocks Under $10 Set to Soar
But while most folks focus on capital gains, they're missing a truly big story in dividend stocks right now. Interest rates continue to be smashed to the ground;
Fed
taper or not, that's unlikely to change in the near-term. So, as I write, the spread between stock dividend yields and bonds is higher than it's ever been, which means that for income investors, stocks have never been more attractive. And with record cash on corporate balance sheets this year, those payouts just keep getting bigger.
Zoom out, and the numbers are even more impressive.
Over the last three and a half decades, dividend stocks have outperformed the rest of the S&P 500 by 2.5% annually, and they outperformed nonpayers by nearly 8% every year, all while paying out cash to their shareholders, based on data compiled by Ned Davis Research. The numbers are even more compelling when looking at companies that consistently increase their payouts.
To take advantage of that trend today, we're focusing on dividend stocks that look ready to hike their payouts. So instead of chasing yield, we'll try to step in front of the next round of stock payout hikes.
>>5 Big Trades for a Fed Taper
For our purposes, that "crystal ball" is composed of a few factors: namely a solid balance sheet, a low payout ratio, and a history of dividend hikes. While those items don't guarantee dividend announcements in the next month or three, they do dramatically increase the odds that management will hike their cash payouts.
Without further ado, here's a look at
five stocks that could be about to increase their dividend payments
in the next quarter.
General Electric
You can't find a more prototypical blue-chip stock than
General Electric
(
), so it's not hugely surprising that GE is having a stellar year in 2013. Where the broad market goes, GE goes too, and shares of the $272 billion conglomerate have climbed more than 28% year-to-date. But it's the firm's hefty 2.82% dividend yield that investors should be paying attention to from here. It looks well-positioned for a hike in the near-term.
>>Profit From 5 Trades Warren Buffett Made
General Electric is involved in a broad spectrum of manufacturing segments, from making jet engines to wind turbines and medical equipment. Even if that collection of businesses seems disparate, management has found ways to maximize internal efficiencies. The wind turbine business, for instance, can benefit from the advances that the firm is making in the jet engine business -- and the firm can make money by financing all of those customers through its GE Capital arm. That uncanny ability to let no efforts go unleveraged has kept GE's fortunes on the ups throughout the bumpy economic cycles in recent years.
Financially, GE is in solid shape. While the capital-intense nature of General Electric's business necessitates some leverage on GE's balance sheet, the firm boasts $130 billion in cash and investments, more than enough dry powder for the day-to-day. With solid profitability, investors should be on the lookout for a boost to GE's 19-cent quarterly payout.
Wal-Mart Stores
Wal-Mart Stores
(
) are putting their war paint on. Black Friday, the biggest shopping day of the year, is just a week away, and the biggest shopping day of the year at the biggest retailer in the world is no joke.
Wal-Mart's $470 billion in annual sales are spread across a footprint of around 10,000 stores worldwide. Being the low-cost leader and making money clearly isn't mutually exclusive: consistently solid levels of profitability fuel a 2.38% dividend yield.
>>5 Stocks Insiders Love Right Now
Wal-Mart has built a reputation in the last few years for being a ruthless negotiator - the firm's utterly massive scale means that it has considerable pricing power with suppliers. A contract with Wal-Mart can make or break a business. That cost advantage has trickled down to a price advantage in stores. As the rivals try to sell items for the lowest cost, Wal-Mart is typically unbeatable here at home.
Internationally, WMT has been a slightly different story. The firm's international stores have failed to match the excellent returns on investment that U.S. stores have delivered for the chain, tempering analysts' lofty expectations for shares in the last five years. Still, unmatched scale means that Wal-Mart still cranks out massive profits. Currently, those translate into a 47-cent quarterly dividend, but after four quarters of a fixed payout, WMT looks ready to give investors a raise.
CVC Caremark
2013 has been a blockbuster year for shareholders in
CVS Caremark
(
). Since the first trading session in January, shares of the pharmacy giant have climbed 37%, besting the S&P's already impressive returns by a 10% margin. Maybe, then, the firm can be forgiven for a 1.36% yield that's puny compared with the other names on our list of potential dividend-hikers.
>>5 Toxic Stocks to Sell Before It's Too Late
The CVS name is synonymous with retail pharmacies. The firm boasts more than 7,000 around the country and more recently around 500 in-store MinuteClinic health clinics that provide cheaper alternatives to conventional physician's offices for health screenings and minor medical treatments. But that's only half the story. Since 2007, the firm has become one of the largest pharmacy benefit managers in the country, handling more than 1 billion prescriptions each year.
Even though the PBM business is low-moat and even lower-margin, it fits perfectly with CVS' bread and butter retail pharmacy business, giving the firm a bigger piece of the pharmaceutical pie than either individual side of the house would otherwise bank. A rising demographic tide should lift all ships in the health care sector in the near-term, CVS among them. And with a 22.5-cent dividend payout going four quarters strong now, investors are due for a dividend hike.
Ford Motor
Ford Motor
(
) is another name that looks primed for a dividend hike. The $67 billion automaker currently pays out a 10-cent quarterly dividend that adds up to a 2.34% yield at current price levels, but breakneck profit growth and improving economic fundamentals suggest that the firm is due for a dividend hike.
>>4 Stocks Spiking on Unusual Volume
Ford is the best-in-breed of the Detroit automakers. That's not to say that the bar was that high -- Ford just had to not go bankrupt to claim its status as the investor favorite. But what's key is that Ford has become a consumer favorite too in recent years. A complete revamp across Ford's lineup has left the firm with solid reviews from auto journalists as well as customer rankings that landed the firm in the coveted top tier for initial quality. And now, with interest rates scraping along historic lows, the barriers to getting into a new car have dropped dramatically for many consumers. We're now in an economic environment that feels purpose-built for selling cars.
Good execution has been a hallmark at Ford. The firm's shareholders were the big winners in 2008 by holding onto their equity in the firm while still getting access to cheap capital and leverage over untenable labor costs. Today, Ford's break-even is far lower than it's been in decades, and an investment-grade credit rating has been paired with management dishing out increasing dividends. Look out for another raise in the next quarter.
T. Rowe Price
From one best-in-breed stock to another,
T. Rowe Price
(
) is one of the most attractive publicly traded asset managers on the market today -- and no, not just because I started my career there.
T. Rowe Price manages more than $647 billion in assets, with close to two-thirds of those dollars concentrated in retirement accounts. T. Rowe's corporate approach to investing has been its biggest asset in an anxiety-inducing market. The firm generally shies away from risk, even if that means underperforming ripping bull markets. That paid off when markets turned sour in 2008, and constant equity allocations helped the firm's funds bounce back in a big way in the years that followed. With more than 70% of funds beating their long-term Lipper averages at the moment, TROW is doing a very good job of demonstrating to its clients why they pick the Baltimore-based firm.
In a lot of ways, T. Rowe Price is a leveraged bet on an extended stock rally. As stocks continue to climb and more investors participate in the market again, T. Rowe is swelling its AUM (and thus its fees) on two fronts. Bigger profits point to a dividend hike for the firm's 38-cent quarterly payout. Right now, the firm's dividend totals a 1.89% yield. Look out for a hike in the next quarter.
To see these dividend plays in action, check out the at
Dividend Stocks for the Week portfolio
on Stockpickr. 


-- Written by Jonas Elmerraji in Baltimore.
RELATED LINKS:
>>3 Biotech Stocks Under $10 Moving Higher
>>5 Earnings Short-Squeeze Plays
>>3 Stocks Breakout Out on Big Volume
Follow Stockpickr on
and become a fan on
Facebook.
At the time of publication, author had no positions in stocks mentioned. Jonas Elmerraji, CMT, is a senior market analyst at Agora Financial in Baltimore and a contributor to
TheStreet
. Before that, he managed a portfolio of stocks for an investment advisory returned 15% in 2008. He has been featured in
Forbes
,
Investor's Business Daily
, and on
CNBC.com.
Jonas holds a degree in financial economics from UMBC and the Chartered Market Technician designation. Follow Jonas on Twitter @JonasElmerraji