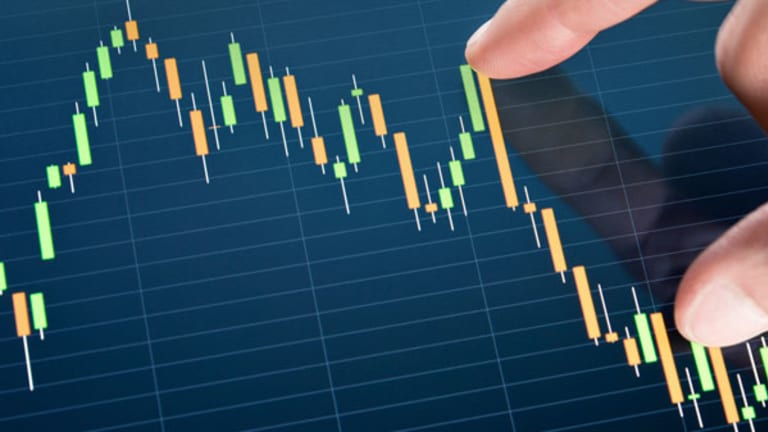 5 Dividend Stocks That Want to Pay You More
These stocks could be ready to increase their dividend payouts to shareholders.
These stocks could be ready to increase their dividend payouts to shareholders.
BALTIMORE (
) -- When's the last time you got a raise? If you're a dividend investor, the answer should be "earnings season."
>>4 Big Stocsk on Traders' Radars
Dividend payouts and earnings season go hand in hand. Earnings season is the time each quarter when companies report their results to Wall Street, and it's also the time when those same firms typically announce changes to their dividend payouts. And with dividends setting all-time highs on the heels of another 14% boost in the
S&P 500's
payouts in the last 12 months, most income investors should be feeling the love this summer.
As the broad market bumps up against new all-time highs right now, the allegation that "stocks are expensive" is getting tossed around. I think that's flawed thinking. Sure, stocks cost more now, but they pack a much bigger fundamental punch than they ever have before. Looking at drivers of shareholder value, cash and corporate profits are both at record levels right now; as companies look for ways to put that wherewithal to work in a nearly zero-rate environment, dividends are one of the few options the C-suite has.
>>5 Stocks Insiders Love Right Now
In recent months we've had some stellar success in finding future dividend increases just by zeroing in on a few key factors. Now we'll look at our crystal ball and try to do it again.
For our purposes, that "crystal ball" is composed of a few factors: namely a solid balance sheet, a low payout ratio and a history of dividend hikes. While those items don't guarantee dividend announcements in the next month or three, they do dramatically increase the odds that management will hike their cash payouts, especially as investors start to get antsy about whether or not 2013's rally will be able to hang on.
>>5 Bargain Bin Stocks to Buy in 2013
Without further ado, here's a look at
five stocks that could be about to increase their dividend payments
in the next quarter.
Johnson Controls
2013 is panning out to be a stellar year for
Johnson Controls
(
). Shares of the $28 billion industrial manufacturer have been rallying almost 35% year-to-date on the heels of booming real estate and automotive sectors. Right now, JCI pays out a 19-cent quarterly dividend that amounts to a 1.84% yield. With third-quarter earnings behind it, investors should expect a raise in the coming quarter.
>>5 Stocks to Trade for Gains: Must-See Charts
Johnson Controls has three main businesses: HVAC systems, automotive interiors, and vehicle batteries. By a wide margin, JCI's biggest customer is the automotive sector, adding up to two thirds of the firm's total revenues. That's been an enviable position in the last year and change -- especially as a record fleet age and the Fed's zero-interest-rate policy incentivize consumers to upgrade their wheels. Growth in the HVAC business has helped to add onto that, particularly as construction growth in Asia and more efficient upgrades stateside drive revenues for HVAC services and equipment.
JCI has managed to grow its sales in each of the last four post-recession years, and with a stable balance sheet position that carries more than $1.4 billion in cash and investments, the firm has ample dry powder to boost its dividend payout. This stock has room to make up before its yield catches back up with its share price.
Kroger
Kroger
(
) has been enjoying its crown as the best-in-breed grocery stock lately; shares have been on fire following the firm's first quarter release at the end of June. Since the calendar flipped over to January, shares of KR have climbed more than 52%, making it one of the best-performing large-cap names of the year. And while dividends have taken a back seat, the grocer still pays out a decent 15-cent quarterly check to investors that adds up to a 1.5% yield. I'd expect management to boost that payout in the near-term.
>>3 Stocks in Breakout Territory
Kroger is a 130 year-old grocer that operates more than 2,400 supermarkets, 750 convenience stores, and 325 jewelry stores under a handful of popular brands. Those marquees include Ralphs, Fred Meyer, Kwik Shop and Turkey Hill in addition to the firm's popular brand name. A plan to buy Harris Teeter would add another major jewel to KR's crown in 2013.
One secret to Kroger's success has been gasoline. The firm uses fuel as a loss leader to pull in customers at nearly half of its locations. While many peers have copied that strategy, the existence of gas infrastructure at such a large percentage of its locations gives Kroger some built-in advantages. In many cases, rivals don't have the option to add fuel to as many of their own stores. As Kroger continues to perform, its dividend should continue to climb in kind.
Western Digital
Western Digital
(
) announced its fourth-quarter numbers yesterday, earning $1.71 per share on revenues of $3.7 billion. The numbers reflect a big tailwind in the computer storage business -- as cloud computing adds demand for server storage around the world, hard drive makers are working overtime to fill those orders. And WDC has been in "buy mode" to try and boost its scale.
>>3 Big Tech Stocks to Trade (or Not)
The firm's deal to acquire Hitachi's hard drive unit made the firm the biggest HDD maker in the world. And smaller tuck-in acquisition
Stec
(
) will round out the firm's solid state drive portfolio. Now that buying has subsided, though, management still needs to figure out what to do with WDC's hefty cash position. A dividend boost makes a lot of sense.
As of the most recent quarter, Western Digital carries $4.3 billion in cash, a large position that offsets less than $2 billion in debt. That means that more than 15% of Western Digital's market capitalization is made up of cold hard cash -- and that the firm's effective price-to-earnings ratio sits at a meager 8.5 after all of that it taken out. It's hardly a lofty price tag on a stock that's got some attractive industry trends at its back.
Currently, Western Digital pays out a 25-cent dividend for a 1.57% yield.
ConAgra Foods
Take a look at your pantry. If it includes names such as Parkay, Healthy Choice, Chef Boyardee or Orville Redenbacher's, you're helping to pay for
ConAgra Foods'
(
) 25-cent quarterly dividend. ConAgra is one of the largest major food processing companies in the world, with a broad stable of retail brands as well as a commercial business that supplies restaurants and food service clients. After holding its dividend constant for the last year, investors are hungry for a hike -- and they look likely to get it.
>>5 Stocks Under $10 Set to Soar
ConAgra's stable of brands generates significant cash, a critical component to any dividend payout. The firm's exposure to grocery shelves is set to rise too, thanks to the acquisition of private label food maker Ralcorp back in January. That boosted private label business should provide a nice volume complement to the firm's existing household name brands.
Cost inflation is still a big concern for firms like ConAgra. Despite the Fed's battle with deflation (and inflation's inability to remain at or above Bernanke's target rate), soft commodity prices remain at or near their historic highs. A spike in input costs would translate into a squeeze in margins. Right now, however, CAG is sporting hefty enough margins to support a dividend hike. Investors should stay tuned.
TD Ameritrade
Discount broker
TD Ameritrade
(
) has been loving every minute of 2013's rally in stocks. Higher equity prices translate into bigger commissions and margin fees for brokers, so it's no surprise that AMTD's share price has been doing even better than the S&P all the way up. All of that fundamental success should translate into a dividend boost for shareholders.
>>4 Unusual-Volume Stocks to Watch
Investors haven't been big fans of TD Ameritrade in the last few years. Low rates have been a major hurdle for the firm because they dramatically limit conventional income sources like float interest. At the same time, record low household participation in the stock market has harangued AMTD's ability to earn fees. But that's finally turning around. While households still don't have exposure to stocks by and large, margin debt it at record high levels right now as traders bet on both sides of the market, and the investors who do have exposure to stocks right now are picking up their trading.
Both of those factors have helped to reverse the downward trend in TD Ameritrades revenues. The firm's balance sheet looks even better right now - with around $5.6 billion in net cash on the books, AMTD is covering nearly a third of its market capitalization in cold hard cash. That greatly reduces the firm's risk for investors right now, and it provides a source for dividend payouts.
Currently, AMTD pays a 9-cent dividend. Expect that number to get boosted in the next quarter.
To see all of this week's Rocket Stocks in action, check out
at Stockpickr.
-- Written by Jonas Elmerraji in Baltimore.
RELATED LINKS:
>>5 Stocks Set to Soar on Bullish Earnings
>>5 Rocket Stocks to Buy for Earnings Season
>>4 Tech Stocks Spiking on Big Volume
Follow Stockpickr on
and become a fan on
Facebook.
At the time of publication, author had no positions in stocks mentioned. Jonas Elmerraji, CMT, is a senior market analyst at Agora Financial in Baltimore and a contributor to
TheStreet
. Before that, he managed a portfolio of stocks for an investment advisory returned 15% in 2008. He has been featured in
Forbes
,
Investor's Business Daily
, and on
CNBC.com.
Jonas holds a degree in financial economics from UMBC and the Chartered Market Technician designation. Follow Jonas on Twitter @JonasElmerraji