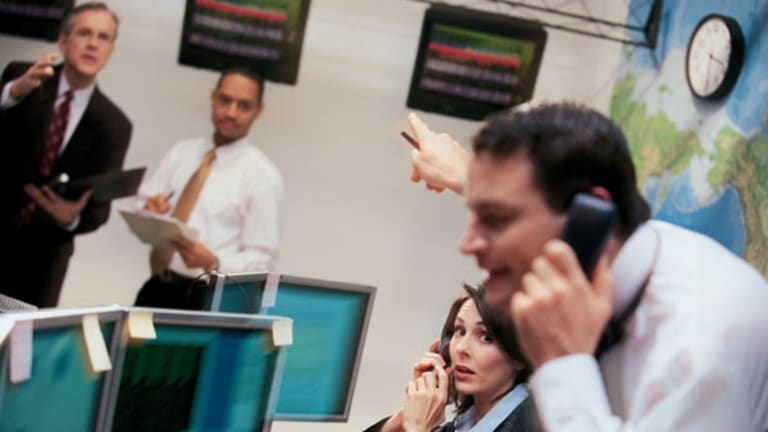 5 Dividend Stocks for Any Portfolio
These dividend stocks are worth a look no matter what the market does next.
MINNEAPOLIS (Stockpickr) -- Does this bull market have you nervous? Have we reached a top with stocks? Are we due for a pause -- or worse, a correction?
Investors could go crazy trying to answer such questions. Let's take a more rational approach to where we are at the current moment.
The economy is recovering, and stocks have crossed key psychological barriers. Things are quite good or at least that is the appearance. The
S&P 500
has approximately doubled in value since bottoming in March of 2009. Over the last six months, the gains have been basically in a straight line higher.
It is only natural for investors to be concerned. Nothing goes up forever. Stocks will at some point take a pause. I think that moment has arrived and that stocks will move sideways from here, building a base, if you will.
Related:
Top 10 Warren Buffett Dividend Stocks
For such a market, investors should consider investing in
. Rather than worrying about stocks going up or down, dividend stock investors can sit back and watch their corporations stack up piles of cash from operations.
With that cash, these companies pay out strong dividends that can be counted on, market top or market bottom. Here are
five dividend stocks to consider for your portfolio
.
Exxon Mobil
I start with oil giant
Exxon Mobil
(XOM) - Get Exxon Mobil Corporation Report
because of the mountains of cash produced by the company. Oil is in short supply, and prices are going up. On the surface, owning oil is a no-lose proposition: It will do well because demand exceeds supply, and that is exacerbated by a growing global economy.
Investors concerned about a possible correction can rest easy owning this cash flow behemoth. Exxon Mobil produces some $100 billion in revenue each quarter. With that cash, the company pays investors a solid 2% dividend yield.
You are simply not going to get hurt owning this stock. With unrest in the Middle East, oil prices go up. That's more cash for Exxon Mobil investors.
Recently the company noted that for every 100 barrels of oil taken from the earth, it finds 95 barrels to replace it. That math may mean the company will eventually run out of oil -- long after we are gone. More important, such news supports higher oil prices.
Shares of Exxon trade for 14 times trailing earnings and 10 times forward earnings. In any sort of correction, this stock is likely to trade sideways or even slightly higher as investors are attracted to the safety of its dividend.
Exxon shows up in
as of the most-recent reporting period. It was included on a list of the
best dividend stocks to play defense in 2011
and was one of Dan Dicker's
top commodity stocks for the year
.
Chevron
Chevron
(CVX) - Get Chevron Corporation Report
was a finalist to be on my
list. The attractively priced stock particularly appealed to me the very likely event of rising oil prices. Higher oil prices simply added fuel to the fire of my desire for this giant oil company.
Chevron is up almost 12% since the start of the year, handily beating the 6.7% performance of the S&P 500 index. In addition to that significant outperformance, investors in Chevron receive a solid 2.8% dividend.
I would almost say that investors cannot lose with Chevron, but I won't go quite that far. One of the likely triggers for a stock market correction could be higher oil prices. Higher oil prices of course mean more cash for the company and perhaps a higher dividend payout.
Despite gains in share price since the start of the year, Chevron trades for just about 9 times the 2011 earnings estimate of $10.63 per share. There are plenty of reasons to like this stock, with or without a pause or correction.
Chevron is a top holding of
Brian Rogers' T. Rowe Price Equity Income Fund
, at 2.7% of the total portfolio. According to Karvy Global, it's one of
10 energy stocks for rising crude
, and with an A- buy rating, it's one of TheStreet Ratings'
.
IBM
Typically I would avoid technology stocks when thinking about where to hide during a market correction, but in the case of
IBM
(IBM) - Get International Business Machines Corporation Report
, the rules go by the wayside.
IBM is not your ordinary tech stock. For starters, the company has become a strong and consistent profit generator. It pays a portion of those profits to investors in the form of a 1.6% dividend.
More significant for investors is that Big Blue does not trade for a rich valuation. The stock currently trades for just 12 times the Wall Street earnings estimate of $13.08 per share for 2011. That is far from the nosebleed valuations of some tech stocks.
For example,
Salesforce.com
(CRM) - Get salesforce.com, inc. Report
trades for a whopping 122 times earnings expectations. Now that is a premium set to collapse if stocks take a breather from current levels. While the future in cloud computing may be bright, there is a ton of risk in this stock.
IBM is a great blue-chip alternative. It too is pursuing the cloud computing space, yet its stock trades for a more reasonable valuation. Salesforce may have some first mover advantages over IBM, but do not discount what Big Blue can do in any market it competes in.
The point is that there is upside potential for IBM and minimal downside risk. The stock is a great place to be given the current market environment.
IBM comprises 2.2% of
Bill Miller's Legg Mason Capital Management portfolio
. According to Jake Lynch, it was one of the
10 best Dow dividend stocks for 2011
.
McDonald's
Amazing how a little hamburger shack could become an $80 billion market cap company, but that is exactly what happened with
McDonald's
(MCD) - Get McDonald's Corporation Report
. The true burger king dominates its markets and generates boat loads of cash.
The company pays a 3.2% dividend to investors and trades at a very reasonable valuation. At current prices, McDonald's trades for 15 times 2011 earnings estimates of $5.02 per share. Given the global growth prospects for the company, such a price is more than reasonable.
Investors in McDonald's get safety of cash flow -- revenue is likely to be stable in any sort of economy -- a healthy dividend and growth prospects. You really can't ask for much more.
What really caught my eye at McDonald's is the company's ability to innovate despite being just a hamburger restaurant. What the company did with its McCafe product should open many eyes. It opened mine.
McDonald's attacked
Starbucks
(SBUX) - Get Starbucks Corporation Report
during a time of economic crisis. That sort of superb management ability is to be commended. Investors should gain much confidence from those navigational skills for the next time the market decides to move lower.
I couldn't think of a better place to invest in anticipation of a market pause or correction.
McDonald's is one of the top holdings of the
Bill and Melinda Gates Foundation Trust
, comprising 5% of the total portfolio. Jim Cramer recently highlighted it as one of
three Dow stocks pulling the market
, and according to Scott's Investments, it's one of
11 high-yield stocks with staying power
.
Procter & Gamble
The absolute domination of the consumer staple market by
Procter & Gamble
(PG) - Get Procter & Gamble Company Report
is simply amazing. This company touches nearly every household in this country in some way. I would challenge you to look through your own home and not find a product tied to the company.
No matter what transpires with the economy from here, investors can find a safe haven with Procter & Gamble. One glance at a maximum year chart for the company shows steady, stable growth in share appreciation, even including the many declines over the decades.
Helping propel this stock higher is a 3% dividend. Even if the market pauses investors in Procter & Gamble get paid. Helping protect investors in a potential market decline is the current valuation. Shares of P&G trade for just 15 times 2011 earnings estimates.
Another plus for investors in P&G is the growth prospects. American brands are exploding in developing countries. P&G is poised to benefit from such growth. At a minimum, this company can be expected to grow earnings by double digits.
Procter & Gamble is one of
Warren Buffett's top 10 dividend stocks
, comprising 9.4% of Berkshire Hathaway's portfolio as of the most-recent reporting period. It was one of
Credit Suisse's 18 best stock picks for 2011
, while Louis Navellier recently flagged it as one of
.
To see these stocks in action, check out the
5 Dividend-Achievers portfolio
on Stockpickr.
-- Written by Jamie Dlugosch in Minneapolis.
RELATED LINKS:
>>7 Stocks Leading the Market in 2011
>>David Tepper's Top 1 Tech Stocks
>>Must-See Charts: Citigroup, Apple, Petrobras
Follow Stockpickr on
and become a fan on
Facebook.
At the time of publication, author had no positions in stocks mentioned. Jamie Dlugosch is a founder and contributor to
MainStreet Investor
and
MainStreet Accredited Investor
. Formerly, he was president and CEO of Al Frank Asset Management. He has contributed editorially to
The Rational Investor
,
The Prudent Speculator
,
Penny Stock Winners
and
InvestorPlace Media
.