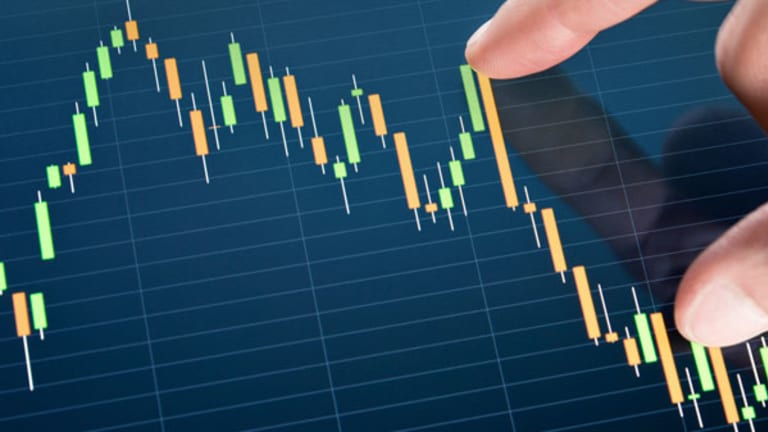 5 Contrarian Blue-Chip Stocks That Could Pop in 2012
For investors looking for exposure to a speculative play with a beefier risk/reward tradeoff, these heavily shorted stocks could be powerful upside plays for the coming year.
BALTIMORE (Stockpickr) -- Sometimes, the best buying opportunities come from finding the stocks that everyone else hates.
That's one of the key tenants of
, a school of market thought that's predicated on the idea that the crowd is wrong at turning points. If years like 2008 have taught us anything, it's that even the biggest stocks can get mispriced over long periods of time -- and investors who spot those mispricings can profit.
That's why we're looking at a set of heavily shorted blue-chip stocks today. That's right, even blue-chips can become the target of short-sellers when faced with major economic headwinds, flawed financials or another catalyst that could send shares lower. Large-cap names also have more analyst eyes on them, and as a result, they tend to snap back more quickly than smaller names.
>>5 Chinese Stocks With Breakout Potential
To be clear, these stocks aren't necessarily undervalued right now. Instead, the mispricing opportunity comes from a short squeeze in shares.
In case you're not familiar with the term, a short squeeze is the buying frenzy that ensues when a heavily shorted stock starts to look attractive again to investors, causing share price to skyrocket. One of the best indicators of just how high a short-squeezed stock could go is the short interest ratio, which estimates the number of days it would take for short-sellers to cover their positions. The higher the short ratio, the higher the potential profits when the shorts get squeezed.
Naturally, these plays aren't without their blemishes -- there's a reason that these stocks are being heavily shorted. But for investors looking for exposure to a speculative play with a beefier risk/reward tradeoff, these could be powerful upside plays for the coming year.
Without further ado, here's a look at our list of
large-cap short-squeeze opportunities
.
Royal Bank of Canada
As Canada's largest bank, it may seem surprising that
Royal Bank of Canada
(RY) - Get Royal Bank of Canada Report
is a heavily shorted name. But this $77 billion financial firm has been drawing significant short interest since the recession -- and now, with a short interest ratio of 18.3, the firm actually ranks as the most-shorted of the blue chip names we're watching this week.
That short interest ratio means that it would take nearly a month of buying pressure for shorts to close out their RY positions at current volume levels.
Royal Bank of Canada has managed to churn out good performance in the last few years, boasting a relatively high quality loan book and net margins that are more comparable to a highly profitable regional bank than one of the big-three U.S. banks. Where U.S. majors got caught up in side services, retail banking remained RY's bread-and-butter throughout the recession, a factor that's helped the firm retain a large deposit base and avoid the fates of the big banks here at home.
While it's true that RY is facing some serious headwinds in the form of low rates and a rather treacherous tier 1 capital drop-off that puts the firm in a bad position if deposits flee, customer flight is very unlikely right now. At the same time, the firm's hefty 3.97% dividend yield should continue to attract investors -- especially because it's tied to the commodity-driven Canadian dollar rather than the greenback.
Solid earnings on March 1 could be enough to spur a short squeeze in shares.
Royal Bank of Canada shows up on a lsit of
10 High-Quality Stocks for 2012
.
Groupon
It's a bit of a misnomer to call
Groupon
(GRPN) - Get Groupon, Inc. Report
a blue-chip. The firm only went public in November, taking advantage of the hype-driven social media market to boost share prices at the end of last year. And frankly, this stock is fundamentally worse than the rest of the names I'm telling you about today.
Nonetheless, the combination of a $12.7 billion market capitalization, a short interest ratio of 11.3 and some structural factors in shares makes this stock a potential short squeeze.
Groupon has been a controversial stock for the last few months as investors debate what the firm's real financial prospects are. But beyond the traditional fundamental valuation for Groupon is a short squeeze story in the making.
>>7 Undervalued IPO Stocks That Could Rebound
That's because Groupon has a relatively low float -- the lowest float for an internet stock in a decade, in fact. That low float means that shares are harder to borrow, a factor that makes carrying costs of shorting the stock extremely high. Put simply, shorts need to see Groupon move dramatically lower in the short-term to avoid taking a loss on their trades.
For that reason, if Groupon were to get some buying pressure in 2012 and move higher (a scenario that's easier to accomplish because of that float), it'd be likely to spur shorts to take losses and buy to cover to avoid bigger losses.
For investors who are comfortable trading this stock tactically, it makes sense to buy Groupon when shares start to show some upward momentum.
CPFL Energia
CPFL Energia
(CPL) - Get CPFL Energia S.A. Sponsored ADR Report
is the largest private power company in Brazil, serving more than 6.7 million customers with generation capacity of 2,300 megawatts. While Brazil is an attractive growth economy, it's also a market that's fraught with some risks.
For those reasons, CPL currently sports a short interest ratio of 10.3. At that level, it would take more than two weeks of buying for short sellers to exit their positions.
Like domestic power utilities, CPL is a popular option for income investors who want a slice of this firm's 4.62% dividend yield. As was the case with RY, however, those dividends are based on the Brazilian real, not the dollar, so investors are getting pretty substantial exposure to the country's currency. With the real's less than savory history (and the recent strength of the dollar), it's not a huge surprise that shorts are essentially betting on that dividend to decline on a real basis.
>>Energy Stocks Bought and Sold by Hedge Funds
At the same time, though, Brazil is continuing to enjoy brisk growth, and CPL's top line grows at that same pace. With a strong balance sheet and ample cash generation capabilities through its regulated utility business, CPL should be able to continue to perform at a high level in 2012.
The firm's March 12 earnings release could spark a short squeeze.
Waste Management
Turning garbage into gold -- that's essentially the idea behind buying aptly named
Waste Management
(WM) - Get Waste Management, Inc. Report
. The $16 billion firm is the largest waste services firm in the country, with more than 270 landfills and a massive fleet of vehicles that spans the U.S. That hasn't spared WM from shorting -- as of this writing, the company's short interest ratio is 10.4.
That may seem surprising, after all, the trash business is generally thought of as a recession resistant way to generate cash, and Waste Management has historically been an innovative name. The firm's portfolio includes 22 waste-to-energy plants that are designed to turn the waste that WM literally gets paid to collect into renewable energy that the firm gets paid for again.
While innovations like that are still a small chunk of WM's total business, they're an important differentiator. So is scale -- Waste Management's sheer size provides it with the ability to court national accounts that smaller waste firms can't compete for.
So what's with the shorting? Again, it all comes back to dividend. WM's payout weighs in at 3.87%, a high yield that could send prices lower if it's cut. That said, WM has been enjoying perennially deep margins and higher revenues than ever.
That fundamental strength makes this stock a good candidate for a short squeeze in 2012.
Banco de Chile
It's been a strong year for
Banco de Chile
(BCH) - Get Banco de Chile SA Report
, another foreign banking stock that's boasting a hefty short interest ratio right now. Shares have rallied more than 13.7% in the last 12 months, returns that look even more impressive when they're compared to the 21.6% decline that the financial sector has posted over that same period.
The Latin American banking sector has been heating up for the past several years, and BCH has been a big beneficiary. The firm dramatically increased its top and bottom lines during the recession, an impressive feat given the fact that the financial crisis had a worldwide reach. Comparatively higher rates in the Chilean market mean that BCH is able to collect some impressive margins on its banking business -- more than 31% in the firm's latest quarter.
Again, here's a case where a high dividend and currency exposure are fuelling shorts. The firm's 3.79% payout is based on earnings in Chilean pesos, another currency with a checkered past that looks less attractive given the dollar's recent strength. That said, Chile boasts a very different banking industry than ours here at home, and many investors are welcoming the peso exposure.
The firm's short ratio of 11.2 makes it a solid short candidate for 2012.
To see this week's short squeezes in action, check out the
Blue Chip Short Squeeze portfolio
on Stockpickr.
-- Written by Jonas Elmerraji in Baltimore.
RELATED LINKS:
>>5 Rocket Stocks Fueling Up This Week
>>7 Dividend Stocks Hiking Payouts
>>5 Stocks Insiders Are Scooping Up
Follow Stockpickr on
and become a fan on
Facebook.
At the time of publication, author had no positions in stocks mentioned.
Jonas Elmerraji is the editor and portfolio manager of the Rhino Stock Report, a free investment advisory that returned 15% in 2008. He is a contributor to numerous financial outlets, including Forbes and Investopedia, and has been featured in Investor's Business Daily, in Consumer's Digest and on MSNBC.com.