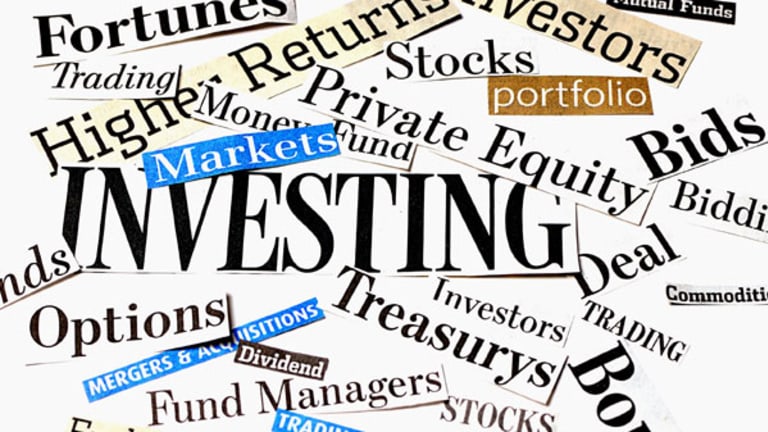 5 Confident Stocks for a Shaky Market
Here are five stocks you can buy with confidence in this uncertain market.
MINNEAPOLIS (Stockpickr) -- In September of 2008 I wrote an article urging investors that it was not too late to sell stocks. With the market in the midst of a selloff at the time, this article was very much against the grain of popular professional opinion. I was proud of the result. The S&P 500 ultimately lost 39% from the time of that article to the March 9, 2009, low.
I bring this to your attention as we attempt to deal with the current market environment. Should investors sell? Should investors buy? Should investors buy gold? Should investors rotate their portfolios to more defensive positions? These are all legitimate questions, to which many are desperately seeking the answers.
But I do believe this market is distinctly different from 2008 -- and in a positive way. This time around, I would stick to your guns and resist the urge to panic sell. Back in 2008, we were in the midst of a U.S. bubble market that was deflating. Asset prices -- mainly home values but also bank balance sheets -- were not what they seemed. Trillions of dollars in derivative securities value were lost, and we were at the end of a business expansion with a yield curve that had become inverted.
Related:
5 Rocket Stocks to Buy on Selloff
Today, balance sheets are in much better shape, and the yield curve is steep -- but it's not inverted. We are in the middle of a recovery that has been fairly anemic and is likely to continue to be so. Most important, stock values before this recent selloff were not excessive. Prices were fair relative to expected earnings growth.
I would call this a manufactured selloff that is based on fear. It is also a bit political in the sense that those controlling massive amounts of dollars are attempting to fix what Washington thus far has failed to fix, by shorting the market. The market is saying a that global recession is coming, and there is nothing government, central banks or anyone else can do a thing about it.
There is nothing certain about the future, yet those selling stocks sure seem convinced they're doing the right thing. I'm not naive enough to wait for a recession to bite me in the nose before acknowledging its presence, but I do think there needs to be a bit more proof than there is now that a recession will occur.
The numbers simply do not support the argument at the moment. I would be buying stocks at these depressed levels. Here are
five names you can be confident in in this unconfident market
.
Apple
As of Monday's dismal close, shares of
Apple
(AAPL) - Get Apple Inc. (AAPL) Report
had dropped by 12.5% since hitting $403 per share on July 25; recently, they're down about 7.5% from that date. Does that make any sense for a company that is crushing Wall Street estimates quarter after quarter? Who would you rather believe: Wall Street speculators and fear mongers or a company that during the debate on the debt ceiling was noted for having more cash on hand than the U.S. Treasury?
Current prices offer investors a lower entry point on the heels of a stellar operating quarter. In the second quarter, Apple beat the average Wall Street estimate by a whopping $1.96 per share. The company is on track to make $27.41 per share for the fiscal year ending Sept. 30. For 2012, Wall Street has Apple earnings pegged at $32.22 per share. Using yesterday's closing price, investors can acquire that 17.5% growth for about 13 times current year earnings.
I think Apple deserves some slack from crazy speculation. Give management the benefit of the doubt that it can deliver the results currently expected. With or without a recession, Apple is darn near guaranteed to beat the number based on exploding smart phone and tablet sales. This stock can be confidently bought at these levels.
I also recently highlighted Apple in "
5 Blue-Chips to Ride Out a Double-Dip
."
Google
Let's make a bold assumption that the market has it all correct and that the economy is indeed heading for a recession. Will slower economic activity negatively impact a company such as
Google
(GOOG) - Get Alphabet Inc. Class C Report
? All signs point to Google doing well no matter what the economy is doing. If anything, you could make the case that search use and advertising will
increase
during a weak economy.
Google is a proven productivity enhancer. That means that businesses using its services get more bang for the buck. If things are tight, Google might see usage increase given that other growth opportunities drop by the wayside in a struggling economy. Selling in Google today, then, is speculative and not really based in reality.
>>Practice your stock trading strategies and win cash in our stock game.
Shares of Google closed at $607.22 on July 27. As of Monday's close shares were down 10%, and they were recently down about 7.7% since July 27. In my opinion, the selling is indiscriminate considering it was only a few weeks ago that the company trounced earnings estimates for the second quarter. Analysts expect Google to make $35.50 per share in the current year, with that number growing by 18% to $41.94 in 2012.
Investors can buy Google today for about 16 times earnings. I would buy this stock comfortably.
In the recently reported second quarter,
David Tepper's Appaloosa Management
initiated a 90,000-share position in Google, comprising 1.1% of its total portfolio.
ConocoPhillips
Oil prices followed the lead of the market and sold off just as dramatically. The idea is that a slowing global economy will somehow change the current supply/demand dynamic. Crude moves lower are likely to be temporary. Whatever the problems of the world, one thing is certain: Crude supplies are falling.
OPEC may have the ability to increase production, but when oil prices were at $100 per barrel, there was little indication of a willingness to pump more oil into the system. Could it be that the oil is just not there to boost production?
From a peak on July 21 at $75.10 to the close on Monday, shares of
ConocoPhillips
(COP) - Get ConocoPhillips Report
had slipped by 18%; they're down about 14% from July 21 to today. While some selling may be justified, a move of that magnitude makes little sense considering the company is printing money.
In the second quarter, Conoco made a profit of $2.41 per share soundly beating the average Wall Street estimate of $2.19 per share. With shares trading for about 8 times current-year estimates and paying a dividend of about 4%, investors can safely buy shares of Conoco today.
As of the first quarter, Conoco was one of
Warren Buffett's top 10 dividend stocks
.
Wal-Mart
Wal-Mart
(WMT) - Get Walmart Inc. Report
is as much a part of the problem with the global economy as it is the solution. Its supply network of cheap goods produced in China helped that country build up reserves from a trade surplus that was then deployed to buy cheap U.S. debt. One wonders how much borrowing would have transpired over the last decade without that key buyer in the Treasury market.
Now with deficits, debts and downgrades staring us in the face, lower prices will be all the more important to consumers. A beneficiary of such constraints will be Wal-Mart and its low price model. With most of its sales in key nondiscretionary items including grocery, Wal-Mart should be able to withstand a recession with little problem. To the extent it can grow its business because more and more are getting by with less and less all the better.
Shares of Wal-Mart stood down 10% from its July 22 close of $54.52 as of Monday's closing price, making the stock one of the better relative performers in the market meltdown. Clearly others see the opportunity for Wal-Mart to exploit with its low price model. The key will be execution. With shares trading at 11 times estimates for the current fiscal year ending Jan. 31, 2012, investors can confidently buy Wal-Mart today.
Wal-Mart was featured recently in "
6 Low-Volatility Stocks for a Volatile Market
."
CSX
Looking at the current landscape, things certainly appear different because stock values have plummeted. But upon closer inspection, has anything actually changed?
The companies I follow are still reporting earnings results that are beating estimates for both earnings and revenue. Guidance for the most part is positive. Anecdotally, I see retail centers full of shoppers and coffee shops filled to the rim with addicted and loyal customers. Trucks are shipping goods and trains are transporting just as they did a month ago.
On that point, a transportation company such as
CSX
(CSX) - Get CSX Corporation Report
is one that investors can confidently buy today. The double-dip recession theory tells you that less demand in the economy means fewer goods shipped. It's a nice little theory, but what about shipping coal? Is that likely to decline much in a double dip? I don't think so.
CSX is down 19% from July 25 to Monday's close and recently down about 12% from that date. There are many negative things that need to happen in the future to justify that price that I just don't see happening. I would view CSX as a defensive play more like a utility stock. The company pays a dividend of more than 2%, and shares trade for a modest 12 times earnings. For the moment, Wall Street is looking for profit growth well above that multiple.
Even if you discount growth expectations, CSX is still a stock investors can buy confidently.
CSX shows up on a recent list of
.
To see these stocks in action, visit the
5 Confident Stocks for an Unconfident Market
portfolio.
-- Written by Jamie Dlugosch in Minneapolis.
RELATED LINKS:
>>5 Earnings Stocks That Could Explode
>>6 Low-Volatility Stocks for a Volatile Market
>>5 Technical Setups to Trade for Breakouts
Follow Stockpickr on
and become a fan on
Facebook.
At the time of publication, author had no positions in stocks mentioned. Jamie Dlugosch is a founder and contributor to
MainStreet Investor
and
MainStreet Accredited Investor
. Formerly, he was president and CEO of Al Frank Asset Management. He has contributed editorially to
The Rational Investor
,
The Prudent Speculator
,
Penny Stock Winners
and
InvestorPlace Media
.