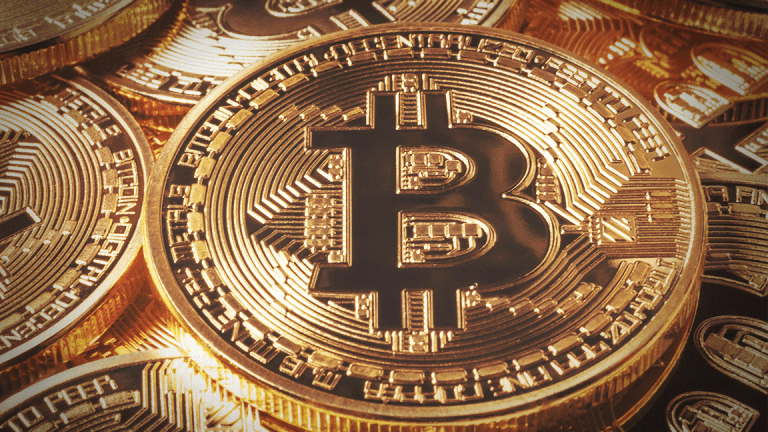 5 Companies That Should Follow Long Blockchain's Crypto Lead
How more companies can try to catch the bitcoin and cryptocurrency wave.
How more companies can try to catch the bitcoin and cryptocurrency wave.
Long Blockchain (LTEA) , née Long Island Iced Tea Corp., saw startling gains Thursday when it announced a pivot from its beverage business to the exciting new world of cryptocurrencies and blockchain technology.
Shares of the microcap soared as much as 500%, before settling back to a more tempered 275% gain. It was a wild ride: the stock closed Wednesday at $2.44, opened at $7.95 Thursday morning and closed at $6.91 in regular trade. It was up another 5.64% in after-hours trade.
The company said on its web site Thursday that it is "already in the preliminary stages of evaluating specific opportunities involving blockchain technology," before repeating that "the discussions are only in the preliminary stages."
And to be clear, the Long Island Iced Tea Corp., founded just three years ago and based in Hicksville, NY, really has been all about iced tea, describing itself as having "developed non-alcoholic, premium iced tea bottled beverages made with quality ingredients that are offered at an affordable price." It also offers lower calorie iced tea in 12 oz. ounce bottles. 
While the parent company will shift its primary corporate focus toward blockchain, it will continue to operate Long Island Brand Beverages, LLC as a wholly-owned subsidiary. 
The company is hardly the first to rebrand itself to take advantage of the cryptocurrency craze.
Nova Lifestyle's (NVFY) - Get Report shares have risen 27% since the company announced Wednesday it had launched a new subsidiary called I Design Blockchain Technology.
Longfin (LFIN) shares surged 2,000% between last Friday and Monday after it announced the purchase of a blockchain company, 95% of whose shares are owned by Longfin's CEO and chairman. Longfin is a relative old-timer in the crypto/blockchain space, having come public eight days ago on Dec. 13.
The startling moves are so dramatic, they're even drawing attention from the Trump Administration's SEC. This week the agency ordered a halt in trading of TheCryptoCo (CRCW) for the rest of the year after the stock shot from around $20 to $575 in a matter of days. The agency warned that investors may not be getting accurate information and that there may have been "potentially manipulative transactions." The company came public earlier this year through a reverse takeover of CROE Inc., a sports bra maker.
Still, notwithstanding the slowly spreading skepticism about bitcoin, blockchains and all things crypto, it's very likely that more struggling companies will attempt to catch the wave.
Here are five that probably should think about it.
Sears Holding (SHLD) .
The death throes of America's once dominant retailer have been long and painful. But perhaps a Sears branded blockchain card could get the company through another few quarters. "Cash, check or crypto?" has a certain ring to it.
Baker Hughes A GE (BHGE) - Get Report
The oil services company, nearly two-thirds of which is owned by General Electric (GE) - Get Report , is down 50% this year on oil's sustained stay below $50 a barrel. But imagine, if you will, the announcement of an entirely new digital technology aimed at releasing unclaimed riches. Yes! It's Crypto-Fracking, combining the best elements of modern energy production and innovative finance.
Under Armour (UA) - Get Report
Now that The Crypto Co. is on ice, as it were, there's a new opportunity available in the crypto-athleticware space. Here's the chance for Under Armour, down 45% so far this year, to really turn things around and get back in shape. Imagine a crypto sports bra that harnesses the energy expended in a workout to mine more digital moolah. 
Mattel (MAT) - Get Report
Crypto technology offers an especially attractive opportunity for the toymaker, whose shares have struggled mightily this year on slowing sales of its signature Barbie brand. How better to reinvigorate your key line than by making it truly relevant and cutting edge. Barbie's Bitcoin exchange could offer youngsters the fun and excitement of trading wildly volatile toy money that's actually real ... kinda.
Chipotle Mexican Grill (CMG) - Get Report
Here's the opportunity to distract your customers from occasional outbreaks of food poisoning by offering a loyalty program tied to your own corporate-branded blockchain.  It's a natural fit. Chipotle once traded like bitcoin, after all. But those days are long gone, with the stock off more than 20% this year. Perhaps a crypto-chalupa could turn it around for them. Eat five burritos, and receive one free. Eat 10 burritos and get three! 
Employees of TheStreet are restricted from owning individual shares. At the time of publication, Action Alerts PLUS, which Cramer co-manages as a charitable trust, was long GE.