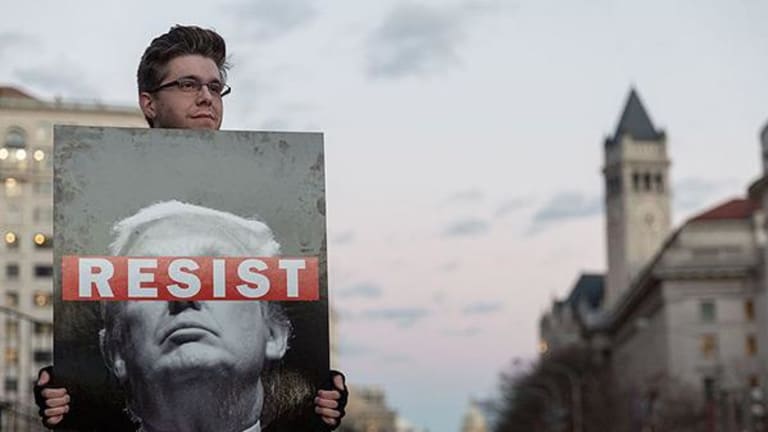 5 Companies Taking a Stand for Refugees
Starbucks isn't the only company taking a strong stance against President Trump's immigration ban.
In a move that launched weekend protests and fiery social media arguments, President Trump signed an executive order temporarily banning immigration from seven countries whose populations have a Muslim majority, including Iraq and Iran. 
While many CEOs were quick to tweet public statements condemning the ban and declaring their support for refugees, some companies including Starbucks, Chobani, Lyft, Google and Airbnb have already taken action beyond words. 
Chobani
Long before the immigration ban dominated headlines, yogurt-maker Chobani's CEO Hamdi Ulukaya dictated a strong desire to help refugees. An immigrant himself, Ulukaya defended his choice to hire refugees from war torn and often Muslim countries on a recent interview on CNBC's "Squawk Box." "The minute they get a job, that's the minute they stop being a refugee," Ulukaya said.
Of Chobani's total staff of 2,000, over 300 employees are refugees. Such humanitarian efforts have led some to seek a mass boycott of the yogurt-maker. 
Starbucks
Starbucks may also become a familiar with the word boycott. Following CEO Howard Schultz's strong response to the ban on Sunday evening, #BoycottStarbucks is trending on Twitter. "We are living in an unprecedented time, one in which we are witness to the conscience of our country, and the promise of the American Dream, being called into question," Schultz wrote.
Schultz announced plans to hire 10,000 refugees from 75 countries where Starbucks does business over the next five years. He also reemphasized his company's commitment to working with Mexico, which is a large source of the coffee maker's beans. Such a strong plan of action left social media extremely divided. 
Google
As with many tech companies, immigrants serve a pivotal role in bringing forward diverse viewpoints to help Google innovate. Google likely kept that in mind when it responded to the ban by creating its largest crisis fund in history, according to USA Today. 
It donated $2 million and allowed its employees to match up to $2 million to be dispersed to four different groups, including the American Civil Liberties Union, the Immigrant Legal Resource Center, the International Rescue Committee and the UN Refugee Agency. 
Lyft
According to theLos Angeles Times, ride-ordering site Lyft also opened its wallet to refugees, pledging $1 million to the ACLU over the next four years. "Banning people of a particular faith or creed, race or identity, sexuality or ethnicity, from entering the U.S. is antithetical to both Lyft and our nation's core values," co-founders John Zimmer and Logan Green wrote in an email to their customers. 
While the CEO of Lyft's fierce competitor Uber Travis Kalanick  also spoke out against the ban, Uber's failure to act in solidarity with the New York Taxi Workers' Alliance's boycott of JFK airport led #DeleteUber to trend on Sunday. 
Airbnb 
Airbnb's CEO Brian Chesky reacted by announcing the home-sharing site will provide free housing to those affected by the ban, though the Washington Post noted that no plans for how those arrangements would be made or paid for have been announced. It appears that Chesky is seeking volunteers for the program via his Twitter. 
In addition, Airbnb's website hosts a page seeking donations for the UN Refugee Agency and plans to match donations up to $1 million. Again, social media responses remain mixed.
N/A