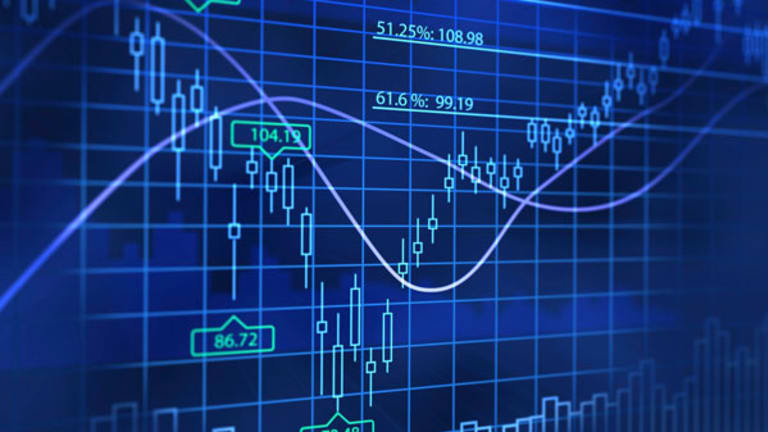 5 Companies Getting Ready to Hike Dividends in 2013
With earnings season still in full swing right now, there are some big opportunities to step in front of dividend hikes in the first quarter.
BALTIMORE (
) -- It may not feel like it, but now is a great time to be a dividend investor.
Sure, investor anxiety remains high for stocks. And sure, interest rates being held near zero doesn't bode well for any income investors, let alone equity income seekers. But the reality is that corporate cash and profitability are sitting at record levels at the same time that yields on stocks are already better than they've been any time in the last two decades.
>>5 Cash-Rich Stocks to Buy in 2013
With earnings season still in full swing right now, there are some big opportunities to step in front of dividend hikes in the first quarter. That's why we're zooming in on five companies that look primed to hike their dividends in the next quarter.
In other words, these five firms are getting ready to boost dividends; they just don't know it yet.
In the past few months we've had some stellar success in finding future dividend hikes just by zeroing in on a few key factors. Now we'll look at our crystal ball and try to do it again.
For our purposes, that "crystal ball" is composed of a few factors: namely a solid balance sheet, a low payout ratio, and a history of dividend hikes. While those items don't guarantee dividend announcements in the next month or three, they do dramatically increase the odds that management will hike their cash payouts, especially as investors start to get antsy about whether or not 2013's rally will be able to hang on.
Without further ado, here's a look at
five stocks that could be about to increase their dividend payments
in the next quarter.
>>5 Rocket Stocks to Buy for a Q1 Rally
Johnson & Johnson
You won't find a better core income holding than
Johnson & Johnson
(JNJ) - Get Johnson & Johnson Report
. The $202 billion healthcare stock has its hands in everything from consumer products like Band-Aid brand bandages to pharmaceuticals and medical devices.
That diversification provides some big benefits for JNJ -- and it helps provide some big dividend payouts as well. As I write, Johnson & Johnson pays a 61-cent quarterly dividend for a 3.33% yield. I think that number is likely to get hiked in the next quarter.
>>5 Big Consumer Stocks to Buy on the Cheap
Johnson & Johnson carries the huge profitability of a pharmaceutical company without all of the risks of big patent drop-offs looming on the horizon. Note that I said
all
the risks; JNJ certainly carries some of them. This year, the firm is set to lose patent protection of a couple of important drugs. That said, the effects of the patent losses should be mitigated by strength elsewhere in JNJ's business, especially in demand tailwinds that are only just starting to pick up for investors.
Another big draw for Johnson & Johnson is cash. The firm has around $20 billion of it before its $16.8 billion of debt is accounted for, and even then JNJ is better capitalized than most peers. This firm earns enormous free cash flows each year, and now, with major acquisitions behind it, management will be able to deploy more of that cash for dividends.
As of the most recently reported quarter, J&J was one of
and also showed up in
Bridgewater Associates' portfolio
.
Lorillard
On the other side of the spectrum is tobacco giant
Lorillard
(LO)
, the third-biggest cigarette maker in the country. Lorillard makes products under the popular Newport, Kent, and Max brands. The firm has posted a volatile couple of years, as the threat of FDA action against mentholated cigarettes sent investors fleeing from shares only to pile back in.
All the while, Lorillard steadily increased its dividend payout to a split-adjusted 51.67 cents per share. That's a huge 5.23% yield at current price levels.
>>5 Stocks Set to Soar on Bullish Earnings
Lorillard owns the lucrative mentholated cigarette market. Around 94% of LO's sales come from its popular Newport brand, which in turn takes about 36% of the menthol category's sales. FDA concerns showed the company just how oversized its exposure to menthol is, and new diversification into non-mentholated cigarettes bodes well for investors. So does the acquisition of Blu Electronic Cigarettes, a product that vaporizes a liquid tobacco alternative. The popularity of so-called eCigs could help spur top line growth in 2013.
Financially, Lorillard has been piling up cash, amassing more than $1.7 billion in its coffers as of the most recent quarter. This firm enjoys a hefty economic moat and generates more than enough cash to keep hiking its dividend payout again in 2013.
As of the most recently reported quarter, Lorillard was one of
Renaissance Technologies' top holdings
.
BB&T
BB&T
(BBT) - Get BB&T Corporation Report
is having a good run. Since I called the regional banking name one of "
", this stock has rallied more than 34%, besting an otherwise impressive 20% run in the
S&P 500
.
On the dividend front, this $21 billion firm is one of the higher-yield names, with a 20-cent payout that weighs in at a $2.6% yield.
>>5 Bank Stocks That Can't Stop Posting Profits
A handful of factors make BB&T a best-in-breed financial stock right now. Like other regional banks, BB&T has remained focused on retail and commercial banking (rather than exotic, higher-risk ventures), and the firm has been able to collect double-digit net margins for its trouble. A major part of that success has been the underwriting standards that regional names maintained before and after the financial crisis.
And more recently, BB&T has been pushing to generate more fee-based revenue, leveraging its relationships with banking customers to sell them on insurance and other financial services. The lack of financial black holes on this firm's balance sheet (compared to the bigger banks in the U.S.) make it a strong candidate to get cleared for another dividend hike this year. In the meantime, excellent relative strength in the financial sector should keep this rally going.
Wynn Resorts
Wynn Resorts
(WYNN) - Get Wynn Resorts, Limited Report
is another name that's enjoying some relative strength right now; the casino resort operator is already up more than 10% in 2013. Wynn's massive properties -- two in Las Vegas and two in China -- are among the most profitable in the industry, courting high rollers with their luxury appeal and relatively new construction. The addition of a new resort in Cotai should be a very material addition to the firm's existing business.
Despite its success in Las Vegas, Wynn's real bread and butter is in Macau, the Chinese special district where gaming attracts high-end Asian clientele. More than two-thirds of Wynn's revenues come from Macau, in spite of the fact that a turnaround in Vegas has been coming in at full speed over the last year and change. With only six casino licenses granted in China right now, the chances of a new challenger unseating Wynn look slim.
While the addition of more luxury rooms to the supply in Las Vegas does threaten Wynn's pull in 2013 (Macau and Cotai are already heavily skewed toward the higher-end of the gaming spectrum), the resort has already established its niche in the Vegas strip.
Opening megaresorts is hugely capital intense, but Wynn sports a reasonably strong balance sheet and ample cash generation capabilities. With 1.61% dividend yield in play right now, the firm can afford to hike its dividend payout in 2013. Keep an eye out for the annual shareholder meeting on Feb. 22.
Zimmer Holdings
Orthopedic device maker
Zimmer Holdings
(ZMH)
looks ready for a modest bump to its own dividend too. Right now, the $13 billion firm pays out an 18-cent quarterly dividend that adds up to a 0.98% yield. But deep double-digit margins clear the way for bigger payouts in the next quarter.
Zimmer is the world's biggest supplier of knee and hip replacements, treatments that have gained in popularity as patients opt for the vastly improved mobility that orthopedic implants provide. As scores of baby boomers start reaching joint replacement age, Zimmer should see its volumes increase considerably. Top line numbers have already been climbing steadily over the last few years.
Whatever your politics, increased patient coverage though programs like supported by Obamacare should help to boost the amount of sales that come from patients who aren't concerned with the financial implications of a costly join replacement procedure. While Zimmer is far from a high yield stock, it's moving in the right direction with the payout it started in 2012; earnings at the end of this month could be a catalyst for upside in shares.
To see these dividend plays in action, check out the at
Dividend Stocks for the Week portfolio
on Stockpickr. 


And if you haven't already done so,
today to create your own dividend portfolio. 


-- Written by Jonas Elmerraji in Baltimore.
RELATED LINKS:
>>5 Stocks Set to Soar on Bullish Earnings
>>Sell These 5 Toxic Stocks Before It's Too Late
>>3 Stocks Spiking on Big Volume
Follow Stockpickr on
and become a fan on
Facebook.
At the time of publication, author had no positions in stocks mentioned. Jonas Elmerraji, CMT, is a senior market analyst at Agora Financial in Baltimore and a contributor to
TheStreet
. Before that, he managed a portfolio of stocks for an investment advisory returned 15% in 2008. He has been featured in
Forbes
,
Investor's Business Daily
, and on
CNBC.com.
Jonas holds a degree in financial economics from UMBC and the Chartered Market Technician designation.