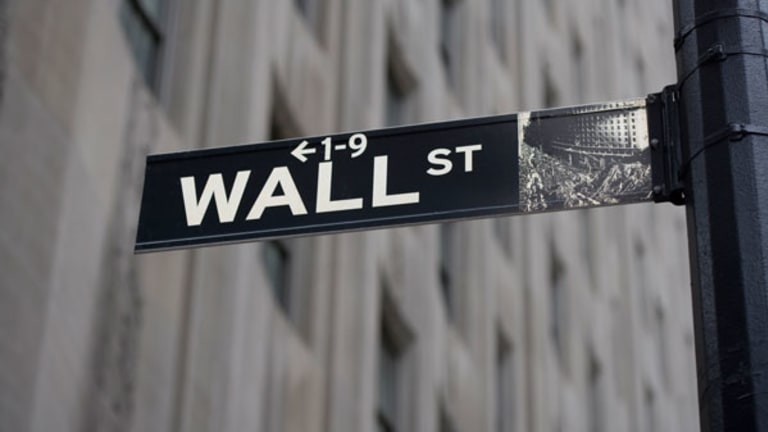 5 Commodity Stocks to Trade for Gains
Here's a look at how five commodity-focused stocks are trading technically right now.
BALTIMORE (
) -- 2013 has been a mixed bag for commodity investors. While materials such as gold and steel have gotten shellacked this year, others, such as oil and hogs, have rallied hard since the start of the year.
>>4 Huge Stocks on Traders' Radars
That diversity is paving the way to gains right now in a handful of commodity-driven stock names this month. The timing couldn't be better. As I write, stock investors are cringing as the market flirts with all-time highs, wondering how much is too much for the
S&P 500
and the
Dow
. With ramped-up anxiety starting to take its toll on stock performance in the last couple of weeks, it makes sense to focus on names getting more influence from outside factors like the commodities market.
To do that, we're taking a technical look at
worth trading this week.
For the unfamiliar,
is a way for investors to quantify qualitative factors, such as investor psychology, based on a stock's price action and trends. Once the domain of cloistered trading teams on Wall Street, technicals can help top traders make consistently profitable trades and can aid fundamental investors in better planning their stock execution.
>>5 Rocket Stocks to Buy This Week
So, without further ado, let's take a look at
worth trading now.
Martin Midstream Partners
Today, we're starting small with
Martin Midstream Partners
(
), a $1.2 billion firm that transports and stores natural gas and sulfur. Shares of MMLP have had a stellar year in 2013, rallying more than 47% since the calendar flipped over to January -- and this stock's technicals point to even higher ground in the second half.
That's because MMLP is currently forming an ascending triangle pattern, a technical setup that's formed by horizontal resistance above shares at $46 and uptrending support to the downside. Basically, as MMLP bounces in between those two technical price levels, it's getting squeezed closer and closer to a breakout above that $46 resistance level. When that breakout happens, we've got a buy signal for shares.
Confirmation is going to be important to watch in MMLP. This stock has popped above $46 intraday in the past, only to fall back down to close within the pattern. Waiting for a close above $46 followed by a consecutive open above it greatly reduces the possibility of a bull trap in this stock.
U.S. Steel
We're seeing the same price pattern in
U.S. Steel
(
) -- albeit with a twist.
Like MMLP, U.S. Steel has been forming an ascending triangle pattern, in this case with resistance at $19 fighting back the uptrending support to the downside. The big difference is that X's triangle has been forming at the bottom of shares' recent price range, not the top. While that makes U.S. Steel non-textbook setup, it doesn't change the trading implications in this stock. It still makes sense to be a buyer on a confirmed move above $19.
>>5 Stocks Warren Buffett Is Buying in 2013
adds some extra confidence to this trade; 14-day RSI has been in an uptrend since X started basing. Since momentum is a leading indicator of price, that's a bullish signal for buyers.
Whenever you're looking at any technical price pattern, it's critical to think in terms of buyers and sellers. Triangles and other price pattern names are a good quick way to explain what's going on in this stock, but they're not the reason it's tradable. Instead, it all comes down to supply and demand for shares.
That resistance line at $19 is a price where there's an excess of supply of shares; in other words, it's a place where sellers have been more eager to take recent gains and sell their shares than buyers have been to buy. That's what makes the move above it so significant -- a breakout indicates that buyers are finally strong enough to absorb all of the excess supply above that price level. Wait for that signal to happen before you jump into this stock.
Flotek Industries
You don't need to be an expert technical analyst to figure out what's going on in shares of
Flotek Industries
(
). That's because this small-cap oil service stock has been forming a solid uptrending channel for all of 2013 -- it's about as simple as a technical pattern gets.
>>5 Stocks Under $10 Hedge Funds Love
FTK has had its price action bounded by trendline support to the downside, bouncing higher each of the last seven times it's been tested. That uptrending channel provides a high-probability range for JPM's price action on the way up. And while you want to be a buyer in an uptrend, the ideal time to buy comes on a bounce off of support.
Buying off a support bounce makes sense for two big reasons: it's the spot where shares have the furthest to move up before they hit resistance, and it's the spot where the risk is the least (because shares have the least room to move lower before you know you're wrong). While FTK could stand to pull back some before it makes sense to jump in, the strength of this channel makes it worth watching now.
Western Gas Equity Partners
The exact same setup is potentially giving traders a reason to jump into shares of $8.5 billion midstream gas company
Western Gas Equity Partners
(
). Just like Flotek, WGP is forming a textbook channel up. And this week, Western Gas is testing trendline support.
>>5 Stocks With Big Insider Buying
It's a little too early to call WGP's trendline buyable here. At some point, all trends eventually fail -- and when this one does, you don't want to be left holding the bag. A bounce this week will be a good indication that WGP can still catch a bid at this price level. When and if that happens, I'd recommend keeping a tight
in place just below WGP's most recent swing low at $38.
While the
has been crossing paths with WGP quite a bit in the last month, I'd recommend ignoring it. The average hasn't acted as a meaningful support or resistance level to date. In the case of this particular name, it's just not technically relevant.
Access Midstream Partners
Last up is
Access Midstream Partners
(
), an $8.75 billion midstream energy stock that's pounded out some excellent performance in 2013, rallying close to 40%. Even though shares have been taking a breather for the last couple of months, don't think that the rally action is over. Here's how to trade it.
>>4 Stocks to Trade for Breakouts on Big Volume
Since mid-June, ACMP has been consolidating sideways in a price setup called a rectangle. Rectangle patterns get their name because they basically "box-in" shares in between a horizontal resistance level to the upside and a horizontal support level that acts as a sort of price floor. The key levels to watch right now in ACMP are $49 resistance and $45.50 support.
It's easy to think that a sideways chug is a bad sign, especially for a stock that rallied so hard for the first part of the year. But in fact, consolidations are common (if not necessary) after such a big price move; they give traders a chance to catch their breath and figure out their next moves in shares of ACMP. If this stock can break out above $49, I'd recommend jumping in as a buyer. Otherwise, a dip below $45.50 is a sell signal.
To see this week's trades in action, check out the
Technical Setups for the Week portfolio
on Stockpickr.
-- Written by Jonas Elmerraji in Baltimore.
RELATED LINKS:
>>5 Stocks Spiking on Unusual Volume
>>3 Big Stocks to Trade (or Not)
>>5 Stocks Under $10 Set to Soar
Follow Stockpickr on
and become a fan on
Facebook.
At the time of publication, author had no positions in stocks mentioned. Jonas Elmerraji, CMT, is a senior market analyst at Agora Financial in Baltimore and a contributor to
TheStreet
. Before that, he managed a portfolio of stocks for an investment advisory returned 15% in 2008. He has been featured in
Forbes
,
Investor's Business Daily
, and on
CNBC.com.
Jonas holds a degree in financial economics from UMBC and the Chartered Market Technician designation. Follow Jonas on Twitter @JonasElmerraji