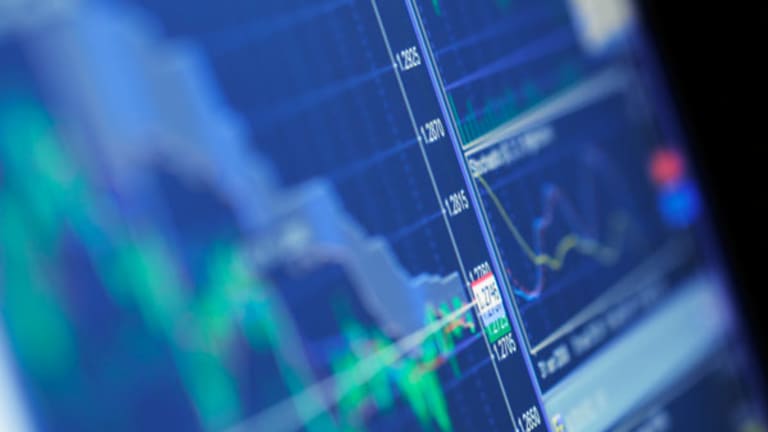 Publish date:
5 Commodity Stocks to Buy Now
After a sharp drop, these commodity stocks now look like solid bargains.
After a sharp drop, these commodity stocks now look like solid bargains.
NEW YORK (Stockpickr) -- Fears of a global economic slowdown have sent investors running for cover. They've been selling stocks with any cyclical exposure, especially the companies that sell commodities.
Yet it's important to understand the trading trends for these commodity stocks. They typically move in and out of favor quickly, and now that they are deeply out of favor, they offer real value for longer-term investors.
>>4 Loser Stocks Poised for Big Rebounds
Indeed, if the worst-case scenarios out of Europe do not come to pass, these stocks could post significant gains.
With that in mind, here are
five deeply-discounted commodity stocks
that have traditionally rebounded sharply when the commodity cycle turns back up.
Freeport-McMoRan Copper & Gold
Shares of
Freeport-McMoRan Copper & Gold
(FCX) - Get Report
, the world's largest copper producer, have slumped from $55 in the summer of 2011 to a recent $32. Investors have grown concerned that the Chinese economy is slowing very quickly, ending a decade-long building boom that consumed massive amounts of copper. Shares have also slumped in the face of key labor problems in late 2011 at a key Indonesian mine.
Yet it's important to remember the phrase "investors look ahead." The move down to $32 seemingly anticipates much of the possible bad news to come out of China.
Frankly, we have no idea how 2012 will play out for this copper producer. But we do have a pretty good read on this company's long-term outlook. In coming years, as the global economy rebounds back on to a normal plane, demand for copper will inexorably rise. And for producers such as Freeport, which operate in an industry that has a finite amount of available copper to mine, rising demand will trigger rising copper prices.
>>6 Stocks to Play for Lower Gold Prices
So even as the company's earnings per share are expected to fall roughly 20% this year (to around $4), they could move back up to $6 by mid-decade. The current share price doesn't begin to reflect that long-term view.
As of the most recently reported period, Freeport was one of the
top holdings at Steven Cohen's SAC Capital
.
Alcoa
Alcoa
(AA) - Get Report
, the world's largest aluminum producer, is trading at extremely depressed levels: Shares have fallen $45 back in 2007 to a recent $8.50. The good news: Alcoa has cut costs and continues to make a modest profit even as aluminum prices trade near multi-year lows.
Meanwhile, rivals are hard-pressed to hit break-even with aluminum trading at current levels, and as a result, are cutting capacity. Reduced capacity should eventually set the stage for rising aluminum prices.
>>5 Stocks Under $10 Set to Soar
Alcoa has a tremendous amount of leverage to rising prices. If aluminum traded back up to $1.20 a pound (where it stood a year ago), then Alcoa's EPS could surge towards the $1 mark. Each further 10-cent move in aluminum would add thirty to forty cents to EPS.
Silver Wheaton
After a steady selloff in silver prices, investors are looking for the best way to play a possible rebound. You could find a niche operator that looks like a deep value play, or you could simply go with
Silver Wheaton
(SLW)
, the industry's largest operator.
Silver Wheaton is sitting on 798 million ounces of un-mined silver, the largest mother lode in the business -- by far. The company operates 16 mines across the globe, and most of them are expected to be very productive for at least 15 years to come. Simply put, it would be hard to replace this company's assets.
Meanwhile, Silver Wheaton's stock has fallen sharply in tandem with other silver stocks, and now looks quite undervalued at a recent $26. Analysts at Merrill Lynch value this stock in relation to the company's assets, and figure shares are worth around $51. That's nearly double the current stock price.
Potash Corp. of Saskatchewan
Producer of agricultural fertilizer
Potash
(POT)
has seen its shares slump to levels not seen since the summer of 2010 on fears of a global economic slowdown. Those fears appear misplaced, as farmers around the globe are making solid profits and have the resources to keep buying more fertilizer.
Shares are also in the investor dog house due to a recent spate of tough quarters. Potash missed EPS forecasts in each of the past two quarters by at least 10% as farmers held off on new orders to work down current fertilizer inventories. The current quarter may represent another period of slightly weaker demand as inventories come back in to shape, but analysts now expect to see rising demand in the second half of 2012 and into 2013 as typical buying patterns resume.
Goldman Sachs' analysts recently attended the company's annual investor meeting and noted that "Following 2-3 years of below trend consumption, POT expects consumption rates to be above trend over the next few years with demand growth driven by higher application rates in the US (return to normal), China, and India. Brazil and SE Asia are also expected to continue to be key markets."
Over the past 18 months, this cyclical stock has traded in the $40 to $60 range, and is now back at the low end of that range.
Marathon Oil
Crude oil prices have slumped nearly 15% in the past month on concerns of a global slowdown, and many energy stocks are feeling the heat. Many of these oil producers had already been sliding this past winter as they also had exposure to slumping natural gas prices. Now, these producers are turning into deep value plays.
Marathon Oil
(MRO) - Get Report
is a fine example. It owns a range of international oil fields and has also heavily invested in the U.S. natural gas shale market. Shares have lost roughly one-third of their value since the second quarter began on fears that weak oil and gas prices will hammer profits. Indeed, the 2012 EPS forecast has been cut from $3.78 a month ago to a recent $3.36. 2013 profit forecasts have also been trimmed.
Yet even with weaker industry conditions, EPS are still expected to exceed $3 this year, $4 in 2013, and in a more normal demand and price environment, could top $5 by 2014. Meanwhile, shares trading in the mid-$20s sharply discount that view.
To see these stocks in action, visit the
5 Commodity Stosk That Are Now Deep Bargains
portfolio.
RELATED LINKS:
>>5 Stocks to Buy to Be Like Buffett
>>7 Stocks Shoveling More Cash to Investors
>>5 Beaten-Down Stocks to Invest in Now
Follow Stockpickr on
and become a fan on
Facebook.
Stockpickr is a wholly owned subsidiary of TheStreet.com.
At the time of publication, author had no positions in stocks mentioned.