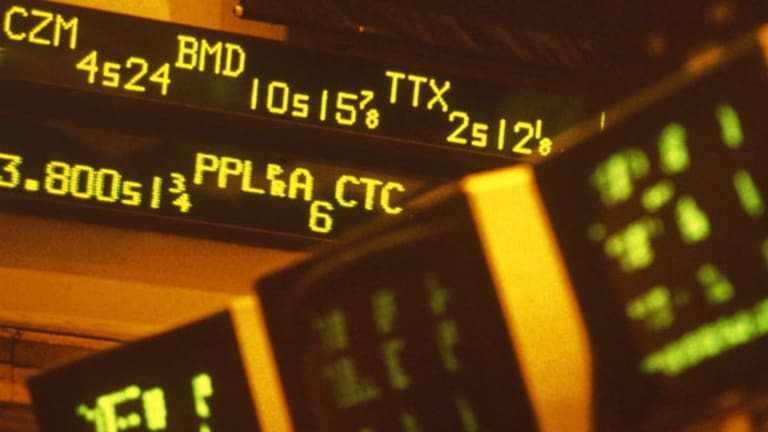 5 Chinese Stock Trades With Breakout Potential
While most investors have had their sights set on the rally in U.S. stocks during 2012, Chinese names have been quietly staging a rally of their own this year -- and a more substantial one at that.
BALTIMORE (Stockpickr) -- While most investors have had their sights set on the rally in U.S. stocks during 2012, Chinese names have been quietly staging a rally of their own this year -- and a more substantial one at that.
Although U.S. stocks have shoved their way to 8.6% gains so far in 2012, Chinese stocks have done nearly double that, rallying more than 15% year-to-date as better-than-expected economic numbers and aggressive central bank easing added liquidity to the Chinese equity market. As stock bargains start to look few and far between here at home, the People's Republic is beginning to look like a good alternative to park dollars in this year.
>>7 Undervalued IPO Stocks That Could Rebound in 2012
Part of the reason for that is the shellacking that U.S.-listed Chinese stocks took back in the latter half of 2011. Now, even with significant ground still to make up before Chinese equities test their April highs, there are some attractive technical setups forming in some of the most popular Chinese names that trade here in the U.S. This week, we'll take a look at how to trade them.
For the unfamiliar,
is a way for investors to quantify qualitative factors, such as investor psychology, based on a stock's price action and trends. Once the domain of cloistered trading teams on Wall Street, technicals can help top traders make consistently profitable trades and can aid fundamental investors in better planning their stock execution.
Here's a look at
a handful of Chinese technical setups
that could deliver breakout gains to your portfolio this week.
China Life Insurance
Up first is $86 billion
China Life Insurance Company
(LFC) - Get China Life Insurance Co. Ltd. Report
, the world's largest life insurer. It's been a rough year for LFC shareholders. In the past 12 months, the firm has seen its shares slide more than 21% on the heels of disappointing fundamental performance.
But this stock has been taking advantage of the bullishness in the region, and the technical setup currently forming in this stock points to higher prices in the near-term.
Right now, LFC is forming a shallow ascending triangle setup, a pattern that's formed by a horizontal resistance level at $46 and uptrending support that acts as a sort of price ceiling for shares. Basically, as shares bounce in between those two technical levels, they're getting squeezed closer and closer to that resistance -- increasing the probability of a
above that level. A push above $46 is a signal that it's time to be a buyer.
Adding some extra confidence to the setup is the fact that
, as measured by 14-day RSI, has remained in a solid uptrend since LFC's August bottom. While this setup is hardly a "textbook" pattern, the trading implications look positive on a push above $46.
Yanzhou Coal Mining
A similar setup is forming in shares of
Yanzhou Coal Mining
(YZC)
, the sixth-largest coal miner in the People's Republic. Like LFC, Yanzhou is forming a long-term ascending triangle setup that's been forming since the latter half of the third quarter. The resistance level to watch in YZC right now is $27.
Looking at the technicals in YZC from a more economics-driven perspective, the setup in this stock all comes down to a case of supply and demand. Essentially, there's an excess of supply of shares above the $27 level -- that is, it's a price above which sellers become more eager to sell and take gains than buyers are to buy. The result is a price level that acts as a sort of ceiling for shares of Yanzhou.
The uptrending
below shares gives us an important clue about investor sentiment in this stock. Because Yanzhou is posting higher lows, we have a hint that buyers have some control over price action; a breakdown below that trend line indicates that that's no longer the case.
A move above $27 is significant because it shows us that the upside barriers to movement have been squashed; keep a close eye on that price.
China Mobile
Meanwhile,
China Mobile
(CHL) - Get China Mobile Ltd. Report
is offering traders a more actionable setup this morning. Shares of the world's largest mobile phone carrier broke out above the $52 level early last week, only driving their way to just shy of $53 before reversing lower.
So has this stock seen the end of its rally already? Not likely.
China Mobile spent much of the last several months consolidating in a range between $47 and $50 (the S2 and S3 support levels in the chart above), only to charge higher since the start of February. While a minor pullback above the $52 breakout level may make investors nervous, there's reason to believe that shares are still in rally mode. Most important is the fact that $52 has been a significant resistance level since September; that makes a push through it all the more impressive.
Instead, a throwback to test newfound support at $52 is a more likely scenario. That will give traders another low-risk entry opportunity in shares. Wait for a bounce off of that $52 level before buying. Then keep a protective stop at S2.
Sina
Things are looking a lot less bullish for shares of
Sina
(SINA) - Get SINA Corp. Report
, a stock that's been stuck in a downtrend for most of the last year. Since mid-April, shares of the $4 billion online media company have halved.
There's a big difference, though, between a stock being in a downtrend and merely moving down. That difference means that we have a tradable setup in shares of SINA right now.
In a downtrending channel, the key difference is the fact that shares are bounded by
and resistance levels, a price ceiling and floor for shares that restrain price action within a tight, predictable range. That predictable range means that traders have a way to determine the risk/reward tradeoff on a setup like SINA.
Because it's in a downtrend, SINA is a short candidate with an optimal entry near the stock's resistance level. The ideal time to buy is on a bounce lower off of trend line resistance with plans to sell as shares approach trend line support. Yesterday's sharp price action lower is a good bounce. Traders who bet on SINA to move down the channel should keep a protective stop just on the other side of resistance.
Sina shows up on a list of
.
China Southern Airlines
Last up is
China Southern Airlines
(ZNH) - Get China Southern Airlines Co. Ltd. Report
, a Gangzhou-based airline that carried more than 11 million passengers last year. Shares of ZNH have been trading in a triangle of a different sort for the past few months: a symmetrical triangle.
Unlike the ascending triangles in LFC and YZC, a symmetrical triangle is a setup that's formed by trendlines that are converging at approximately the same rate. The trading strategy is essentially the same as they'd be in an if/then setup. You want to be a buyer if shares breakout above trend line resistance, or a seller if they break down below trend line support.
A symmetrical triangle is unique because it shows us that there's a volatility squeeze taking shape in shares of ZNH. Because volatility is cyclical, moving from periods of high volatility to periods of low volatility, the implication is that a break outside of ZNH's channel will come in the form of a sizable move. That's why it's crucial to keep a close eye on shares now. When the breakout does happen, the 50-day
is a strong place for a protective stop.
To see these plays in action, check out the
Technical Setups for the Week portfolio
at Stockpickr.
-- Written by Jonas Elmerraji in Baltimore.
RELATED LINKS:
>>5 Rocket Stocks Fueling Up This Week
>>7 Dividend Stocks Hiking Payouts in February
>>5 Stocks Insiders Are Scooping Up
Follow Stockpickr on
and become a fan on
Facebook.
At the time of publication, author had no positions in stocks mentioned.
Jonas Elmerraji is the editor and portfolio manager of the Rhino Stock Report, a free investment advisory that returned 15% in 2008. He is a contributor to numerous financial outlets, including Forbes and Investopedia, and has been featured in Investor's Business Daily, in Consumer's Digest and on MSNBC.com.