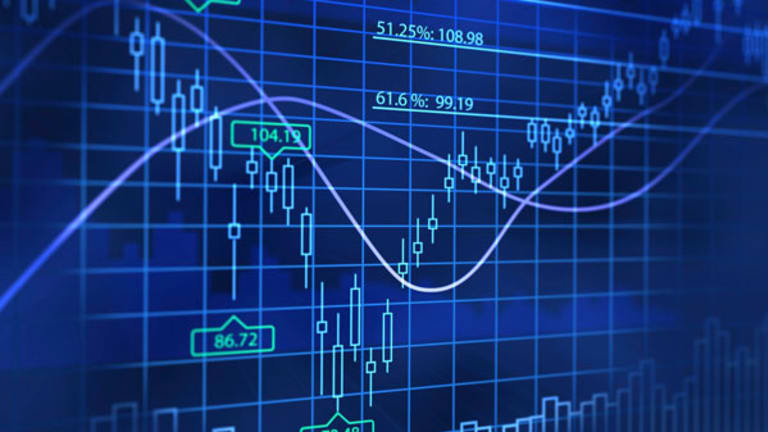 5 Charts Showing a Year-End Stock Bounce
Historically, the final month and change of the year often comes with a year-end bounce higher for stocks.
Historically, the final month and change of the year often comes with a year-end bounce higher for stocks.
BALTIMORE (Stockpickr) -- A skeleton crew is keeping watch over Wall Street today, while the rest of America herds into mile-long lines at the mall.
>>5 Stocks Insiders Are Snapping Up
Black Friday's half-day of trading is typically a light volume day for Mr. Market, and that's likely to be the case this year too. But it's what happens after Black Friday that's worth keeping a close eye on -- historically, the final month and change of the year often comes with a year-end bounce higher for stocks.
In 2012, we're starting to see that shape up in the
S&P 500
: the big index slammed hard against support at 1350 late last week, rallying back above the
on Monday. That support level coincides with a 61.8 retracement of the June through September rally in stocks, an important level for traders who rely on
.
The fact that the S&P's pullback has been orderly for the last couple of months is significant. And now, we're seeing bottoming in a large number of individual names -- but we're not focusing solely on upside today.
>>5 Dividend Stocks Itching to Pay You More
Instead, we're leveraging new interest in the market by taking a technical look at five big names that are tradable this week.
If you're new to
, here's the executive summary.
Technicals are a study of the market itself. Since the market is ultimately the only mechanism that determines a stock's price, technical analysis is a valuable tool even in the roughest of trading conditions. Technical charts are used every day by proprietary trading floors, Wall Street's biggest financial firms, and individual investors to get an edge on the market. And research shows that skilled technical traders can bank gains as much as 90% of the time.
Every week, I take an in-depth look at big names that are telling important technical stories. Here's this week's look at the charts of
five high-volume stocks to trade for gains
.
Apple
We can't talk about big trades without bringing up
Apple
(AAPL) - Get Report
, the $528 billion tech firm that's been catching so much attention from traders in the last couple of months. Apple rallied hard with the broad market from June to September, and then it followed up by dropping like a rock for the next couple of months. But a v-bottom in Apple points to the end of a nasty trend here.
, I featured Apple in this column, and pointed out two important support levels that could be stopping points for shares. Well, the lower one at $520 proved to be the ultimate "price floor" for this stock, spurring a sharp reversal higher called a v-bottom. And because the higher level failed, we've got a good indication that it's a weaker level that should pose less of a challenge for shares on the way up.
, in the form of RSI, adds some extra evidence towards upside in Apple; the RSI downtrend that's been in force since late August got broken this week. Since momentum is a leading indicator of price, that's a good sign for investors looking to get into AAPL at a lower price. With the bounce off of $520 support already in effect, now's a good time to be a buyer -- just keep
in place.
The TJX Companies
With Black Friday well underway, it's no surprise that
The TJX Companies
(TJX) - Get Report
is getting attention today. The $32 billion off-price apparel retailer has been in rally mode lately -- and it looks like enough to break the downtrend that's been holding share price under for the last couple of months.
The price pattern at work in TJX is a double bottom, a setup that's identified by two swing lows that occur roughly around the same level. A breakout above the intermediate peak that separates them is the buy signal for shares. For TJX, that breakout happened on Monday, shoving shares through the breakout level with little trouble. While this stock's price is still below downtrend resistance right now, it's close to a breakout above that red dashed line too -- a move that would indicate the start of a new uptrend.
For TJX, I'd recommend waiting for the breakout above trendline resistance. Even though the double bottom signaled a buy, this stock has already achieved most of that upside. The resistance break is a more long-term price move to grab onto. And for more Black Friday names, check out
5 Retail Trades for Black Friday
.
Crown Castle International
It's been a stellar year for shareholders of
Crown Castle International
(CCI) - Get Report
-- shares of the $20 billion wireless infrastructure firm have rallied close to 50% since the first trading day of January. But hindsight is 20/20. With a massive rally under foot, the question now is whether CCI will be able to keep up its trajectory from this point on. Here's how we'll know...
Right now, CCI is consolidating sideways in a rectangle pattern with resistance at $68 and support at $64. That's not a surprising turn of events -- consolidations give shareholders a chance to catch their breath and decide what to do next after a large move, and CCI shareholders probably need to breathe after the rally. The easiest way to think about a rectangle is that it's an "If/Then Trade": If shares of CCI breaks above resistance, then it's time to buy shares. If they slide below support, then it's time to short. There's no trade until one of those conditions is met.
I realize that this strategy of selling a "bargain" and buying a more expensive stock may sound alien to a diehard value investor. But as a technical trader, it doesn't matter if a stock becomes more expensive as long as it keeps getting more expensive until you decide to sell. Waiting for the breakout gives us a high probability that it will.
Goldman Sachs
I said earlier that not all of the trades we're looking at are bullish --
Goldman Sachs
(GS) - Get Report
is a good example of a downside setup right now.
Goldman has turned out strong performance in 2012, rallying more than 30% since January while the broad market has only earned around a third of that. But a head and shoulders top in shares points to a decline in shares. The head and shoulders is a pattern that indicates exhaustion among buyers -- it's formed by two swing highs that top out at around the same level (the shoulders), that are separated by a higher high (the head). A breakdown below the neckline is the sell (or short) signal for GS.
Momentum is adding some extra confirmation to this setup too. Fourteen-day RSI had been in an uptrend along with price, but the RSI uptrend broke back when the left shoulder was formed, and it's been trending lower ever since. Extra confirmation is just that, though -- wait for price to move below the $113 neckline before selling.
Caterpillar
A very similar setup is forming in shares of heavy equipment maker
Caterpillar
(CAT) - Get Report
. Like Goldman, CAT has been forming a head and shoulders pattern, in this case at the end of the stock's downtrend. While that's not the normal price action that we'd expect to see before a head and shoulders setup (it's a "topping" pattern, after all), the trading implications are still the same.
The sell signal comes on a breakdown below the neckline.
The head and shoulders may be a popular pattern, but the research shows that it's still a valid one: a recent academic study conducted by the
Federal Reserve Board of New York
found that the results of 10,000 computer-simulated head-and-shoulders trades resulted in "profits
that would have been both statistically and economically significant." That's reason enough to keep a close eye on GS and CAT this week.
To see this week's trades in action, check out the
Technical Setups for the Week portfolio
on Stockpickr.
RELATED LINKS:
>>5 Dividend Stocks Itching to Pay You More
>>5 Stocks With Large Insider Buying
>>Profit From 5 Stocks Everyone Hates
Follow Stockpickr on
and become a fan on
Facebook.
At the time of publication, author had no positions in stocks mentioned. Jonas Elmerraji, CMT, is a senior market analyst at Agora Financial in Baltimore and a contributor to
TheStreet
. Before that, he managed a portfolio of stocks for an investment advisory returned 15% in 2008. He has been featured in
Forbes
,
Investor's Business Daily
, and on
CNBC.com.
Jonas holds a degree in financial economics from UMBC and the Chartered Market Technician designation.