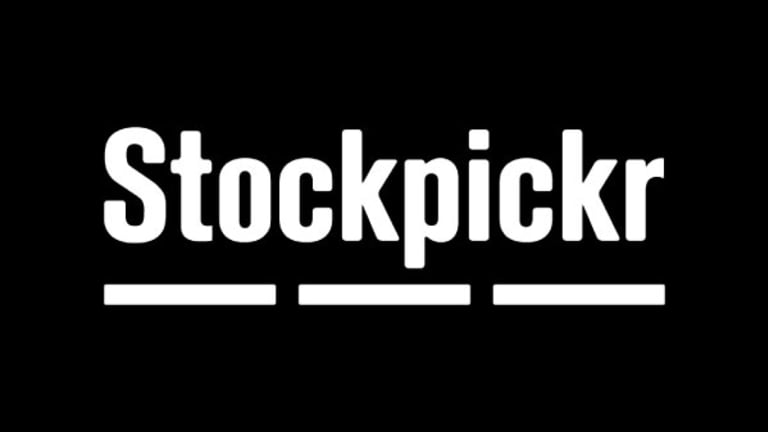 5 Cash-Rich Stocks to Buy in 2013
These firms carry large cash and investment balances for investors.
BALTIMORE (
) -- Who doesn't like cash? Apparently the answer is "investors." With the
S&P 500
up almost 5% in the first month of 2013, investors are too focused on capital gains to think about cash in their portfolios.
Don't get me wrong, I'm not advocating going to cash in your 401k. In fact,
for the past six months or so. Instead, I'm suggesting that you look at the cash-rich stocks that are presenting themselves to investors in this market.
>>5 Stocks Set to Soar on Bullish Earnings
Capital gains are great, but historically speaking, the majority of portfolio growth comes from other sources. Dividends, share buybacks and debt repurchases all inject value directly into your shares, and on a year-to-year basis, they also account for around 50% of annual stock performance. But only companies with cash that have the wherewithal to boost those payouts on command.
Plus, cash is a big deal because it's easy to value. While a nuclear power plant or a tire factory may have market values that fall in a wide range depending on the analyst crunching the numbers, a firm's checking account is pretty easy to get a handle on. And when that cash balance starts to balloon, it effectively provides a massive discount for shares.
>>5 Rocket Stocks to Buy for a Q1 Rally
In short, cash provides options. Firms with cash can opt to increase shareholder value by paying a dividend or initiating a share buyback. Plus, they have the ability to take advantage of pricey M&A opportunities and internal investments.
Firms without cash can't.
Today, we'll focus in on
five firms that carry large cash and investment balances for investors
.
Apple
Apple
(AAPL) - Get Apple Inc. Report
isn't getting a whole lot of love right now. Shares of the $474 billion tech firm have fallen more than 16% in the last six months alone, but I cringe every time I hear that the company is overvalued.
Right now, Apple boasts more than $121 billion in cash and investments on its debt-free balance sheet. That means that around a quarter of Apple's share price is made up of cold, hard cash. That's like a $126 discount on Apple per share -- or it means that the firm currently sports a cash-adjusted P/E ratio of 8.5.
>>2 Stocks That Will Double in 2013
So if you think that Apple has worse growth prospects than
Dell
(DELL) - Get Dell Technologies Inc Class C Report
or
Nokia
, then by all means, continue to avoid this stock. Otherwise, Apple's trading at a big discount thanks to its pile of cash.
Apple creates wildly popular consumer electronics through its iPod, iPhone, iPad, and Macintosh lines. The firm also operates the most profitable retail stores in the industry and the biggest music distributor in the world in iTunes. The bigger they are, the harder they fall - it's that mantra that's sent investors scurrying from Apple on rumors that the firm has been cutting its iPhone 5 orders on weakening consumer demand. But Apple's business hasn't actually shown fundamental signs of weakening, and the added value that the firm pours into its devices (measured by the subsidies it's able to force cost-obsessed carriers to pay out) is astounding.
Most important, Apple has been parting with its huge cash position to pay investors. The firm's dividend payout and buyback plan have made each of the firm's shares worth more while they fell in price. Apple's price action has been purely technical for the past few months -- and that's something investors shouldn't ignore. As much as Apple's cash presents a bargain, it's going to be critical for buyers to wait for the downtrend in shares to get broken before piling in.
Today's earnings call after the bell could provide the catalyst to do just that.
I also featured Apple, one of
David Tepper's Appaloosa Management holdings
, recently in "
5 Dividend Hikes to Watch for This Earnings Season
."
General Motors
It's not your dad's
General Motors
(GM) - Get General Motors Company Report
anymore. GM came out of bankruptcy cutting a leaner profile -- and a balance sheet that's flush with cash. The firm currently sports $24.6 billion in net cash after all of its debt is accounted for, an amount that offsets half of the firm's $44 billion market capitalization. GM is one of the biggest automakers in the world, with brands Chevrolet, GMC, Cadillac and Buick surviving bankruptcy.
Auto sales have been increasing in the last couple of years, and GM has been cashing in. The firm has already booked record annual profits, just a couple of years after exiting bankruptcy, and its leaning out has everything to do with that.
To be clear, you can't just shave GM's $24.6 billion in cash off the top. The firm also supports an underfunded pension that has multi-billion-dollar annual contribution requirements. That said, worker retirement costs are a whole lot more tenable now than they were just a few years ago, and the firm has the wherewithal to support those payouts for the foreseeable future.
Emerging markets present a big growth opportunity for GM. China in particular is a huge market for GM, with the firm selling a record 2.8 billion vehicles in the People's Republic last year. A burgeoning middle class population in emerging market nations could quickly grow the number of car buyers in markets like China, Brazil, and India even in spite of local competition in those countries. GM posts its next earnings call on Valentine's Day.
Activision Blizzard
Activision Blizzard
(ATVI) - Get Activision Blizzard, Inc. Report
is playing its way to big profits in 2013 -- and its share price is already reflecting an upswing in momentum. Activision Blizzard owns some of the hottest video game franchises in the world, including Call of Duty, World of Warcraft and Diablo. The firm also boasts a huge cash position, with more than $3.4 billion of cash and investments on its balance sheet.
That huge cash balance means that more than a quarter of ATVI's share price is made up of risk-free cash. On an adjusted basis, that means that the firm currently sports a P/E ratio of just 10. A big part of Activision Blizzard's cash generation capabilities come from the ongoing service component that its multiplayer games feature. With Wold of Warcraft, for instance, some 10 million subscribers pay a monthly fee to play the game online with other players in real time. That subscription component provides ATVI with recurring, high margin revenues. And they're sticky too. Because gamers have a massive sunk cost in building characters and attaining status, they're a lot less likely to switch to a competing franchise and restart the process.
More recently, Activision Blizzard has been working to integrate that same cash cow model into more traditional game franchises. The firms' Call of Duty Elite service is the best example of that right now. The franchise model is another big benefit for ATVI shareholders. Because the firm can build on the popularity of its past successes within a franchise, it's able to court fans of those games with minimal extra effort.
As ATVI continues to pile cash in its coffers, investors are going to need to pay attention. This stock has dramatically reduced fundamental risks thanks to that mountain of money.
Marvell Technology Group
Chip designer
Marvell Technology Group
(MRVL) - Get Marvell Technology, Inc. Report
isn't getting much attention from buyers - well, neither is any other semiconductor firm, for that matter. Marvell operates in an industry that investors are anxious about, and as a result, shares have been bid down by 43% in the last 12 months. But shares look dramatically oversold at this point, and the price action we've seen in January alone is evidence of that: MRVL has climbed 22% since the first trading session of the new year.
Marvell's bread and butter is supplying control chips to hard drive manufacturers. Data storage has been an in-demand market over the last several years as increased use of memory-intense technologies like HD video recording and cloud computing increase firms' storage needs. Hard drive shortages have helped to propel drive makers dramatically higher in the last year, but Marvell, one of their key suppliers, obviously hasn't gotten the same treatment from investors.
But this stock looks dirt-cheap thanks to its huge cash position. Marvell currently sports $2 billion in cash and investments, a position that's downright massive when you consider the fact that this stock's market capitalization is only $4.75 billion.
While an ongoing patent dispute could eat into that cash balance materially in 2013, this stock is still extremely well capitalized under the worst-case scenario. That could fuel an increase to the 2.7% dividend yield that MRVL currently pays out.
As of the most recently reported quarter, Marvell was one of
David Einhorn's Greenlight Capital holdings
.
Costco Wholesale
Last up is cash-rich retailer
Costco Wholesale
(COST) - Get Costco Wholesale Corporation Report
, a warehouse store than boasts 430 locations worldwide. Costco is the standard bearer in the "wholesale" store business. Even though rivals have more stores, Costco makes more money thanks to a niche in providing bargains on big-ticket items that boosts COST's sales per square foot to around twice what the next guy brings in.
Costco's model is starkly different from a conventional retailer. The firm doesn't want street traffic meandering into its stores and buying a 100-pack of chewing gum or a gallon of shampoo. Instead, it operates a membership model, which means that only the firm's 64 million members can shop in its stores. That membership restriction provides Costco with a recurring revenue stream, and (more significantly), a very loyal and sticky customer base. Because consumers are less likely to carry memberships from competing wholesale clubs, Costco's existing base of higher-spending customers gives the firm a shallow economic moat versus its peers.
Memberships provide most of Costco's profits, so the firm can offer actual merchandise at paper-thin margins. The model works. Costco currently has $4.3 billion in net cash and investments, a position that offsets around 10% of COST's market cap. The upward trajectory in Costco's sales is impressive, and the free cash the firm pulls out of those operations give Costco some big options in returning value to shareholders. A strong uptrend in shares rounds out the picture for this company.
To see these value-centric names in action, check out the
portfolio on Stockpickr.
RELATED LINKS:
>>Sell These 5 Toxic Stocks Before It's Too Late
>>4 Stocks Rising on Unusual Volume
>>5 Under-$10 Plays Primed to Pop
Follow Stockpickr on
and become a fan on
Facebook.
At the time of publication, author had no positions in stocks mentioned. Jonas Elmerraji, CMT, is a senior market analyst at Agora Financial in Baltimore and a contributor to
TheStreet
. Before that, he managed a portfolio of stocks for an investment advisory returned 15% in 2008. He has been featured in
Forbes
,
Investor's Business Daily
, and on
CNBC.com.
Jonas holds a degree in financial economics from UMBC and the Chartered Market Technician designation.