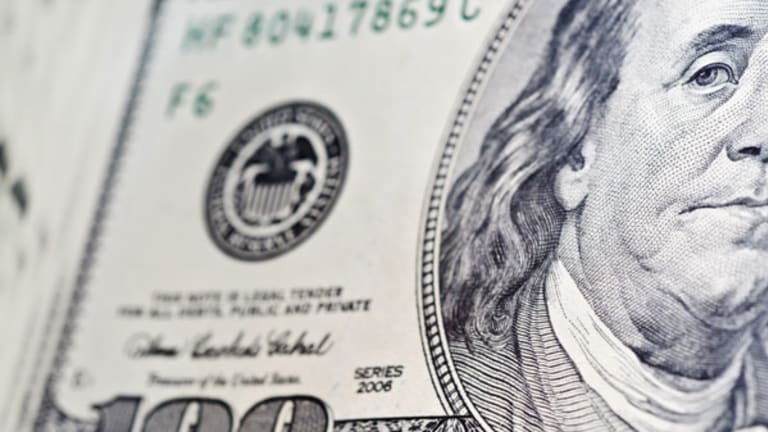 Publish date:
5 Breakout Stocks to Recoup September Losses
These stocks could be setting up to deliver breakout gains to your portfolio this week.
These stocks could be setting up to deliver breakout gains to your portfolio this week.
BALTIMORE (Stockpickr) -- There's no two ways about it: Stocks got shellacked yesterday. And today, they're threatening a repeat performance.
It's not so much the 2.85% drop in the
S&P 500
that makes yesterday significant. Yes, that's a big one-day slide in stocks, but investors have gotten used to volatile downswings in this market. Instead, it's where that 2.85% drop left us that's important.
Yesterday's price action pushed the S&P 500 to close down at 1099. That's well below the Aug. 8 close at 1200 that we've been watching as a key support level in stocks. It's even below the intraday bottom on that day. As I've mentioned in the past, a breakdown below that support level is a significant development. It implies that demand for broad market stocks below 1200 has dried up and that stocks could drop to their next-strongest support level.
>>5 Stocks With Relative Strength Poised to Break Out
Since Sept. 1, the S&P 500 has declined by 10%. Another bear leg would be seriously damaging to long-side investors. The sole caveat worth mentioning at this point is earnings season. Strong fundamental performance for the third quarter could spur a big enough sentiment shift to bring demand in for shares. That's a big "could," though; so far in 2011, investors have completely ignored two previous quarters of earnings that overwhelmingly exceeded expectations.
Even though the broad market is looking less than attractive right now, there are still technical trades to be made out there for investors looking to recoup the poor performance of September.
Remember,
is a way for investors to quantify qualitative factors, such as investor psychology, based on a stock's price action and trends. Once the domain of cloistered trading teams on Wall Street, technicals can help top traders make consistently profitable trades and can aid fundamental investors in better planning their stock execution.
Here's a look at
that could deliver breakout gains to your portfolio this week.
iShares iBoxx Investment Grade Corp. Bond Fund
Let's start off by looking at a couple of ETFs right now.
Correlations remain extremely high
between indices and their constituent stocks right now, which means that everything is more or less trading in unison right now. Certain ETFs solve that problem by providing exposure that's uncorrelated with the S&P 500. One good example of that is the
iShares iBoxx Investment Grade Corp. Bond Fund
(LQD) - Get Report
, an ETF that invests in a basket of 600 liquid, investment-grade corporate bonds.
From a macro perspective, this is an attractive play. Corporate earnings are at an all-time high, and real yields on treasuries are negative right now -- so why not pull down a 4.57% yield from corporates? From a technical analysis standpoint, this fund is looking even better.
>>5 Stocks Set to Soar off Bullish Earnings
Shares of LQD are currently forming a bullish ascending triangle with resistance at $114. That resistance level is the area to watch closely -- a breakout above $114 is a strong buy signal. Longer-term investors who like LQD for the bond exposure can take a starter position now, then ramp up their stake on the breakout. Either way you decide to play it, I'd recommend placing a protective stop just below the 50-day
as soon as $114 gets taken out.
LQD is one of the
top holdings at Ken Fisher's Fisher Investments
as of the most recently reported period.
Direxion Daily Small-Cap Bear 3x ETF
have been leaders lately, breaking out to the downside ahead of yesterday's dropoff in the S&P. For shorter-term traders, the
Direxion Daily Small-Cap Bear 3x ETF
(TZA) - Get Report
is a strong way to take advantage of that price leadership.
This leveraged ETF is designed to return negative 300% of whatever the
Russell 2000 Index
generates on a given day. While there are numerous problems with holding a leveraged ETF for a long-term trade, it's the perfect vehicle for a shorter-term timeframe.
Right now, shares of TZA are forming a complex inverse head-and-shoulders setup that's essentially the mirror image of the bearish formation that's taking shape in the Russell 2000. Shares broke out above the neckline yesterday, providing a buy signal to traders. At this point, it makes sense to go long shares of this ETF -- just be ready to exit on the first sign of weakness.
>>3 Beaten-Down Small-Cap Growth Stocks
This is a fast-moving, volatile fund. That means that risk management is going to be absolutely key for taking this trade. I'd recommend placing a protective stop at the 50-day moving average.
Goldman Sachs
While high correlations are an issue, there are still some potentially bullish setups taking shape in stocks.
Goldman Sachs
(GS) - Get Report
is a perfect example of that -- even if you wouldn't know it to look at the firm's chart.
Shares of Goldman Sachs have been slammed in 2011, falling almost 50% as the whole financial sector lost favor with investors. For Goldman, though, the fact that its trend lines are converging indicates that shares could be in for a rebound. The pattern in question, a falling wedge, has historically been a significant setup to watch -- one study puts the pattern's ability to spot a reversal at more than 90%.
>>7 Goldman Sachs Tech Stocks Still Standing
Obviously, this isn't a setup that you want to get in on early. The buy signal comes on a breakout above the resistance level above shares, but GS could (and likely will) fall materially further and remain within the wedge before a breakout does happen. Until the break above resistance happens, keep this name on the back burner.
Goldman, a holding in
Bruce Berkowitz's Fairholme Capital Management portfolio
, shows up on a recent list of
6 Banks Set for a Third-Quarter Earnings Implosion
.
Hewlett-Packard
Financials aren't the only stocks that have seen their values halved in 2011. Investors in $44 billion tech giant
Hewlett-Packard
(HPQ) - Get Report
are currently sitting on 47% losses year-to-date as well. Right now, this stock is providing trading opportunities in two directions with an if/then trade.
An if/then trade is a contingent trade that doesn't have directional bias. In other words, the ultimate direction of the trade is determined by the direction in which HP breaks out of its channel. With
well-defined support below and resistance above
, there are large pockets of supply and demand for HP's shares; traders will want to see one of those imbalances absorbed by the opposing side before taking a trade on shares of this stock. That factor makes it a high-probability trade.
So why the name "if/then trade"? It's because of how the trade works. If shares of HP break above resistance, then it's time to buy shares. If they slide below support, then it's time to short. There's no trade until those conditions are met.
>>7 Tech Stocks With Limited Downside
In the near-term, the 14-day RSI has been forming a bullish divergence with price action. While that does indicate some upside bias, it plays second fiddle to the bearish drag of the broad market on HP's shares. Either way this trade progresses, I'd recommend a protective stop just within the channel.
HP, one of the
top holdings at David Tepper's Appaloosa Management
, shows up on a recent list of
3 Beaten-Down Giants Ready to Rebound
.
Northrop Grumman
Finally, let's take a look at defense contractor
Northrop Grumman
(NOC) - Get Report
, a stock that's been showing investors bullish technicals -- at least until yesterday. In Northrop's case, the setup to watch has been an ascending triangle bottom following the stock's bottom in August. Again, RSI has been confirming the bullish bias to this stock.
The breakout level to watch for in NOC is $55 -- that's the price at which demand overwhelms the supply of shares that's previously acted as a sort of ceiling for NOC's price action. That upside breakout is looking less likely now, but there's an alternative way to trade this stock given the direction shift of the S&P.
If Northrop falls below its uptrending support level, we've suddenly got a failed bullish setup -- a formation that can have the same downside implications of an outright bearish setup. While a $55 breakout is the stronger way to take this trade, a breakdown below support can make this ascending triangle similar to the "if/then trade" in HP.
Northrop Grumman is one of TheStreet Ratings'
top-rated aerospace and defense stocks
.
To see these plays in action, check out the
Technical Setups for the Week portfolio
at Stockpickr.
-- Written by Jonas Elmerraji in Baltimore.
RELATED LINKS:
>>6 Financial Stocks Offering Excellent Value
>>2 Boring Pair Trades to Spice Up Your Returns
>>6 Dividend Stocks Paying Out More Cash
Follow Stockpickr on
and become a fan on
Facebook.
At the time of publication, author had no positions in stocks mentioned.
Jonas Elmerraji is the editor and portfolio manager of the Rhino Stock Report, a free investment advisory that returned 15% in 2008. He is a contributor to numerous financial outlets, including Forbes and Investopedia, and has been featured in Investor's Business Daily, in Consumer's Digest and on MSNBC.com.