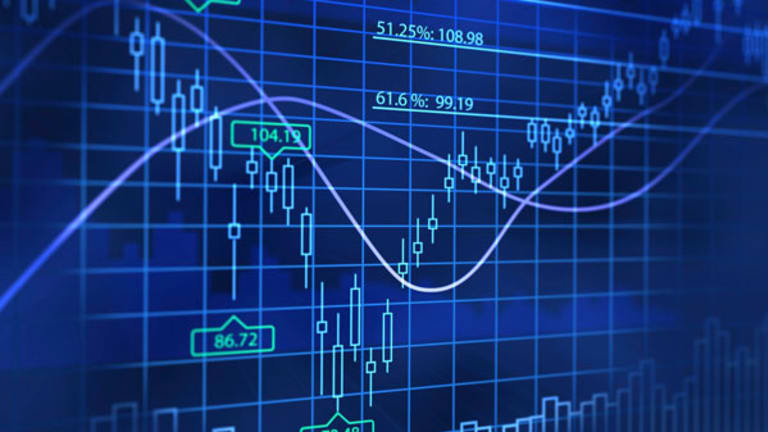 5 Bottoming Stocks Starting to Signal a Buy
Signs of bottoming price action indicate that these stocks could be making up for lost time in February.
BALTIMORE (
) -- Mr. Market is starting to consolidate this morning, correcting after rallying hard for all but a handful of days in 2013.
While it may not seem like it at first glance, a measured pullback is hugely constructive for a longer-term stock rally. It gives investors a chance to catch their breath after such a big move this month before giving it another go. More important, it gives investors a nicer entry point for piling onto their equity positions; after all, you can't "buy the dips" in a market where there aren't any dips.
>>5 Stocks Set to Soar on Bullish Earnings
And as far as my analysis is concerned, this is certainly a "buy the dips" kind of market.
Not all stocks have been participating in January's equity rally, and in most cases that's been a red flag worth heeding. But in a select few names, signs of bottoming price action point to stocks that could be making up for lost time in February. Today, we'll take a technical look at five of them.
>>5 Stocks Setting Up to Break Out
For the unfamiliar,
is a way for investors to quantify qualitative factors, such as investor psychology, based on a stock's price action and trends. Once the domain of cloistered trading teams on Wall Street, technicals can help top traders make consistently profitable trades and can aid fundamental investors in better planning their stock execution.
So, without further ado, let's take a look at
worth trading now.
>>5 Rocket Stock to Buy This Week
V.F. Corporation
Up first is apparel name
V.F. Corporation
(VFC) - Get V.F. Corporation Report
. This clothing stock has slid close to 9% in the last quarter, a period while the rest of the industry has pushed almost 5% higher. But now, VFC could be getting ready to play catch-up thanks to the pattern that's showing itself in shares.
VFC is currently forming a falling wedge, a price pattern that's formed by downtrending trendlines that are converging. Don't let this pattern's appearance fool you. Even though it looks bearish, it's actually a bullish setup. That convergence is the critical element that separates a falling wedge from a more conventional bearish downtrend. The
above downtrend resistance is the buy signal for this stock.
Some bigger names have been showing similar setups lately and have already staged their breakouts higher. If those are any indication of the upside potential in VFC, investors will want to keep a very close eye on resistance right here. It's critical not to be early on this trade by jumping in before that breakout happens. Since VFC is still trending lower, you could be in a losing position before this stock even triggers the buy signal. When it does, though, keep a
at the
.
Best Buy
When you think about stocks you want to own, it's not likely that electronics retailer
Best Buy
(BBY) - Get Best Buy Co., Inc. Report
ranks very highly on that list. In the last 12 months alone, this $5.4 billion stock has lost close to 40% of its market value as consumers kicked tires in its retail stores and then bought their gear at cheaper online competitors (or eroded margins by forcing BBY to price match more aggressive brick and mortar stores).
I'll be the first to say that I wouldn't buy Best Buy. But with this stock coming back from oversold territory, I'd sure trade it.
Best Buy's first signs of life came when the stock broke out above resistance at $13, a place below which shares had been consolidating sideways. Since then, BBY has been moving higher, coming up to breakout through former trendline resistance last week. That more recent push through resistance is the signal that buyers are still in control of this stock at higher levels.
Shares are pulling back a bit today, matching the broad market's correction this morning. That gives traders a chance to jump into Best Buy on a throwback to newfound support at that dashed red line. As long as BBY doesn't fall back through that level, shares look buyable right here.
Garmin
Garmin
(GRMN) - Get Garmin Ltd. Report
is another name that's been under sellers' thumb for the last year and change -- but it's been moving lower for all the wrong reasons. This GPS technology name boasts no debt and $2.7 billion in cash and investments -- enough cash to cover more than a third of the firm's share price right now. Even though sellers have been in control of shares for a while now, the technicals make it clear when it's time to be a buyer.
Garmin spent the better part of the last year forming a double bottom, a price pattern that's formed by two swing lows that bottom out at approximately the same price level. The two bottoms are separated by a peak that marks that resistance level for the setup. A breakout above that price -- right at $43 for GRMN -- is the buy signal for shares. More recently, Garmin's resistance level has proved stronger than expected, pushing shares lower for a second time. That could change the pattern in play from a textbook "double bottom," but ultimately, the trading implications remain the same.
Whenever you're looking at a technical price pattern like this one, it's critical to think in terms of buyers and sellers. The "double bottom" identifier is a good quick way to explain what's going on in this stock, but it's not the reason it's tradable. Instead, it all comes down to supply and demand for shares. Resistance at $43 is a price where there's an excess of supply of shares; in other words, it's a place where sellers have been more eager to take gains and sell their shares than buyers have been to buy.
That's what makes the breakout above $43 so significant. It indicates that buyers are finally strong enough to absorb all of the excess supply above that price level. When that happens, it makes sense to be on the side of buyers.
ViaSat
A similar setup is taking shape in our next name. Small-cap satellite communications stock
ViaSat
(VSAT) - Get ViaSat, Inc. Report
is bottoming thanks to an ascending triangle pattern that's forming in shares.
The ascending triangle is a setup that's formed by horizontal resistance to the upside (at $41 in this case) and uptrending support below shares. Essentially, as VSAT bounces in between those two technical levels, it's getting squeezed closer and closer to a breakout above that resistance level at $41. When that happens, we've got a buy signal in this stock.
At a quick glance, the pattern in VSAT looks a lot like the one in GRMN. That's because the same buyer/seller imbalance at resistance is keeping this stock down at the moment.
adds some extra confidence to this trade - 14-day RSI has been trending higher since the summer. Since momentum is a leading indicator of price, that's a very good sign for shares. When $41 gets taken out, I'd recommend jumping in.
Annie's
Last up is
Annie's
(BNNY)
, a stock that went public last year, effectively staying flat for the majority of 2012. Since the Fall, however, Annie's has slid around 16% while the broad market ticked higher. Despite that underperformance, a reversal pattern in shares points to a rally in this natural foods company in 2013.
BNNY is currently forming an inverse head and shoulders pattern, a setup that's formed by two swing lows at approximately the same level (the shoulders) that are separated by a deeper low (the head). The pattern indicates exhaustion among sellers, with a buy signal that comes on a breakout above the stock's $38 neckline. Momentum adds some extra confidence to this trade. 14-day RSI broke its downtrend in early December, and the momentum gauge has been in an uptrend ever since.
Lest you think that the head and shoulders is too well-known to be worth trading, the research suggests otherwise: a recent academic study conducted by the
Federal Reserve Board of New York
found that the results of 10,000 computer-simulated head-and-shoulders trades resulted in "profits
that would have been both statistically and economically significant."
That's a good reason to pay attention to this recent IPO right now.
To see this week's trades in action, check out the
Technical Setups for the Week portfolio
on Stockpickr.
-- Written by Jonas Elmerraji in Baltimore.
RELATED LINKS:
>>5 Stocks That Want to Pay You More This Quarter
>>5 Stocks Under $10 Poised to Pop
>>5 Big Stocks to Trade for Gains
Follow Stockpickr on
and become a fan on
Facebook.
At the time of publication, author had no positions in stocks mentioned. Jonas Elmerraji, CMT, is a senior market analyst at Agora Financial in Baltimore and a contributor to
TheStreet
. Before that, he managed a portfolio of stocks for an investment advisory returned 15% in 2008. He has been featured in
Forbes
,
Investor's Business Daily
, and on
CNBC.com.
Jonas holds a degree in financial economics from UMBC and the Chartered Market Technician designation.