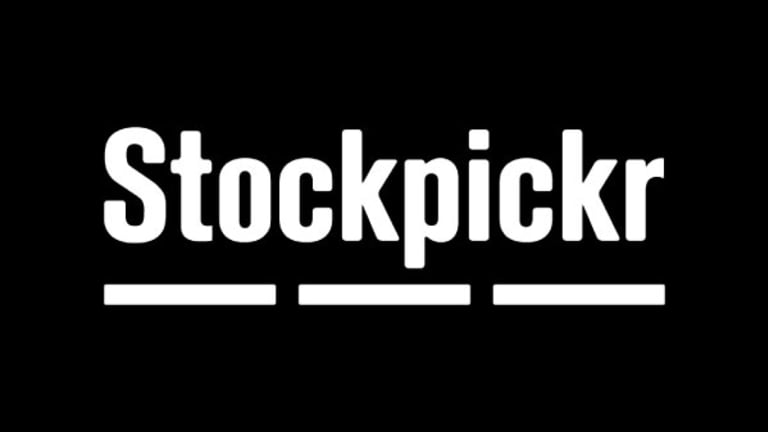 5 Blue-Chips Ready to Boost Dividends
These big-name stocks look ready to hike their dividend payouts in the coming quarter
BALTIMORE (Stockpickr) -- Even if it doesn't feel like it, 2012 has been a good year -- heck, even a banner year -- for stock investors. So far this year, the S&P 500 has rallied more than 12.68%, and it's only August. If that price action continued until year-end, we'd be talking about a nearly 21% year for Mr. Market.
Those don't happen all that often, especially in the last decade.
And dividend payouts are making up a significant part of that return right now. Dividends have tallied up to more than 12% of the S&P's returns year-to-date, a number that looks even more significant when you consider the fact that the S&P's climb hasn't exactly been a straight line. When equities fell hard in the second quarter, dividends were all that kept most investors from falling into the red. That's a valuable safety net to have.
>>5 Stocks Insiders Love Right Now
Dividends are also a safety net that gets more pronounced over time. According to research from Wharton Professor Jeremy Siegel, reinvested dividends account for as much as 97% of total market performance. So, it shouldn't be a big surprise that finding firms ready to boost their dividend payouts is a big priority.
So today, we're scouring the stock market for a new group of big-name stocks that look ready to hike their dividend payouts in the coming quarter. In other words, these five firms are getting ready to boost dividends; they just don't know it yet.
In the past few months we've had some stellar success in finding future dividend hikes just by zeroing in on a few key factors. Now we'll look at our crystal ball and try to do it again.
>>5 Unloved Stocks to Crush the S&P
For our purposes, that "crystal ball" is composed of a few factors: namely a solid balance sheet, a low payout ratio, and a history of dividend hikes. While those items don't guarantee dividend announcements in the next month or three, they do dramatically increase the odds that management will hike their cash payouts, especially as investors start to get antsy about this mid-2012 rally.
Without further ado, here's a look at
five stocks that could be about to increase their dividend payments
in the next quarter.
American Electric Power
You can't find more of a quintessential dividend stock than
American Electric Power Company
(AEP) - Get American Electric Power Company, Inc. Report
: The $21 billion regulated utility holding company sports consistent revenues, a legal monopoly and a huge 4.35% dividend yield. AEP's subsidiaries provide power for more than 5 million customers spread across 11 Midwest and Mid-Atlantic states.
AEP is a fully integrated power company. That means that the firm is involved in every step of the process from generating power at company-owned plants to retailing through its regulated businesses. By being involved in every step of the process, AEP has the ability to squeeze bigger margins out of what's arguably a pretty boring business. While most of the power that AEP generates right now comes from expensive coal-fired plants, the firm has pretty substantial exposure to nuclear and natural gas power, two dirt-cheap plant fuels that AEP is digging into.
>>12 Dividend Growth Stocks to Buy Now
No surprise, the power business is capital-intense. Building power plants and maintaining lines isn't cheap, after all. Still, AEP has an attractive balance sheet that's leveraged less than peers.
With plenty of interest coverage from earnings, the firm should have no problem keeping its quarterly 47-cent dividend payout on an upward trajectory.
Starbucks
In the last decade and change,
Starbucks
(SBUX) - Get Starbucks Corporation Report
has made a big transition from merely being a fast-growing coffee shop chain to becoming a retail force with more than 17,500 stores and a major presence in packaged coffee and processed foods. Starbucks is largely responsible for creating a market for $5 cups of coffee, a lucrative business that's created more than a few competitors in the space. Rivals -- particularly a fast food chain with golden arches -- are something that management will need to continue to differentiate itself from.
Starbucks has a history of pulling the rug out from under its partners. It did it the first time with
Kraft
(KFT) when it scrapped the product distribution partnership it had formed, opting to handle the business internally and keep more of the profits. Then, it did it again to
Green Mountain Coffee
(GMCR) when Starbucks announced the Verismo, a competing home brewing system owned by SBUX (the firm will still make coffee for GMCR's popular Keurig brewers).
>>5 Consumer Stocks Hedge Funds Love
Think what you will of Starbucks' approach, the fact is that both of those moves were in the best interests of SBUX shareholders. Facing a nearly saturated market for coffee shop locations, SBUX needs to continue to be aggressive about its flourishing foods businesses -- all while embarking on a measured growth effort in emerging markets.
Starbucks generates significant cash, and sports a solid balance sheet right now. The firm looks well-positioned to hike its 17-cent quarterly dividend payout in 2012.
Nike
Nike
(NKE) - Get NIKE, Inc. Class B Report
is another dominant business that competes in a saturated market. The athletic apparel stock is one of the most popular brands in the world, with its "Swoosh" emblem able to hike the price of any T-shirt or baseball cap it's printed on.
While the U.S. apparel market is mature (and not growing by much), Nike has managed to find some attractive opportunities nonetheless. Earlier this year, the firm began its contract with the NFL, a five-year deal that makes Nike the league's official uniform supplier.
>>5 Stocks Offering Dividend Plays
But Nike is more than just a single brand. The firm also owns apparel names Umbro, Cole Haan, Hurley, and Converse, relatively small compared to the massive revenue stream that Nike's namesake business brings in, but significant nonetheless. Meanwhile, growing middle classes in China, India and Latin America are the lynchpin to the company's growth strategy right now. As consumers seek out attainable status symbols, Nike's brand equity is providing a perfect sales growth opportunity.
Financially, Nike is in solid health. The firm has a deep net cash position, with less than $400 million in total debt offset by a $2.3 billion cash holding. A huge top line coupled with massive margins should keep throwing plenty of cash from the income statement to the balance sheet at NKE. In the process, it should spur a hike in the firm's 36-cent quarterly dividend payout in the next quarter.
While Nike's 1.52% yield hardly makes it a "core income" holding, a bigger cash dividend would do a good job of boosting investor returns in 2012.
Automatic Data Processing
A challenging jobs market hasn't proven too challenging for human resources administrator
Automatic Data Processing
(ADP) - Get Automatic Data Processing, Inc. Report
. The $29 billion firm has enjoyed stair-step growth through and after the Great Recession, topping $10.17 billion in revenues in the fiscal year ended on June 30. ADP serves more than 550,000 clients, handling services like payroll processing, tax remittances, and benefits administration.
While that type of business typically ebbs and flows with the jobs market, ADP has proven adept at wringing out extra sales from its massive customer Rolodex. By focusing providing complementary services to the clients that already use some of ADP's capabilities, the firm has been able to avoid atrophying its income statement.
>>10 Highest-Rated Tech Stocks That Pay Big Dividends
Low interest rates have been a big headwind in the last few years; since ADP earns interest on the float from payroll cash deposited by clients, higher rates means higher revenues. As the economy recovers, rising rates should materially boost the amount of risk-free interest income ADP pulls in.
A solid balance sheet is requisite for ADP, after all, clients need to feel comfortable in handing over their entire payroll fund every two weeks or so. Like Nike, the firm is effectively debt-free, with $16.8 million in borrowings offset by $1.6 billion in cash.
The firm currently yields 2.7%. With ample cash getting thrown off from ADP's growing operations, I'm anticipating a dividend hike in the next quarter.
Corning
I like
Corning
(GLW) - Get Corning Inc Report
. In fact, I like the company so much that I featured it in "
5 Bargain Bin Stocks You Need to Buy
". Corning manufactures specialty ceramics and glass, including the Gorilla Glass used in iPhone and iPad screens, and the glass internals used in manufacturing TVs and computer displays.
Corning's manufacturing expertise is hard to match and largely proprietary. That gives the firm a defensible moat against the rivals falling over themselves to grab a piece of attractive markets such as mobile devices.
At the same time, a massive investment in the firm's manufacturing facilities should be drawing to a close in the next year, knocking down cash needs and increasing GLW's ability to drive revenues. Apple, for instance, secured nearly all of Corning's Gorilla Glass output for its devices, so Corning should have little trouble keeping its facilities busy making pricey glass.
Financially, Corning follows the mold of most of the other names on today's list. The firm sports a net cash and investment position of $11.98 billion, meaning that almost 70% of GLW's market capitalization is covered by cash. That's the definition of a low risk investment, even if the firm shuttered its doors tomorrow. That also leaves ample room for a hike to Corning's 7.5-cent dividend payout, a 2.55% yield right now. Investors looking for an attractive risk/reward tradeoff should turn to Corning in 2012.
To see these dividend plays in action, check out the at
Dividend Stocks for the Week portfolio
on Stockpickr.
And if you haven't already done so,
today to create your own dividend portfolio.
-- Written by Jonas Elmerraji in Baltimore.
RELATED LINKS:
>>5 Hated Stocks Poised to Pop on Earnings
>>5 Rocket Stocks to Buy This Week
>>7 Dividend Stocks That Want to Pay You More Cash
Follow Stockpickr on
and become a fan on
Facebook.
At the time of publication, author had no positions in stocks mentioned.
Jonas Elmerraji is the editor and portfolio manager of the
Rhino Stock Report
, a free investment advisory that returned 15% in 2008. He is a contributor to numerous financial outlets, including
Forbes
and
Investopedia
, and has been featured in
Investor's Business Daily
, in
Consumer's Digest
and on
MSNBC.com
.