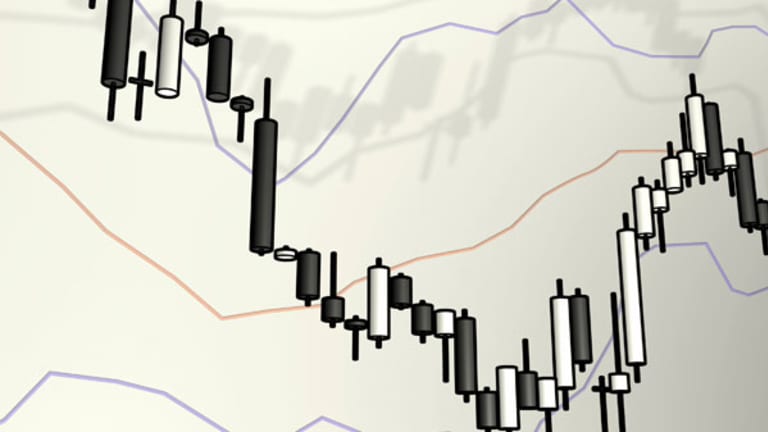 5 Blue-Chip Stocks to Avoid
While the European debt crisis continues to pump anxiety into Mr. Market's I.V., it's shellacking a handful of big-name stocks that have bearish technical setups in the near-term.
BALTIMORE (Stockpickr) -- Yesterday was a nasty little reminder that Europe is still grabbing headlines, whether investors like it or not.
The
S&P 500
shed 1.43% in Wednesday's session, almost making its way down to match the two biggest down days of 2012 set earlier this year. It's not that the broad market is writhing right now -- instead, stocks are actually looking fairly strong from both a fundamental and technical standpoint after the month-long correction that we've been in. (For a global macro look at why, check out "
5 Charts Every Investor Needs to See
.") Zoom out a bit and it's clear that we're still bouncing off of support.
But the bounce isn't benefitting everyone right now.
>>5 Beaten-Down Stocks to Invest in Now
Indeed, while the European debt crisis continues to pump anxiety into Mr. Market's I.V., it's shellacking a handful of big-name stocks that have bearish technical setups in the near-term. That doesn't mean that these stocks are junk, only that fundamental investors may want to rethink their decisions to be buyers for a few weeks or months.
There are a few reasons why the eurozone is having such a big effect on these stocks: it could be that they have a lot of exposure to sales in Europe, or merely that investors are looking for
any
excuse to hit the exit button. Either way, you should be avoiding these five stocks right now - today I want to show you a technical take on why.
If you're new to
, here's the executive summary:
Technicals are a study of the market itself. Since the market is ultimately the only mechanism that determines a stock's price, technical analysis is a valuable tool even in the roughest of trading conditions. Technical charts are used every day by proprietary trading floors, Wall Street's biggest financial firms, and individual investors to get an edge on the market. And research shows that skilled technical traders can bank gains as much as 90% of the time.
Every week, we take an in-depth look at big names that are telling important technical stories. Here's this week's look at the technicals of
five big stocks you should avoid
.
IBM
First up is
IBM
(IBM) - Get International Business Machines Corporation Report
the $224 billion technology giant that's clawed its way 5.8% higher since the first trading day of 2012. IBM has a lot of fundamental factors in its favor longer-term, especially as corporate IT departments shovel cash at cloud computing. But for now you'd be wise to stay away thanks to a double-top that's been forming in shares.
IBM hit resistance twice at $207.50, first back in late March, then again at the start of May. What makes those two tops a big deal for investors is the fact that IBM closed below its breakdown level (the intermediate trough between the two peaks) yesterday. While the break isn't yet confirmed at this point, it's a big enough red flag that folks thinking about buying IBM should sit on the sidelines.
>>5 Stocks to Buy Instead of Dell
Confirmation would come from a move lower in today's session -- but even if IBM bounces today, I'd suggest staying away from shares for now. A downside target near the
looks like a much more attractive entry point instead.
IBM is one of
. (Also see "
5 Stocks to Buy to Be Like Buffett
.")
General Electric
Another huge name that's looking bearish in this environment is
General Electric
(GE) - Get General Electric Company Report
, everyone's favorite industrial conglomerate. Like most multinationals, GE has plenty of exposure to the eurozone, a fact that's probably at least contributing to the setup in shares.
Here's how you should approach the head-and-shoulders top that's forming in shares:
In short, a head-and-shoulders top is a price pattern that indicates exhaustion among buyers -- and after the 20% rally from December's lows to today, it's no huge surprise that buyers are getting exhausted at this point. The pattern is identified by three peaks, the outer peaks (called shoulders) occur at approximately the same price level, and they're separated by a higher peak (known as the head). The "sell signal" for shares is a move below the neckline, a support level that connects all three peaks. GE's neckline is right at $18.50.
>>5 Huge Stocks Breakout Out This Week
GE's pattern hasn't triggered yet, indicating that this blue chip can still catch a bid at that support level. But we're close to testing it right now -- and with demand getting sapped from similar setups under stress from Europe's debt crisis, I'd recommend holding off on buying this stock until this head and shoulders top gets negated by a bullish move.
As of the most recently reported quarter, GE is one of
.
Telus
A similar setup is unwinding in shares of
Telus
(TU) - Get TELUS Corporation Report
, the Canadian telecom firm. Like GE, Telus is forming a head and shoulders top in its shares. Unlike GE, the topping pattern in TU has already broken below its neckline, triggering a sell (or short) signal for investors in the short-term.
Despite a pullback to retest newfound resistance at the neckline level, investors shouldn't think that the selling is done just yet.
offers some extra confirmation of a downward move: 14-day RSI has been trending lower since all the way back in February. Since momentum is a leading indicator of price, the implication is that downside is even more likely for Telus after the breakdown.
>>4 Dead Money Stocks to Sell Now
Even though the head-and-shoulders is likely the most well known technical pattern, it's still a valuable one: an academic study conducted by the
Federal Reserve Board of New York
found that the results of 10,000 computer-simulated head-and-shoulders trades resulted in "profits
that would have been both statistically and economically significant." That's a good reason to keep an eye on both GE and TU this week.
If you do decide to go short this trade, I'd recommend keeping a
above the 50-day moving average.
Time Warner
Time Warner
(TWX)
is mixing things up a bit. This $33 billion entertainment company is forming a broadening pattern, a setup that you don't see a whole lot. While the trading implications of a broadening setup are less well defined than those of a head and shoulders top, there's still plenty of reason to avoid buying this stock right now.
One look at the broadening pattern in TWX, and it should be clear (even to folks who aren't technical analysts) that volatility is on the rise big time. If you're a buy-and-hold investor, volatility is something you should be fleeing right now, especially given the negative connection between volatility and price whenever the EU debt crisis throws a big headline up. (For more on trading and volatility, check out
).
But there's more to the broadening pattern that just unpredictable volatility. Statistically, broadening patterns have been found to lead to downside in stocks -- and the fact that TWX has horizontal resistance at $38 and downtrending support just exacerbates things. After all, we already know that there's a glut of supply of shares above $38 where sellers are more eager to sell and take gains than buyers are to buy.
At the same time, the downtrend indicates that sellers are even in control below that level.
Stay away from TWX until volatility contracts and this stock starts basing.
Time Warner shows up on a recent list of
6 Stocks to Play if the Market Tanks
.
Research In Motion
Last up is
Research in Motion
( RIMM), a stock that's been in freefall since 2008. I won't go into the fundamental arguments on RIMM -- there are plenty of people on both sides of the fence who are already doing that. But one look at this stock's technical outlook should be enough to keep even the most bullish RIMM buy-and-holders from picking up shares at this point.
It's not just that RIMM is in freefall that's concerning from a technical standpoint; more significant is the fact that the selloff has been orderly. RIMM has been well bounded by trend line resistance to the upside, and two trend line support levels below it. That trend line resistance level tells us that RIMM has no trouble finding supply of shares just overhead - and gluts of supply are kryptonite for stock prices.
A breakdown below the nearest trend line support level makes a move to the dashed lower support line a possible move in the near-term. Even if it doesn't, there's just too much resistance overhead to justify being a buyer here. Sellers are looking for any excuse to exit this stock at lower levels.
I would recommend sitting on the sidelines of this stock until it can make a base. Or you could short it.
Research In Motion, one of
2 Stocks to Avoid on a Dead Cat Bounce
, was also featured in "
5 Stocks With New CEOS to Stay Away From
."
To see this week's trades in action, check out the
High Volume Technicals portfolio
on Stockpickr.
-- Written by Jonas Elmerraji in Baltimore.
RELATED LINKS:
>>5 Stocks Insiders Love Right Now
>>5 High-Yield Stocks Ready to Boost Dividends
>>5 Rocket Stocks for a Snapback Rally
Follow Stockpickr on
and become a fan on
Facebook.
At the time of publication, author had no positions in stocks mentioned.
Jonas Elmerraji is the editor and portfolio manager of the Rhino Stock Report, a free investment advisory that returned 15% in 2008. He is a contributor to numerous financial outlets, including Forbes and Investopedia, and has been featured in Investor's Business Daily, in Consumer's Digest and on MSNBC.com.