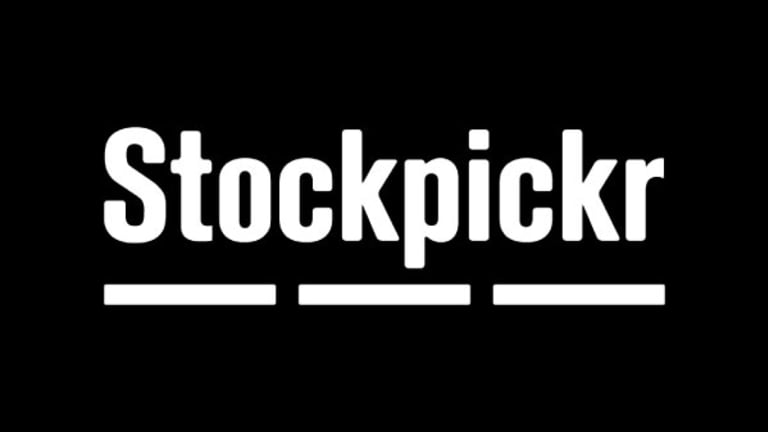 5 Big Trades for Gains in This Market
The charts show some prime technical setups for SPY, GDX, Citigroup and others.
BALTIMORE (Stockpickr) -- If the ups and downs of this month's market roller coaster have been too much to stomach, you're not alone. Scores of investors are sitting on the sidelines right now, waiting for clear evidence that the market's returned to "normal" before jumping back in stocks.
But in spite of the volatility that's come into play in major indices like the
S&P 500
and the
Dow
, it looks like Mr. Market could be preparing to become bullish again (I'll get more into
why
in a minute). Ultimately, August has shown us an incredible technical market -- and for traders willing to get tactical, opportunities abound in some of Wall Street's biggest name stocks.
This week, we're looking at technical trading opportunities in another set of popular names.
Related:
If you're new to
, it's important to remember that technicals are a study of the market itself; since the market is ultimately the only mechanism that determines a stock's price, technicals are a valuable tool even in the roughest of trading conditions. Technical charts are used every day by proprietary trading floors, Wall Street's biggest financial firms and individual investors to get an edge on the market. And by some measures, skilled technical traders can bank gains as much as 90% of the time.
Every week, we take an in-depth look at large-cap stocks that are telling important technical stories. Here's this week's look at the technicals of
.
SPDR S&P 500 ETF
First, onto the broad market, by way of the
SPDR S&P 500 ETF
(SPY) - Get SPDR S&P 500 ETF Trust Report
-- an exchange traded fund that mirrors the performance of the widely followed S&P 500 index. For our purposes, the S&P is the ideal proxy for the broad market. Because it tracks Wall Street's 500 biggest stocks, the index is an incredibly good indicator of the types of returns that the average investor is seeing. And right now, the technicals are indicating a potentially bullish turn for the index.
Here's how to trade it.
Right now, the S&P 500 is looking like it's forming a bullish double bottom, a reversal pattern that comes about when a stock or index finds support (a sort of "price floor" for shares) at or around the same level. In the S&P's case, that level is the bottom that shares hit a couple of weeks ago, and again last Thursday and Friday.
The key to successfully trading a double bottom is not to try to anticipate it -- instead, we'll want to wait for the market to wave us back into the long side of stocks. That happens when shares break above the intermediate top that separates the two bottoms in the S&P. For the SPY ETF, that price comes at $121. When this trade does trigger, I'd recommend a protective stop at $112.
Becton, Dickinson, and Co.
Almost the exact same setup is taking place in shares of medical supply maker
Becton, Dickinson and Co.
(BDX) - Get Becton, Dickinson and Company Report
. While Becton did its own thing for much of 2011, shares have, not surprisingly, fallen lock in step with the S&P 500 in the last couple of months. I say not surprisingly because Becton's not alone - recent highs in the S&P 500 Implied Correlation Index mean that stocks are more prone than ever to trade like "the market" right now. But this is one case where that's actually advantageous for us...
As with SPY, we're looking for Becton to break out above the intermediate peak that separates both bottoms. The benefit to Becton is the probable gain that traders should shoot for in this stock versus SPY -- Becton's nearest resistance level is higher up. After shares manage to close above $81 resistance, consider going long with a protective stop at $76.
Becton, Dickinson shows up in the
20 Top-Yielding Health Services Stocks
portfolio.
Market Vectors Gold Miners ETF
It never hurts to have a contingency plan -- that's why we're taking a look at the
Market Vectors Gold Miners ETF
(GDX) - Get VanEck Vectors Gold Miners ETF Report
, a $9 billion exchange traded fund that holds a portfolio of 30 gold miners. Obviously, gold has been rallying hard as investors look for stability in this market; but gold miners haven't been sharing the wealth.
A bullish inverse head and shoulders setup could change that, triggering as the correlation between gold mining stocks and the metal snaps back to its normal range. Essentially, an inverse head and shoulders is a formation that indicates exhaustion among sellers -- while it's probably the most well known technical pattern out there among would-be traders, a recent study shows that it's also one of the most effective when used with a disciplined trading plan. This setup triggers on a breakout above current resistance at $64.
Even though GDX is likely to move against a potential trade in SPY, keep in mind that I'm not advocating offsetting trades right now. Both ETFs have to trigger before they become high probability trades. It's extremely unlikely we'll see both trigger; instead, it'll more likely be one or the other.
Bed Bath & Beyond
Meanwhile, the exact opposite pattern is taking shape in shares of
Bed Bath & Beyond
(BBBY) - Get Bed Bath & Beyond Inc. Report
. Frankly, I like this stock's fundamentals - it's a solid, debt-free play on consumer sentiment, and a frequent name on our weekly Rocket Stocks list. Even so, this head and shoulders top formation indicates that buyers are getting worn out in shares of BBBY. Like it or not, this stock becomes a short candidate on a breakdown below its $49 neckline.
With a fairly strong support level at $45, this top is more likely to spur a correction than it is to drive BBBY into a tailspin -- even so, investors thinking about building a position right now should probably think again until this stock works out its issues.
Bed, Bath & Beyond shows up in Scott's Investments
18 Fundamentally Strong Stocks With Positive Technicals
portfolio, featured in
.
Citigroup
Last up this week is a recap of
shorting opportunity in shares of
Citigroup
(C) - Get Citigroup Inc. Report
that would have yielded as much as 14.6%. At the time, we were looking at Citigroup for the symmetrical triangle that was forming in shares (really, the setup was more of a pennant, but the trading implications were the same).
One of the most important aspects of the pattern was the fact that it represented a volatility squeeze in shares of Citigroup -- that meant that big volatility was likely to re-enter the stock quickly. The trading plan was simple: "...Citi is potentially due for a large downward move to end this week. Even so, the high probability trade is to wait for shares to exit the triangle, then trade in the direction of the move."
Sure enough, shares broke down below the triangle on Thursday, and found a bottom earlier this week. If you haven't covered your short yet, now's the time to do so...
Citigroup shows up among the top holdings by
Bill Ackman of Pershing Square Capital Management
and
Steve Mandel of Lone Pine Capital
.
To see this week's trades in action, check out the
High Volume Technicals portfolio
on Stockpickr.
RELATED LINKS:
>>5 Earnings Short-Squeeze Plays
>>5 Technical Setups for Breakout Gains
>>5 High-Yield Stocks Set for a Short-Squeeze Pop
Follow Stockpickr on
and become a fan on
Facebook.
-- Written by Jonas Elmerraji in Baltimore.
At the time of publication, author had no positions in stocks mentioned.
Jonas Elmerraji is the editor and portfolio manager of the
Rhino Stock Report
, a free investment advisory that returned 15% in 2008. He is a contributor to numerous financial outlets, including
Forbes
and
Investopedia
, and has been featured in
Investor's Business Daily
, in
Consumer's Digest
and on
MSNBC.com
.