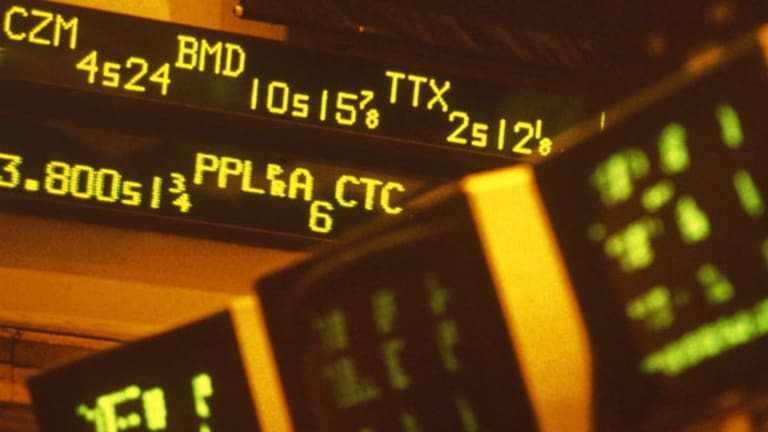 5 Big Trades for a Correction Day
After a week of going straight up, the big indices are stomping on the brakes today. That's a very good thing for anyone who owns stocks right now.
BALTIMORE (Stockpickr) -- After a week of going straight up, the big indices are stomping on the brakes today. And that's a very good thing for anyone who owns stocks right now.
Last week, it looked like we were due to bounce. And we did. But what we got was less a bounce than a springboard. The S&P 500 is up more than 2% in those last five market sessions. For a rebound, that's a little too far, too fast.
That's why the bulls should be glad that we're getting a little corrective action in Thursday's session. For traders, the only thing more important than the market's direction is the fact that it's being extremely technically obedient right now. That means that there are some big high-probability trades to be made in this market.
>>5 Stocks Ready to Explode Higher
So today, we'll take a look at five technical trades in big-name stocks.
If you're new to technical analysis, here's the executive summary.
Technicals are a study of the market itself. Since the market is ultimately the only mechanism that determines a stock's price, technical analysis is a valuable tool even in the roughest of trading conditions. Technical charts are used every day by proprietary trading floors, Wall Street's biggest financial firms, and individual investors to get an edge on the market. And research shows that skilled technical traders can bank gains as much as 90% of the time.
>>5 Stocks With Big Insider Buying
Every week, I take an in-depth look at big names that are telling important technical stories. Here's this week's look at five high-volume stocks to trade this week.
McKesson
First up is McKesson (MCK) - Get McKesson Corporation (MCK) Report, a name that's shown investors some stellar performance in the last year. Over the course of those last 12 months, McKesson has rallied more than 68%. That's enough to make the S&P's 20% climb look anemic. Best of all, MCK could be in store for even more upside thanks to a bullish setup in shares.
>>5 Oversold Stocks Ready to Rebound
McKesson is currently forming an ascending triangle pattern, a bullish setup that's formed by horizontal resistance to the upside at $175 and uptrending support down below shares. Basically, as MCK bounces in between those two technical price levels, it's getting squeezed closer and closer to a breakout above that $175 level. When it happens, it's time to be a buyer.
Relative strength has been exemplary in MCK over the last year -- and even through January's correction in the broad market. That's a very positive sign for investors as well. If you decide to buy the move through $175, it makes sense to keep a protective stop at the 50-day moving average -- that level has been a solid proxy for support over the course of the pattern.
PG&E
Things have looked a whole lot less auspicious for PG&E (PCG) - Get PG&E Corporation Report recently. Since last April, shares of the $19 billion utility company have dropped more than 8% while the rest of the broad market has been in rally mode. But shares of PCG look "bottomy" right now -- and that means that shareholders could be in for a reprieve.
>>3 Big Stocks to Trade (or Not)
PCG is currently forming a double bottom, a price pattern that's formed by two swing lows that bottom out at approximately the same support level. The price to watch is $42.50, which is the breakout level that separates the two bottoms. If shares push through $42.50, buying PCG becomes the high probability trade. Meanwhile, momentum, measured by 14-day RSI, has been in an uptrend since the pattern started; that adds some extra confidence to the PCG trade.
Why does $42.50 matter? It's not magic. Whenever you're looking at any technical price pattern, it's critical to think in terms of buyers and sellers. Pattern names like triangles and double bottoms are a good quick way to explain what's going on in this stock, but they're not the reason it's tradable. Instead, it all comes down to supply and demand for shares.
That resistance line at $42.50 is a price where there's an excess of supply of shares; in other words, it's a place where sellers have been more eager to take recent gains and sell their shares than buyers have been to buy. That's what makes the move above it so significant -- a breakout indicates that buyers are finally strong enough to absorb all of the excess supply above that price level.
Royal Dutch Shell
Large cap oil stock Royal Dutch Shell (RDS.A) is looking buyable this week -- but for much simpler reasons. Trades don't get much more straightforward than what's going on in RDS, which is bouncing higher in an uptrending channel. When it comes to trend channels, up is good and down is bad; it's really that simple.
>>5 Stocks Set to Soar on Bullish Earnings
The channel in Royal Dutch Shell gives traders a high probability range for its price action. For that reason, the optimal time to be a buyer is on a bounce off of support. Waiting to buy off a support bounce makes sense for two big reasons: it's the spot where shares have the furthest to move up before they hit resistance, and it's the spot where the risk is the least (because shares have the least room to move lower before you know you're wrong).
Remember, all trend lines do eventually break, but by actually waiting for the bounce to happen first, you're ensuring RDS can actually still catch a bid along that line.
Bank of America
We're seeing the exact same pattern in shares of Bank of America (BAC) - Get Bank of America Corp Report right now. Like Royal Dutch Shell, this big bank has been forming a well-formed uptrending channel since the end of 2013. And now, with BAC riding its trend line support level this week, the best time to buy comes on its next leg up off of that support level.
>>5 Rocket Stocks to Buy for a Market Bounce
BofA's 50-day moving average has been a solid proxy for support since December. That's important because it makes managing this trade a lot easier. Keep a stop under the 50-day, and you don't have to worry about what BofA does in the interim while it bounces in the channel; if the pattern breaks, you'll already be stopped out.
Relative strength has looked solid in Bank of America since November. That's an important piece of confirmation over this stock's ability to catch a bid at support. From a statistical standpoint, stocks with relative strength uptrends tend to continue to outperform the market on a rolling three-to-ten month time horizon.
JPMorgan Chase
Not all big bank names look like BAC right now, though. JPMorgan Chase (JPM) - Get JPMorgan Chase & Co. (JPM) Report looks outright bearish right now. That's thanks to a head and shoulders top that shares have been forming since November. So while one big bank has been delivering stellar performance, JPM has been looking toppy.
>>5 Dividend Stocks That Want to Give You a Raise
The head and shoulders is formed by three swing highs: two on the sides that max out around the same price level (the shoulders) and a higher one in between (the head). The sell signal comes on a move through the pattern's "neckline," which is right at $54 at the moment. The right shoulder is still forming right now, which might be confused with a bullish move. Ultimately the only thing that matters is the breakdown: If shares slip below $54, it's time to sell (or short) shares.
Momentum had been looking solid for JPM through the end of 2013, but RSI reversed into a downtrend when the head formed in the price pattern. That's pretty typical of a top. But despite any confirmation, it's critical to remember that the sell signal does change until price actually violates the neckline.
To see this week's trades in action, check out the Must-See Charts portfolio on Stockpickr.
-- Written by Jonas Elmerraji in Baltimore.
RELATED LINKS:
>>5 Tech Stocks to Trade for Gains
>>3 Stocks Under $10 Moving Higher
>>4 Stocks Breaking Out on Big Volume
Follow Stockpickr on Twitter and become a fan on Facebook.
At the time of publication, author had no positions in the names mentioned. Jonas Elmerraji, CMT, is a senior market analyst at Agora Financial in Baltimore and a contributor to TheStreet. Before that, he managed a portfolio of stocks for an investment advisory returned 15% in 2008. He has been featured in Forbes , Investor's Business Daily, and on CNBC.com. Jonas holds a degree in financial economics from UMBC and the Chartered Market Technician designation. Follow Jonas on Twitter @JonasElmerraji