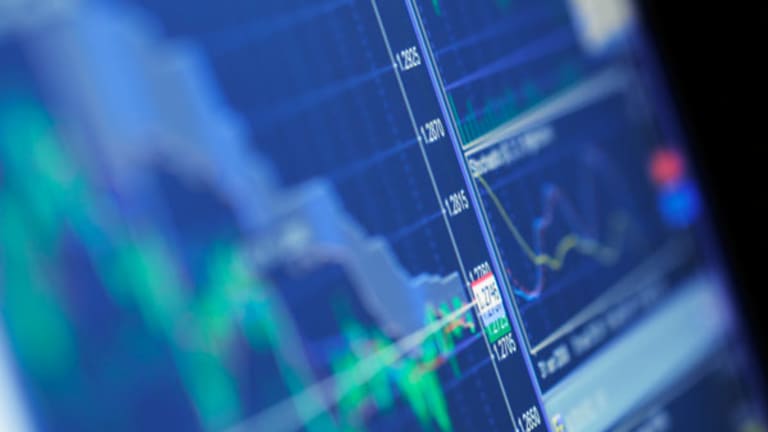 5 Big Stocks You Can Buy Dirt Cheap
These stocks trade near or under book value per share, which generally means a company costs less to buy than the value of the stuff it owns.
BALTIMORE (Stockpickr) -- Twenty percent. When earnings and prices are factored in, that's how much cheaper the average S&P 500 stock is this summer vs. last. So when people say "stocks are cheap," there's a pretty big number supporting that claim.
For the past couple of earnings seasons, stock performance has separated from fundamental performance. Even though most stocks handily beat analyst expectations for the fourth quarter of last year and the first quarter of 2012, equity indices have barely budged higher as a result. As an investor, that means that you're paying less, on average, for each dollar of earnings generation that a company can churn out.
>>7 Dividend Trap Stocks That Don't Pay Off
But I have a big problem with platitudes such as "stocks are cheap." That's because, true though the statement may be on average, they don't answer the question of
which
stocks are cheap. After all, the idea that the market is generally cheaper right now isn't going to help put gains in anyone's portfolio. To do that, we're turning to Wall Street's bargain bin to find the names trading at a discount right now.
In our search, we're focusing in on stocks that currently trade near or under book value per share, a number that (generally) means that a company costs less to buy than the value of the stuff it owns.
>>ACTIVE STOCK TRADERS: Check out Stockpickr's special offer for Real Money, headlined by Jim Cramer, now!
Typically, stocks trade under book value for good reasons. It could mean, for example, that a company has a major black cloud ready to disrupt its businesses, or that its liabilities are underrepresented on its balance sheet. To combat that, we're focusing on larger bargains with consistent profitability, and assets that are primarily financed with equity rather than debt.
Without further ado, here's a look at
five big stocks you can buy dirt cheap this summer
.
Berkshire Hathaway
The first half of 2012 has been pretty strong for shareholders of
Berkshire Hathaway
(BRK.A) - Get Berkshire Hathaway Inc. Class A Report
,
(BRK.B) - Get Berkshire Hathaway Inc. Class B Report
--
firm has climbed 6.6% so far this year, beating the S&P 500 by a decent margin. But shares of this storied holding company are still cheap right now. With a price-to-book ratio of 1.15, Berkshire trades for just a tiny premium to the value of the net assets on its balance sheet right now.
Berkshire's main business is insurance, which is likely the biggest reason behind the discount to book that the firm currently trades for. The company owns Geico, General Re and a handful of other insurance-driven subsidiaries that make up a big chunk of Berkshire's profits.
>>4 Stocks the Pros Hate -- But You Should Love
But let's not forget the firm's other business units, which include hugely capital intense businesses -- such as railroads, corporate jet operators and an energy generation firm. All of those units appear on Berkshire's balance sheet at less than their value, offsetting the dilutive effects of a huge insurance operation on the price-to-book ratio.
Historically, Berkshire Hathaway has been a perennial top performing stock, generating annualized book value growth of nearly 20% per share over the past four decades. And Buffett and company are working hard to keep that number climbing -- they also think stocks are cheap, and the firm's massive stock portfolio has been growing tactically as a result.
With all of the attention people pay to the stocks Warren Buffet thinks are cheap, they may just be ignoring one of the best bargains: Berkshire Hathaway itself.
To view Berkshire's holdings, check out
.
Toyota Motors
Japanese carmaking giant
Toyota Motors
(TM) - Get Toyota Motor Corp. Report
is another stock that's looking cheap right now. Toyota owns brands such as Lexus and Scion -- in addition to its massively popular namesake marque -- and holds large stakes a handful of other businesses, ranging from parts suppliers to homebuilders. Currently, Toyota's price-to-book ratio sits at 0.92, indicating that the firm currently trades for less than the value of parts.
Toyota is one of the biggest automakers out there, boasting 13% of the world's biggest car market here in the U.S. and more than 40% of the market at home in Japan. While a high-profile recall is still relatively fresh in investors' minds, once the dust settles, the financial impacts of the drama are likely to be less than many investors fear. And while the earthquake that rocked Japan last year was significantly disruptive to Toyota's operations (and parts availability), production is back on track for 2012 at this point.
>>10 Century-Old Blue-Chip Stocks Still Earning Their Keep
A very diverse product lineup gives Toyota some big advantages. From high luxury to economy to eco-friendly plug-in hybrids, every corner of the product spectrum is covered by a car that Toyota builds. The firm's reputation as a manufacturer of quality, long-lasting automobiles should keep customers flowing into Toyota showrooms with a minimum of the costly incentives that other automakers have been piling on in the last 12 months.
Investors should give this car company a second look in 2012.
CenturyLink
CenturyLink
(CTL) - Get CenturyLink, Inc. Report
is the third-largest phone company phone company in the U.S., providing fixed-line service to more than 15 million customers. The firm has changed its profile dramatically in the past few years, executive transformative acquisitions of other telecom companies -- namely Qwest, Embarq and Savvis.
From its previous positioning with revenues heavily weighted towards consumers, CTL now is mainly a vendor for enterprise and wholesale telecom resellers. That change is a big deal for the firm; it gives CenturyLink stickier revenue that's impacted less by whims and more by clients' cost-benefit analyses.
>>Buy Ken Fisher's 5 Favorite Stocks
Another result of the change is a much more svelte operating profile. Each of CenturyLink's acquisitions should save significant amounts of money in the long run, entitling investors to a bigger chunk of profits in the form of dividends. While the (fairly) recent acquisition of Qwest is still going to cost a lot in the near-term, it should have a big impact on the combined firm's bottom line once integration expenses disappear.
CenturyLink's price-to-book ratio of 1.15 means that the firm trades for just a 15% premium to its net assets. Because this telecom firm has significant (and partially depreciated) fixed line assets, that's a lower value than makes sense in this market.
Coupled with a large dividend payout (it currently yields more than 7%), CTL looks like a bargain right now.
Archer Daniels Midland
It's been a pretty tepid year so far for
Archer Daniels Midland
(ADM) - Get Archer-Daniels-Midland Company Report
, one of the world's biggest agricultural commodity producers. ADM takes raw soft commodities such as oilseed and wheat as inputs and manufacturing everything from vegetable oil to flour on the other side. With agricultural commodities losing some of their luster in 2012, that's created a tougher market for ADM this year.
Because it's one of the biggest firms of its type in the world, ADM's scale gives it significant advantages over smaller firms. On the financial side, that means that ADM is able to take advantage of global arbitrage opportunities that smaller companies can't. On the operational side, it means that actual products boast better margins, thanks to a highly efficient transportation and production network.
>>5 Bargain Stocks With Tons of Cash
Increasing demand for agricultural products in emerging markets is a big catalyst for ADM, particularly because the firm already has a presence in many of those growth areas. The firm's price-to-book ratio of 1.03 looks cheap right now, even if it's more susceptible to the ebb and flow of the commodity markets than the other names that we've looked at today.
Southwest Airlines
One company that is benefitting from the commodity price swing is
Southwest Airlines
(LUV) - Get Southwest Airlines Co. Report
. Even though Southwest hedges its fuel usage, the firm has traditionally taken a more conservative approach to attenuating the price swings in oil. So with crude prices down more than 26% in the last quarter, LUV has seen its shares climb significantly more than Mr. Market over that same period.
Southwest is the league leader in the low-cost airline business. The firm has historically been an outlier in the airline industry, a business that's usually a whole lot easier to lose money in than to make money in. Southwest's growth over the legacy carriers has been palpable -- and now, with the firm taking on longer routes than ever before (Hawaii is a planned addition to LUV's map by 2013), opening the possibility for long-haul international flights. While that sort of a change would increase costs (adding more long-haul capable aircraft also increases maintenance costs, for instance), it would also give Southwest access to more profitable routes.
Right now, Southwest is in solid shape, with $3.8 billion in cash and investments on its balance sheet and the tailwinds of lowered fuel costs. A price-to-book ratio of 0.96 means that LUV is trading at a small discount right now despite its track record of besting legacy airline performance.
To see these book value bargains in action, check out the
on Stockpickr.
-- Written by Jonas Elmerraji in Baltimore.
RELATED LINKS:
>>5 Stocks Insiders Love Right Now
>>5 Foreign Stocks That Could Pop This Summer
>>5 Rocket Stocks Worth Buying
Follow Stockpickr on
and become a fan on
Facebook.
At the time of publication, author had no positions in stocks mentioned.
Jonas Elmerraji is the editor and portfolio manager of the Rhino Stock Report, a free investment advisory that returned 15% in 2008. He is a contributor to numerous financial outlets, including Forbes and Investopedia, and has been featured in Investor's Business Daily, in Consumer's Digest and on MSNBC.com.