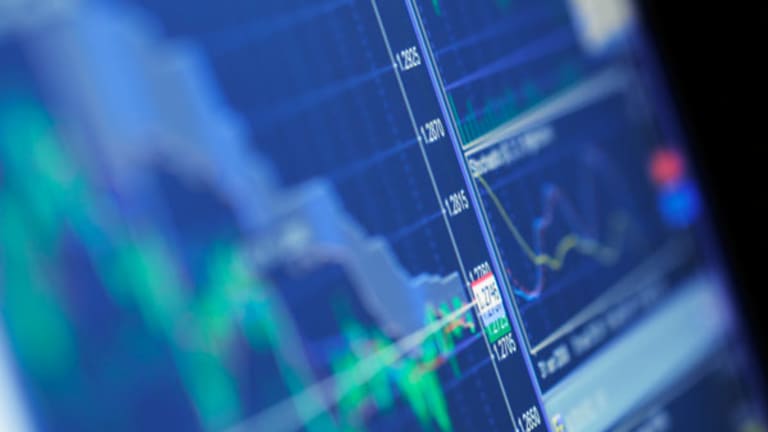 5 Big Stocks to Trade for Summer Gains
Here's a look at how some of the biggest names on Wall Street are trading technically.
BALTIMORE (Stockpickr) -- This could be a big week for the bulls. The S&P 500 is bouncing hard off of key support, finally granting a reprieve to anxious investors who've been watching for a trading signal. So are the S&P's "summer doldrums" already over by the start of July?
It's certainly possible. The index has already climbed more than 3% this week, bringing the index much closer to being out of the "danger zone" it's been flirting with for a while now. I've been harping on the S&P's critical technical outlook for the
, but today I'd like to
show
you what's going on in the market index -- and how to trade it. More on that in a minute.
It's also time to look at what's going on technically with some of the most popular stocks on Wall Street. Because these high-profile names often trade differently than the broad market, taking a look at their technicals can provide some significant trading opportunities when the market's being less than cooperative.
Related:
5 Breakout Trades for Profits This Week
In case you're not familiar with
, technical charts are used every day by proprietary trading floors, Wall Street's biggest financial firms and individual investors to get an edge on the market. And by some measures, skilled technical traders can bank gains as much as 90% of the time.
Every week, we take an in-depth look at large-cap stocks that are telling important technical stories. Here's this week's look at the technicals of
.
SPDR S&P 500 ETF
Back to the S&P 500. The chart above shows the secular trend line from the market's March 2009 lows through today. That trend line is significant for a couple of reasons; for starters, it defines the uptrend that stocks have been in since prices bottomed in early 2009. Because of that, the classical technical interpretation is that as long as the S&P 500 stays above that blue trend line, we're in a bull market. That's why stocks are at such an important level right now.
Also significant is the fact that the trend line has been tested several times in the past (the red circled areas on the chart). Each time stocks have fallen to the S&P's trend line and bounced higher, traders have gotten confirmation of the strength of this support level. So should we expect an end to the summer doldrums?
Right now, the index is bouncing off of support, a bullish signal that the trend line will hold up as a "price floor" for the S&P yet again. Now's a good time to start picking up equities. I say that with a big caveat -- that's the fact that the bounce is still in the early stages, and we don't know what the index will do in the future. Anything from seriously bad economic news to a gradual swing in sentiment could potentially send the S&P back to test the trend line again. So here's how you trade it:
With the S&P bouncing, it looks like a good time to "buy" the broad market. One of the best ways to do that is through the
SPDR S&P 500 ETF
(SPY) - Get S&P 500 ETF TRUST ETF Report
, which essentially mirrors the S&P 500. With that long position in tow, keep a protective stop right under our trend line support level to limit your event risks.
Also check out these recent lists of the
10 Best-Performing S&P 500 Stocks of 2011
and
5 Worst-Performing S&P 500 Stocks of 2011
.
Akamai
Not surprisingly, the rising tide of that broad market buying is lifting all ships right now. Take beaten-down content delivery network servicer
Akamai Technologies
(AKAM) - Get Akamai Technologies Inc. Report
, one of the
S&P 500's worst-performing stocks of the year
. Shares of Akamai have been hammered more than 34% lower so far this year, prompting investors to flee shares.
But it looks like the selling may be over finally thanks to a break above the stock's latest consolidation range. Yesterday, shares of Akamai broke above their consolidation range, a move that could send shares to test resistance at the 50-day
. Because of that, this could be a good name to harness bullishness in the S&P.
>>Practice your stock trading strategies and win cash in our stock game.
Keep in mind that Akamai has been a "gappy" stock in the past. Shares gapped down on two previous earnings guidance releases as already exhausted shareholders unloaded shares at dropping market prices. If you do take this trade, plan on getting out of shares ahead of earnings on July 27.
Akamai shows up on a recent list of
3 Stocks Primed for a Social Media Boost
.
Valeant Pharmaceuticals
Valeant Pharmaceuticals
(VRX)
has been much the opposite this year. Shares of the $15 billion pharma stock rallied hard to start 2011, and managed to hold flat since the market topped in April, showing considerable relative strength over the S&P. All told, shares of Valeant have climbed 86% this year.
And they could be headed higher. That's because of an ascending triangle setup that's giving traders a well-defined breakout level in shares. An ascending triangle is a setup that's identified by a horizontal resistance level above shares, and uptrending support below (the latter provides directional bias to the trade). As shares bounce in between those two technically-relevant levels, overhead supply of shares at resistance gets absorbed, and the potential for a breakout higher increases dramatically.
In Valeant's case, wait for shares to break out to $55 before going long. At that point, I'd suggest a protective stop right below the 50-day moving average.
Valeant, one of the
top holdings of Julian Robertson's Tiger Management
, shows up a recent list of
10 Funds' Best Stocks to Beat z Market Slump
.
Northrop Grumman
Defense contractor
Northrop Grumman
(NOC) - Get Northrop Grumman Corporation Report
is another name that's trending definitively higher in 2011. This stock has shown enviable relative strength over the S&P 500 in the last month, climbing 5.4% while the broad market capitulated to sellers.
A channel breakout is the setup to watch in shares of Northrop this week. Put simply, shares have been locked in an uptrending channel for the last year and change, bouncing in between
and a parallel return line. Now, the uptrend is accelerating with a break above resistance -- wait for confirmation of the move in today's market before buying.
It's important to keep in mind that this isn't the first time NOC has broken above this channel's resistance level. That suggests resistance isn't as strong as support in this setup, and the validity of the breakout should be taken with a grain of salt. Keep a tight stop on this trade, and unload shares if they return to the channel.
Northrop Gurmman, one of the
top-yielding conglomerates stocks
, also shows up on the list of the
Best Stocks to Beat a Market Slump
.
China Life Insurance
Last up this week is
China Life Insurance
(LFC) - Get China Life Insurance Company Limited American Depositary Shares Report
, an aptly named $95 billion stock that ranks as the largest life insurer in the People's Republic. Like NOC, China Life has shown significant relative strength in the last couple of weeks, but
carpe diem
-- this stock is showing traders the exact opposite pattern.
LFC has been locked in a downtrending channel since last November. Even though shares have climbed more than 5% in the last week, prices have only made their way to resistance; they're still well within the channel. As a result, LFC doesn't really have any nearby support for shares. That means that any weakness could send this name back down to test
in the low $40s. Consider this a short candidate as long as prices stay within the channel.
Don't be concerned by gaps in China Life. While this also appears to be a "gappy" stock, the gaps in LFC's price chart are actually suspension gaps caused by overnight trading overseas in this ADR. They can be ignored by traders.
To see this week's potential trades in action, check out the
High Volume Technicals portfolio
on Stockpickr.
-- Written by Jonas Elmerraji in Baltimore.
RELATED LINKS:
>>14 Fundamentally Sound Stocks With Strong Technicals
>>5 Stocks With Big Insider Buying
>>2 Pair Trades for a Market Ready to Bounce
Follow Stockpickr on
and become a fan on
Facebook.
At the time of publication, author had no positions in stocks mentioned.
Jonas Elmerraji is the editor and portfolio manager of the Rhino Stock Report, a free investment advisory that returned 15% in 2008. He is a contributor to numerous financial outlets, including Forbes and Investopedia, and has been featured in Investor's Business Daily, in Consumer's Digest and on MSNBC.com.