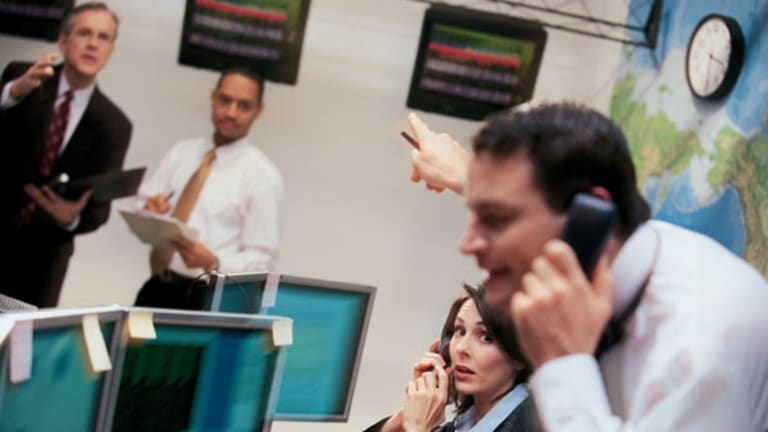 5 Big Stocks to Trade for Gains This Week
Here's a look at how some of the biggest names on Wall Street are trading technically.
BALTIMORE (
) -- A big miss from
Apple
(AAPL) - Get Apple Inc. Report
, Congressional can kicking and China's economic numbers are sure to keep investors on the edges of their seats this morning. But as headline risk (good and bad) sneaks back into stocks, investors need to make sure they're not missing the forest for the trees.
Yes, Apple's "miss" is a big deal (we'll get to that in a moment). And yes, so is the House's ability to pass a budget bill without waiting until taxpayers' necks are on the chopping block. Even Asian market anxiety over China manufacturing data is significant. But the technical factors are ultimately what's ruling Mr. Market right now.
>>5 Cash-Rich Stocks to Buy in 2013
The
S&P 500
pushed on to new 52-week highs for yet another consecutive day yesterday, extending the rally in stocks to within grabbing distance of 1,500. That doesn't mean we'll see that major barrier get taken out this week -- rallies need corrections along the way to stay healthy, after all. But it does bode extremely well for stocks in 2013.
And this rally is also setting the stage for big moves in a handful of individual names right now. Today, we'll take a technical look at five of the biggest.
If you're new to
, here's the executive summary.
>>5 Rocket Stocks to Buy for a Q1 Rally
Technicals are a study of the market itself. Since the market is ultimately the only mechanism that determines a stock's price, technical analysis is a valuable tool even in the roughest of trading conditions. Technical charts are used every day by proprietary trading floors, Wall Street's biggest financial firms, and individual investors to get an edge on the market. And research shows that skilled technical traders can bank gains as much as 90% of the time.
Every week, I take an in-depth look at big names that are telling important technical stories. Here's this week's look at the charts of
five high-volume stocks to trade for gains
.
Apple
How do you erase almost $50 billion from your market value? Just report record sales and profits, and add $16 billion in cash onto your balance sheet. At least that's what happened with Apple yesterday.
>>2 Stocks That Will Double in 2013
We wouldn't be talking about important technical stories in big stocks if I didn't include Apple in the mix. The $483 billion tech firm has been in a downtrend since mid-September, but its huge 10% haircut after earnings yesterday is what's most notable from here. Technically, that drop means a lot -- it shoves Apple from testing resistance at $540 down to test newfound resistance at $490. That's not particularly bullish.
But Apple's converging trendlines (the grey dashed lines in the chart above) do bode a little better for the firm. They signal a falling wedge in Apple, a pattern that indicates a reversal around 90% of the time. The buy signal comes on a breakout above the upper trendline -- a move that would coincide with a push through R2.
I'm not ashamed to say that I like Apple from a fundamental standpoint. In fact, I featured the stock yesterday as
a cash-rich stock to buy in 2013
. But like any competent market technician, my caveat to that was to wait for the downtrend to break before becoming a buyer. Clearly, sellers are still in control of this stock at the moment, and fighting the tape is just going to mean losses for investors who are early on this stock. That said, some of the biggest opportunities arise when fundamentals and technicals converge.
That's reason to keep an eye on Apple in February.
I also featured Apple, one of
, recently in "
5 Dividend Hikes to Watch for This Earnings Season
."
Bank of America
Meanwhile,
Bank of America
(BAC) - Get Bank of America Corp Report
has been sporting a pattern opposite Apple's for the last several months. BofA has been rallying higher in an uptrending channel, a move that's propelled the big bank more than 61% higher in the last six months. And now, Bank of America could have further to run.
>>5 Bank Stocks That Can't Stop Posting Profits
It doesn't take an expert technical analyst to figure out what's going on in Apple - this chart is about as simple as it gets. There's a glut of buyers sitting underneath that trendline support line in BAC -- and it's spurred reversals the last three times shares approached the trendline. Those support and resistance levels give us a high probability range for this stock to trade within. And as you might expect, the ideal time to be a buyer is on a bounce off of support.
When you're looking to buy a stock within a trend channel, buying
after
a bounce off of support makes sense for two big reasons: it's the spot where shares have the furthest to move up before they hit resistance, and it's the spot where the risk is the least (because shares have the least room to move lower before you know you're wrong).
The
has been a good proxy for support over the course of the pattern - that's where I'd recommend putting a protective stop on this trade.
Lennar
Homebuilders have been on fire for the last year, and
Lennar
(LEN) - Get Lennar Corporation Class A Report
is a perfect case in point: shares of the $8 billion company have doubled in the last 12 months. So the question now is whether there's still room for a profit in LEN -- and sources point to "yes."
>>5 S&P 500 Stocks Poised for Stellar Sales Growth in 2013
Lennar spent most of the final quarter of 2012 forming a bullish ascending triangle pattern, a price setup that's formed by a horizontal resistance level above shares and uptrending support below them. As shares bounce in between those two price levels, they're getting squeezed closer and closer to a breakout above resistance; when it happens, we've got a buy signal. For Lennar, that happened as soon as the calendar flipped over to 2013.
Since then, shares have consolidated sideways, throwing back to test newfound support just below $40. Yesterday's push above Lennar's throwback high is basically a secondary buy signal for shares. Yes, you miss out on a couple of points by entering here, but the probability of more upside is magnified by the buying pressure that just got verified at $40.
I'd recommend keeping a protective stop at the 50-day moving average if you decide to jump in here.
Lenna was also featured recently in "
5 Stocks Set to Soar on Bullish Earnings
."
SLM Holding
SLM Holding
is showing the same setup as Lennar right now, it's just not as far along. Like LEN, SLM is forming an ascending triangle pattern, in this case with horizontal resistance at $17.75. The key difference is that SLM hasn't broken out yet, giving traders a chance to get in earlier after the initial breakout. Even so, it's important not to be early.
With any technical pattern, it's critical to think in terms of buyers and sellers -- not shapes. After all, triangles, wedges, and the like are a good way of describing what's happening on a chart, but they're not the reason why it's tradable. Instead, that all comes down to the supply and demand caused by those buyers and sellers.
The horizontal resistance level at $17.75 in SLM is a place where sellers have previously been more eager to sell and take gains than buyers have been to keep buying. But uptrending support tells us that buyers do have some control over shares at lower levels. The breakout means that buyers were able to absorb all of the excess supply of shares that was sitting above $17.75. Without that price barrier above shares, only then does it make sense to be a buyer.
Bottom line: Don't be early on this trade.
Eli Lilly
The old adage goes that "it's a market of stocks, not a stock market," so it stands to reason that we're rounding out our list with a bearish setup. The stock in question is
Eli Lilly
(LLY) - Get Eli Lilly and Company Report
, the $60 billion big pharma firm. While Lilly has managed an impressive 31% rally in the last six months, the setup in shares suggests that it's coming to an end.
Lilly is making a double top pattern right now, a setup that's formed by two swing highs that come in at approximately the same price level. The tops are separated by a swing low that's the breakdown level for the pattern. A move below that low triggers the sell signal in shares. For LLY, that sell signal comes on a move below $46.
When and if that move happens, it makes sense to either sell or short shares -- that said, this bearish chart is broken on a move above top 1. Shareholders had better hope that the latter ends up happening to this stock.
To see this week's trades in action, check out this week's
on Stockpickr.
-- Written by Jonas Elmerraji in Baltimore.
RELATED LINKS:
>>3 Stocks Under $10 Making Big Moves
>>5 Stocks With Huge Insider Buying
>>5 Stocks Ready to Hike Dividends in 2013
Follow Stockpickr on
and become a fan on
Facebook.
At the time of publication, author had no positions in stocks mentioned. Jonas Elmerraji, CMT, is a senior market analyst at Agora Financial in Baltimore and a contributor to
TheStreet
. Before that, he managed a portfolio of stocks for an investment advisory returned 15% in 2008. He has been featured in
Forbes
,
Investor's Business Daily
, and on
CNBC.com.
Jonas holds a degree in financial economics from UMBC and the Chartered Market Technician designation.