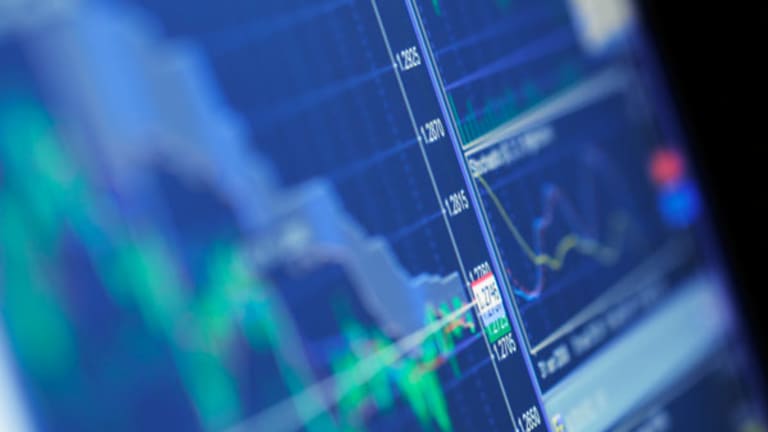 5 Big Stocks to Trade for Gains in This Market
Here's a look at how some of the biggest names on Wall Street are trading technically.
BALTIMORE (Stockpickr) -- Yesterday brought us the first positive trading day for the S&P 500 in the month of September, a statistic that's been getting a lot of attention in the last 24 hours. The metric is a little bit less consequential when you consider the fact that we'd only seen five market sessions month-to-date.
Ultimately, investor anxiety remains high right now -- no surprise given the speed of last month's selling. But with the technicals looking reasonably strong (in spite of the start of this month), bulls can breathe easier for now.
Today's lower open doesn't change that.
The S&P has pulled more than 7% higher since the lows that the index planted on Aug. 9. From that point, our proxy for the broad market has been making higher highs and lows, a good sign that buyers have regained some semblance of control in this market despite being a bit more gun-shy than normal. Those conditions are providing a solid set of technical trading opportunities this week in the big-name stocks.
Related:
5 Rocket Stocks to Skirt the Selling
If you're new to
, it's important to remember that technicals are a study of the market itself. Since the market is ultimately the only mechanism that determines a stock's price, technicals are a valuable tool even in the roughest of trading conditions. Technical charts are used every day by proprietary trading floors, Wall Street's biggest financial firms, and individual investors to get an edge on the market. And research shows that skilled technical traders can bank gains as much as 90% of the time.
Every week, we take an in-depth look at large-cap stocks that are telling important technical stories. Here's this week's look at the technicals of
.
Ford
Ford's
(F) - Get Ford Motor Company Report
finally starting to develop a bullish posture. It's about time -- this best-in-breed automaker has seen its shares slide 37% so far this year despite turning out consistent profitability in 2010 and 2011. Investors looking to build a position in Ford should wait for a push above $11 before picking up shares.
Right now, Ford is forming a triple-bottom setup with very strong support at $10. That $10 level is acting as a sort of "price floor" for shares -- under it, a glut of demand for cheap shares of Ford is preventing the stock from falling lower. That support level has been tested three times now, a testament to the level's strength that traders are taking note of. In a triple bottom, the breakout level comes when shares breakout above the intermediate peaks that separate the bottoms; that's when the supply-and-demand balance has shifted to favor buyers.
Ideally, I'd like to see a breakout in Ford this week - while strong support at $10 is a good signal for bulls, too much consolidation above $10 starts to look less attractive. We want the tug-of-war between buyers and sellers to be resolved before taking a trade in this stock. When it happens, I'd recommend placing a protective stop just below $10.
Ford, one of TheStreet Ratings'
, shows up on a recent list of
.
Stryker
A somewhat similar setup is taking shape in shares of medical company
Stryker
(SYK) - Get Stryker Corporation Report
. Like Ford, Stryker is forming a reversal pattern off of its bottom in August, but unlike Ford's triple-bottom, Stryker is forming an inverse head-and-shoulders setup.
Essentially, an inverse head-and-shoulders formation indicates exhaustion among sellers. It's characterized by two intermediate troughs in Stryker's share price (shoulders), divided by a more significant bottom in between them (head). The buy signal comes on a breakout above the neckline, currently just below $50.
Even though the inverse head-and-shoulders is a popular setup that most would-be traders are familiar with, a recent academic study indicates that this pattern is still statistically and economically significant for investors who buy it with solid trading rules in place.
That's reason enough to pay attention this week. If SYK's setup triggers with a break of the neckline, I'd recommend placing a protective stop just below the right shoulder at $46.
>>Practice your stock trading strategies and win cash in our stock game.
Salesforce.com
Another inverse head-and-shoulders is taking shape in shares of
Salesforce.com
(CRM) - Get salesforce.com, inc. Report
. The biggest difference between the tidy, textbook formation in Stryker and the one in CRM is the fact that CRM's neckline is significantly slanted. While that slant makes the setup somewhat more difficult to identify, it doesn't change the trading implications of this pattern.
For CRM, the breakout price is currently at $130. While the slant in the stock's neckline means that the breakout price could change depending on the time it takes to push above it, the stock's likely upside target (the slanted dashed line that's parallel with the neckline) remains the same distance away.
As with SYK, I'd recommend keeping a protective stop just below the right shoulder if you decide to take this trade. For CRM, that stop-out price is $120.
Salesforce shows up on a recent list of
10 Stocks That Avoid the September Slump
.
Direxion 3X Financial Bear ETF
With high downside volatility in stocks for the past month, many traders have turned to upside potential in the
Direxion 3X Financial Bear ETF
(FAZ) - Get Direxion Daily Financial Bear 3X Shares Report
, a triple-leveraged exchange-traded fund that seeks to return three times the inverse performance of the Russell 1000 Financial Services Index. Put simply, when financial stocks slide 1%, FAZ should move 3% higher.
FAZ worked out to be a good upside trade when the market was falling apart, but it's looking considerably less good right now. The ETF has been trending lower since the beginning of August, locked below a bearish resistance level to the upside and a return line below. If anything, FAZ looks like a short opportunity as long as it stays within the channel.
This ETF can tell us something significant though -- the subchart below FAZ's price chart (above) shows Bollinger bandwidth for the fund. Bollinger bandwidth is a statistical measure of volatility -- unlike popular volatility indicators like the
VIX Volatility Index
, bandwidth isn't directionally biased, and it's not based on what the crowd
thinks
volatility should be priced at.
Related:
Top 10 Commodity-Tracking ETFs
Right now, the bandwidth readings on FAZ show that volatility in both directions is still exceptionally high right now for this fund (and for the financial sector). That's reason enough for investors to exercise some extra caution when trading around this market.
Even though I think that there are a handful of fundamental reasons to be anxious about financials right now, the technicals indicate that this sector could be improving after a major selloff. I'd suggest staying out of FAZ unless it breaks above the upper channel.
iShares Silver Trust ETF
Silver (
iShares Silver Trust ETF
(SLV) - Get iShares Silver Trust Report
) has been another popular option for investors looking to skirt the price flux in stocks, even if it's played second fiddle to alternatives like gold and treasuries. But if silver hasn't been going parabolic lately, it's at least been
fairly predictable from a technical standpoint
this summer. Now the metal looks like it's bouncing off of trendline support, offering traders a good time to take a position.
Typically, silver is thought of as a countertrade to stocks; when stocks fall, silver rallies, and vise versa. That relationship has been under some strain in recent months as a flight to quality on Wall Street complicated the relationships between a number of different asset classes. For that reason, both silver and the S&P have been trending higher lately -- and traders shouldn't be overly concerned by that positive correlation just yet.
Related:
Top-Yielding Metals & Mining Stocks
In the short term, now looks like a reasonable time to take a position in silver in anticipation of a bounce to trend line resistance (currently around $44). I'd suggest placing a protective stop if shares move below the 50-day
.
To see this week's trades in action, check out the
High Volume Technicals portfolio
on Stockpickr.
-- Written by Jonas Elmerraji in Baltimore.
RELATED LINKS:
>>Time to Buy Junior Mining Stocks
>>5 Stocks Insiders Are Buying Up
>>Dividend Champion Portfolio for September
Follow Stockpickr on
and become a fan on
Facebook.
At the time of publication, author had no positions in stocks mentioned.
Jonas Elmerraji is the editor and portfolio manager of the Rhino Stock Report, a free investment advisory that returned 15% in 2008. He is a contributor to numerous financial outlets, including Forbes and Investopedia, and has been featured in Investor's Business Daily, in Consumer's Digest and on MSNBC.com.