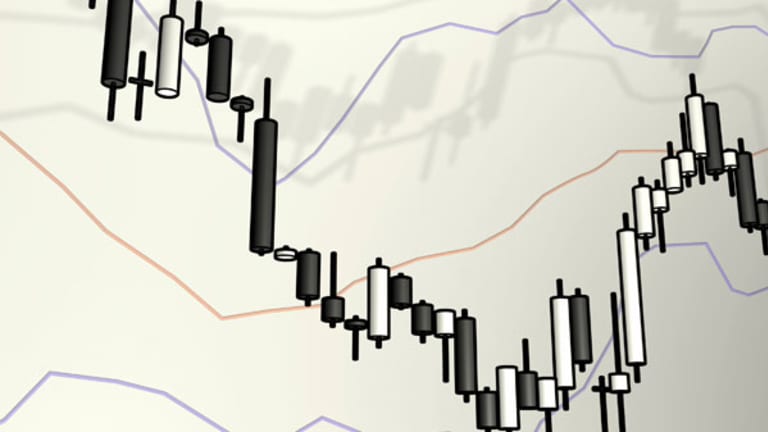 5 Big Stocks to Trade for Gains
Here's a look at how some of the biggest names on Wall Street are trading technically.
Here's a look at how some of the biggest names on Wall Street are trading technically.
BALTIMORE (Stockpickr) -- Wait, the stock market isn't going to zero this month?
That's the question that investors seem to be asking this morning as Mr. Market bounces higher off of what's been a sharp correction in the
S&P 500
.
>>Dow 55,000? It's Closer Than You Think
Certainly, some big things have happened to stocks in the past week. On Tuesday, the S&P got shoved hard below the bottom of the trend channel that
. No, that's not a great sign for buyers -- and in fact, it's a good sell signal for traders who look toward the very short-term.
For 99% of investors, though, the primary trend is what matters. And the primary trend in the S&P 500 is still unquestionably up.
Right now, the S&P is approaching important support at 1400; that means that stocks are likely to find buyers at these price levels. So, with the broad market coming up on an important inflection point, it makes sense to take a technical look at five big names that are tradable this week.
If you're new to
, here's the executive summary.
>>5 Hates Stocks Poised to Pop on Earnings
Technicals are a study of the market itself. Since the market is ultimately the only mechanism that determines a stock's price, technical analysis is a valuable tool even in the roughest of trading conditions. Technical charts are used every day by proprietary trading floors, Wall Street's biggest financial firms, and individual investors to get an edge on the market. And research shows that skilled technical traders can bank gains as much as 90% of the time.
Every week, I take an in-depth look at big names that are telling important technical stories. Here's this week's look at the charts of
five high-volume stocks to trade for gains
.
JPMorgan Chase
It's been a solid year for shareholders in
JPMorgan Chase
(JPM) - Get Report
. The $158 billion big bank has seen its shares rally more than 25% so far in 2012, despite a series of conspicuous missteps that made JPM a media punching bag earlier in the year. Now, the firm looks well-positioned to keep up its momentum.
The most important thing about the climb in JPM is that it's been orderly. Since the June correction in the S&P, JPM has managed to climb higher within an uptrending channel, a price area that's helped traders to identify the high probability moves in shares. The fact that JPM has successfully tested support four times without failing is a good sign -- it indicates that shares can still catch a bid underneath that trend line.
>>5 Big Trades From the Financial Sector
More significant, JPMorgan held up its own trend line support level when the S&P fell through its corresponding trend line. That relative strength is a very good sign for folks looking to buy now.
The ideal time to buy a stock in an uptrending channel is when it's as close to support as possible. For JPMorgan Chase, that time looks like now. Shares just staged a bounce off of support, and are starting to climb higher within the channel. If you decide to be a buyer here, I'd recommend keeping a protective stop in at the
.
I also featured JPMorgan recently in "
5 Stocks Hedge Funds Hate -- But Should You?
."
Fomento Economico Mexicano
$165 billion Mexican beverage company
Fomento Economico Mexicano
(FMX) - Get Report
is showing investors a similar pattern right now, just in the longer-term. FMX has been trading within a long-term channel of its own since the start of 2012, and like JPMorgan, this stock's support and resistance levels give traders a good picture of its likely moves.
>>5 Fast-Growing Mid-Caps for a Rebounding Economy
I mentioned earlier that the best time to buy a stock in an uptrending channel is when it's close to support. After all, it's the place where shares have the furthest to move back up to resistance (the top of the channel) and where they have the least distance to move through support. Since a breakdown below support means that the channel is broken, it's also a logical place to put a stop below; that means minimal risk. That's not the case yet with FMX -- this stock is still coming down off of resistance.
If you're looking to put in a position in FMX, I'd recommend waiting for shares to come down to support, and then bounce off of it. The bounce means that you'll miss a couple points on your entry, but it indicates that shares can still catch a bid at support. All support levels do fail eventually, and when they do, you don't want to be left holding the bag. Waiting for the bounce limits that risk.
eBay
eBay
(EBAY) - Get Report
is a name that
was
in a trend channel but broke out of it at the start of September, when it started consolidating sideways. But here too, there's a technical price setup that points to more upside. For eBay, it's an inverse head and shoulders pattern.
The inverse head and shoulders is probably one of the best-known patterns among would-be traders because of its name and unique appearance. It's formed by three swing lows in a stock's price chart. The outside two, the shoulders, come in at approximately the same level, and they're separated by the head, a lower trough in the pattern. The buy signal comes when the neckline gets broken. eBay's neckline comes in right under $51.
>>9 Consumer Finance Stock Plays to Consider
eBay's setup isn't textbook. Typically, this is a reversal pattern, whereas here we're seeing it come in after a long uptrend. Even so, the inverse pattern indicates exhaustion among sellers, so it's important not to get hamstrung by the textbook definition. This stock is buyable on a move to $51.
Even though the inverse head and shoulders is well known, it's effective: a recent academic study conducted by the
Federal Reserve Board of New York
found that the results of 10,000 computer-simulated head-and-shoulders trades resulted in "profits
that would have been both statistically and economically significant." That makes this price setup worth heeding in shares of EBAY.
eBay was also featured recently in "
5 Stocks Making High-Volume Moves
."
Cisco
Not all of the setups we're looking at today are bullish. Our sole short-side setup is IP networking firm
Cisco
(CSCO) - Get Report
, which has been acting out a comedy of errors over the last few years, missing earnings consistently, getting embroiled in stories of unsavory business practices, and becoming known to traders as a stock that likes to
.
>>5 Stocks to Store Away for 5 Years
Whatever you may think of Cisco fundamentally, those facts haven't helped this stock win over any upside momentum in 2012. And now, shares are definitively pointed lower.
That's because Cisco spend most of August and September forming a rounding top, a pattern that indicates a gradual shift in control of shares from buyers to sellers. The initial short signal came when CSCO broke down below support at $18.25, but with shares sitting at their next-lowest support level (S1 on the chart), there looks to be some more downside here. S2 at $15 is a stronger place for Cisco to historically catch a bid, and it may be the next downside target for this stock.
For that to happen, we'd need to see CSCO push down through S1. In the short-term, I'd expect to see a bit of sideways consolidation as sellers regroup. Wait for the S1 break if you want to ride shares to S2. Otherwise, prospective buyers would be well-advised to wait for Cisco to establish meaningful support before buying.
Facebook
Look, I'm no fan of
Facebook
(FB) - Get Report
. I'm not disgruntled for a lack of Facebook friends -- I just think that this stock has been priced way too high in a market where premiums are getting punished. And those concerns have been warranted from a technical standpoint too. But the selling could be coming to an end after Facebook's 22% rebound yesterday.
>>3 Tech Stocks Hedge Funds Are Buying
That's because shares of FB broke out above resistance at $23 yesterday, completing a double bottom pattern in shares. Essentially, a double bottom is formed by two swing lows that come in at around the same price level. The buy signal comes when shares pop above the intermediate peak that separates those two lows. While the lows in Facebook aren't exactly even, the later low is higher, so the buy signal is still valid.
, as measured by the 14-day RSI graph at the top of the chart, adds some extra confirmation to the setup. Yesterday's massive jump broke the downtrend in RSI, removing one of the big red flags that's been in place for the last month or so.
I'd recommend waiting for a close above that $23 resistance level today before buying. The breakout isn't confirmed until we get some better evidence that buyers are willing to come out and pick up shares at these higher prices.
Even then, be tactical with this stock. With all of the problems in FB, it's crucial to keep a
on the trade.
Facebook was also featured yesterday in "
4 Stocks Soaring on Monster Volume
."
To see this week's trades in action, check out the
High Volume Technicals for the Week portfolio
on Stockpickr.
-- Written by Jonas Elmerraji in Baltimore.
RELATED LINKS:
>>5 Stocks Ready for a Dividend Boost in 2012
>>4 Stocks Showing Strength in a Weak Market
Follow Stockpickr on
and become a fan on
Facebook.
At the time of publication, author had no positions in stocks mentioned.
Jonas Elmerraji is the editor and portfolio manager of the
Rhino Stock Report
, a free investment advisory that returned 15% in 2008. He is a contributor to numerous financial outlets, including
Forbes
and
Investopedia
, and has been featured in
Investor's Business Daily
, in
Consumer's Digest
and on
MSNBC.com
.