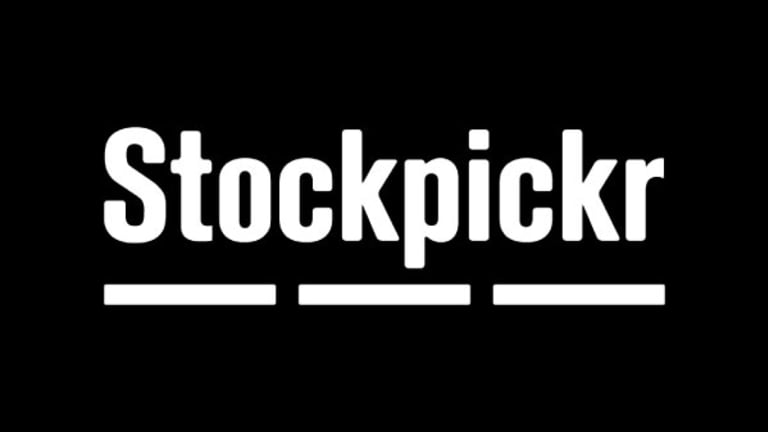 5 Big Stocks to Trade for Gains
Here's a look at how some of the biggest names on Wall Street are trading technically.
Here's a look at how some of the biggest names on Wall Street are trading technically.
BALTIMORE (Stockpickr) -- Mr. Market is giving back some gains this week -- but that doesn't mean that this rally is over.
While stocks gave back Monday's gains on Tuesday and Wednesday, the fact that we're still sitting well above a few key support levels tells us that the market's still able to catch a bid. That's an important factor going into what
could
be the third consecutive down day for the
S&P 500
today.
There's some significance to a three-day correction to close March off.
Over the course of this rally, we've seen a few corrections come into play as traders bled off some overbought momentum from the S&P. This month, the other two pullbacks have both been three-day affairs that paused upside in stocks before spurring the rally on higher. The pattern of several days on, then three days off lends some support to the idea that stocks could end the week (and the month) on a strong note.
>>5 Stocks ready for Big Dividend Boosts
To take full advantage, we're turning to the technicals in five of Wall Street's big-name stocks this week.
If you're new to
, here's the executive summary:
Technicals are a study of the market itself. Since the market is ultimately the only mechanism that determines a stock's price, technical analysis is a valuable tool even in the roughest of trading conditions. Technical charts are used every day by proprietary trading floors, Wall Street's biggest financial firms, and individual investors to get an edge on the market. And research shows that skilled technical traders can bank gains as much as 90% of the time.
Every week, we take an in-depth look at large-cap stocks that are telling important technical stories. Here's this week's look at the technicals of
.
Nike
http://i.thestreet.com/files/tsc/v2008/photos/graphics/032812_rebecca2.jpg
First up this week is athletic apparel giant
Nike
(NKE) - Get Report
, a stock that's been enjoying a sustained rally of its own for the last six months; since late September, shares of Nike have rallied more than 21%. But that rally has been very well-defined within a channel -- and now, that channel is creating a trading opportunity in shares.
Over the course of those six months, Nike has touched its
level (the lower boundary of the channel) six times. Each time, it's found support at that line, and bounced higher within the channel.
Now, with NKE testing trend line support again this week, traders could be seeing an optimal entry opportunity before shares make their way back up the channel.
Here's the key: It's absolutely essential to wait until
after
the bounce happens before being a buyer. Support levels do eventually fail, so waiting for a bounce off of trend line support confirms that there's still demand below that line. After NKE bounces higher for one session, I'd recommend keeping a protective stop just under the 50-day
.
Nike was one of
Goldman Sachs' Consumer Stock Best Buys for 2012
.
Wells Fargo
http://i.thestreet.com/files/tsc/v2008/photos/graphics/032812_rebecca3.jpg
$182 billion banking firm
Wells Fargo
(WFC) - Get Report
is another name that's showing traders a bullish setup right now, albeit a short-term one. Like Nike, Wells has been rallying over the last six months, climbing a full 40% over that time as cash started pouring into the oversold financial sector.
While that rally has taken a breather in the past week or two, an ascending triangle pattern in shares points to additional upside in April.
An ascending triangle pattern is a setup that's formed by a horizontal resistance level above a stock's price level and uptrending support below it. As shares bounce in between those two technically significant levels, WFC is getting squeezed closer and closer to a breakout above resistance - in this case at $34.50. A push above that level indicates that buyers have absorbed the glut of supply that's previously caused $34.50 to act like a price ceiling. It's a clear-cut signal to buy shares of WFC.
The declining volume that we've seen over the course of this setup is a good sign. When the trade does trigger, we'd ideally like to see volume increase as traders participate in the breakout. This WFC setup could move fast once it triggers -- you'll want to keep a close eye on it.
Wells Fargo shows up on a recent list of
5 Best Bank Stock Ides From JPMorgan
and is one of
10 Top Warren Buffett Dividend Stocks
.
C.H. Robinson Worldwide
http://i.thestreet.com/files/tsc/v2008/photos/graphics/032812_rebecca5.jpg
That brings us to
C.H. Robinson Worldwide
(CHRW) - Get Report
, an $11 billion freight logistics company that's forming the exact opposite pattern in the long-term. Right now, CHRW is forming a descending triangle with support at $63. That bearish setup could signal some downside in this name in April.
Think of a descending triangle as an ascending triangle flipped upside down: this pattern is formed by downtrending resistance above price with horizontal support below them. Not surprisingly, the trading implications of a breakdown below $63 are bearish. CHRW has been forming this pattern for months, a factor that adds more credibility to the strength of the setup.
>>5 Rocket Stocks Worth Buying This Week
It's important not to jump the gun and try to take an early short position in CHRW. Remember, that $63 support level is there for a reason -- it's a price level where there's previously been a massive glut of demand for shares. We need to see selling pressures swat away that demand with a breakdown before shorting CHRW becomes a high probability trade.
Once that happens, I'd recommend keeping a protective stop just above the 50-day
.
Devon Energy
http://i.thestreet.com/files/tsc/v2008/photos/graphics/032812_rebecca4.jpg
Devon Energy
(DVN) - Get Report
is having a good run right now; over the last six months, this $29 billion oil and gas firm has rallied more than 25%. Now, though, shares are consolidating sideways, offering up an "if/then setup" for this stock. Here's how to play it.
Essentially, an if/then setup is a trade whose direction is contingent on price action. In other words,
if
DVN breaks out above $76 resistance,
then
buy. Otherwise,
if
shares fall below support at $70,
then
this stock becomes a short candidate. While there's limited directional bias to this trade right now, there are a few clues about DVN's eventual direction.
The first is
, as measured by 14-day RSI. The uptrend in RSI has remained intact since October, a good sign that the upward movement in DVN hasn't fizzled out yet. Because momentum is a leading indicator of price, that's a very good sign. The setup leading up to this consolidation resembles an ascending triangle (see the dashed trendline in the chart) -- that could make DVN's current price action just an elaborate throwback to retest newfound support at $70.
Even if that's the case, the rules of the if/then trade still reduce a lot of the risk associated with this stock.
Devon shows up on a recent list of
10 Stocks Owned by the Best Fund Managers
.
Broadcom
Last up this week is semiconductor firm
Broadcom
, a stock that's been forming a bullish setup for the last several months.
Broadcom has been in the process of forming an inverse head and shoulder setup since August 2011. This popular pattern indicates exhaustion among sellers, a fact that BRCM buyers should be using to their advantage right now. The neckline at $38 was the breakout level to watch in BRCM, but shares have held above that level for a week and change now. With shares consolidating just above the neckline, it makes sense to be a buyer on the next thrust up for BRCM.
Even though the head-and-shoulders (and its inverse) is likely the most well known technical pattern, it's still a valuable one: an academic study conducted by the
Federal Reserve Board of New York
found that the results of 10,000 computer-simulated head-and-shoulders trades resulted in "profits
that would have been both statistically and economically significant."
If you decide to take a position in this bullish trade, I'd recommend keeping a
at the 50-day moving average to reduce your downside risk.
Broadcom, one of
Bridgewater Associates' holdings
, shows up on a list of
4 Chip Stocks Smart Money Is Buying
.
To see this week's trades in action, check out the
High Volume Technicals portfolio
on Stockpickr.
-- Written by Jonas Elmerraji in Baltimore.
RELATED LINKS:
>>7 Companies That Keep on Growing
>>10 Dow Dogs That Are Barking for Gains
>>5 Foreign Stocks With Breakout Trade Potential
Follow Stockpickr on
and become a fan on
Facebook.
At the time of publication, author had no positions in stocks mentioned.
Jonas Elmerraji is the editor and portfolio manager of the Rhino Stock Report, a free investment advisory that returned 15% in 2008. He is a contributor to numerous financial outlets, including Forbes and Investopedia, and has been featured in Investor's Business Daily, in Consumer's Digest and on MSNBC.com.