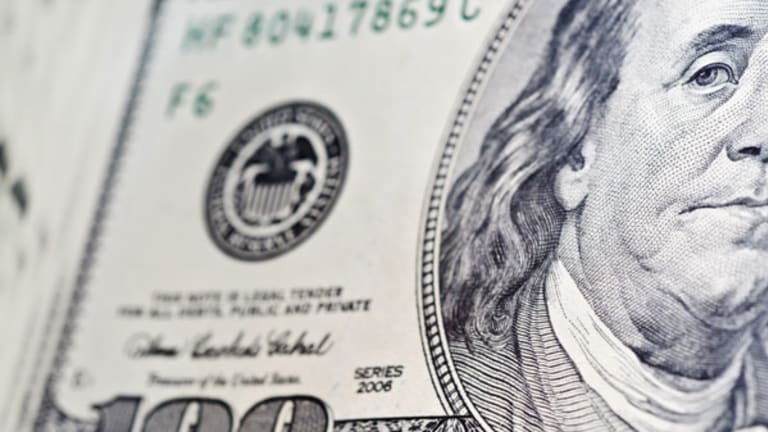 5 Big Stocks to Trade for Gains
Here's a look at how some of the biggest names on Wall Street are trading technically.
WINDERMERE, Fla. (Stockpickr) -- Investors' eyes are transfixed on jobless claims this morning, the first act in today's Wall Street data dump.
Thursdays are typically a major data day for Wall Street as a slew of economic data -- from the jobs numbers that hit at 8:30 a.m. this morning to
Fed
balance sheet stats expected after the close -- gets released to the public. As far as Thursdays go, today's actually relatively quiet, not exactly a good thing given the investor ennui that's kept stocks trading in a relatively tight range for most of February.
Let's face it, stocks need something to shove them past the 13,000 level in the
Dow Jones Industrial Average
that so many people are paying attention to right now (that translates to the 1365 level in the more-relevant
S&P 500
). Earnings season could be it -- almost 20% of the S&P still has yet to report earnings numbers for this quarter, so positive surprises could help ratchet Mr. Market through that resistance level.
>>5 Stocks Under $10 Setting Up to Trade Higher
To ready up for the next move in stock prices, we're watching the technical setups in five of Wall Street's biggest names this week.
If you're new to
, here's the executive summary:
Technicals are a study of the market itself. Since the market is ultimately the only mechanism that determines a stock's price, technical analysis is a valuable tool even in the roughest of trading conditions. Technical charts are used every day by proprietary trading floors, Wall Street's biggest financial firms, and individual investors to get an edge on the market. And research shows that skilled technical traders can bank gains as much as 90% of the time.
Every week, we take an in-depth look at large-cap stocks that are telling important technical stories. Here's this week's look at the
technicals of five must-see stocks
.
Berkshire Hathaway
First up this week is
Berkshire Hathaway
(BRK.A)
,
(BRK.B)
, a stock that's not exactly known for its usefulness as a trading vehicle. The firm's class A shares boast a price of $118,170 as of yesterday's close, and until 2010, the "cheaper" class B shares were still thousands of dollars each.
That's something that
did by design -- he wanted Berkshire to be an investment rather than a trade. But the 50-to-1 stock split in class B shares added considerable liquidity to BRK.B and priced shares low enough for retail traders to trade them.
Today, we'll look at a textbook ascending triangle setup in Berkshire Hathaway.
Put simply, an ascending triangle is a price pattern that's identified by a horizontal resistance level above shares, and uptrending support below. As Berkshire's price bounces in between those two technically relevant price levels, shares get squeezed closer and closer to that resistance level, increasing the probability of a breakout above it. For Berkshire, resistance is at $80.
When that breakout does happen, a major upside barrier has been taken out, and buying Berkshire becomes a high-probability trade. I'd recommend keeping a protective stop at the 50-day
.
BRK.B is one of 10 stocks in the
"Ultimate Stock Pickers" Portfolio
.
Johnson & Johnson
A similar setup is forming in shares of healthcare stock
Johnson & Johnson
(JNJ)
, albeit over a longer timeframe. JNJ has been forming a channel of its own since all the way back in July -- now shares are close enough to the $66.50 resistance level to warrant paying closer attention in February.
On a more real-world basis, this ascending triangle works because resistance is essentially a price level at or above which there's a glut of supply for shares of JNJ. For those whose economics is a bit rusty, a glut of supply just means that it's a price where sellers are more eager to sell and take gains than buyers are to buy more shares. That's why share prices have historically turned tail when they got to that level.
Uptrending support in the pattern tells us that buyers are in
some
control of shares -- they just need to prove strong enough to absorb that extra supply at $66.50. After that happens, the 200-day moving average is a logical place for a protective stop.
Johnson & Johnson, one of
, shows up on a list of
10 Top Dividend Stocks to Own Until Retirement
.
McDonald's
It's been a fairly flat year for
McDonald's
(MCD)
, a surprising fact given this stock's ability to rally in the face of economic headwinds. But that sideways churning does provide traders with an actionable setup this week, even if shares are tipping their hand a bit less than Berkshire or Johnson.
You see, while McDonald's has been trading sideways, from a technical analysis standpoint it's actually been a bit more significant than that. Rather than just moving horizontally, McDonald's has actually been bouncing in between a horizontal resistance and support level, creating an if/then trade in shares. An if/then trade occurs when a stock consolidates sideways in a channel; it's a contingent setup whose direction is dependent on which way shares break outside of the channel.
That means that
if
McDonald's pushes above $102 resistance,
then
it's a buy. Otherwise,
if
shares fall below $98 support,
then
MCD becomes a short candidate. Whichever way shares eventually resolve themselves it's crucial to actually wait for the exit from the channel before putting your money on the line.
McDonald's, one of
Renaissance Technologies' holdings
, shows up on a list of
5 Stocks to Safely Make Money in Emerging Markets
.
General Motors
General Motors
(GM)
has been forming an interesting setup of its own in the last few months. Shares of the Detroit automaker are up nearly 31% year-to-date, up in part on record earnings data put up last week. But zoom out to a slightly longer timeframe, and you'll see that GM's prodigious rally is really only making up for the ground shares lost in November and December.
So what's going on in this volatile stock right now?
GM broke out of a rounding bottom pattern late last week, pushing above $26.50, a resistance level that's been restricting share price movement since August. Zoom out a bit, and GM's setup actually looks more like a very long-term double bottom. Either way, though, the trading implications are exactly the same and the push through $26.50 is a significant move.
That's why even though shares of GM are moving back down to test that $26.50 price this week, the setup is still looking bullish in this stock. A return to previous resistance after a breakout -- a phenomenon known as a "throwback" -- is actually a positive; it gives traders strong confirmation when shares find support and bounce off of that level.
A bounce off of $26.50 for GM gives traders a second shot at a low-risk entry in this stock.
GM shows up on a recent list of
Stocks in Bottoming Sectors Primed for a 2012 Bounce
.
SPDR Gold Trust ETF
Last up this week is an investment that's front-of-mind for many investors this month. I'm talking about gold.
To get a glimpse at what's going on in everyone's favorite metal, we'll use the extremely popular
SPDR Gold Trust ETF
(GLD)
as our proxy. Gold prices have been falling out of favor since early August, when the Fed's meddling broke gold as an "anti-stock trade" in favor of treasuries, and sent prices into a downtrending channel. But that downtrend broke last month, leaving gold prices to consolidate sideways before getting a leg up this week.
That's a very bullish sign for goldbugs -- it means that gold prices should have some room to stretch higher in the near-term.
, as measured by 14-day RSI gave some early indication that the downtrend was waning at the start of January. RSI's uptrend remains in force as February comes to a close.
If you're looking for an opportunity to build a position in gold to hedge your stock portfolio, now may be your best bet.
To see this week's trades in action, check out the
High Volume Technicals portfolio
on Stockpickr.
-- Written by Jonas Elmerraji in Baltimore.
RELATED LINKS:
>>5 Stocks Set to Soar off Bullish Earnings
>>5 Contrarian Blue-Chip Stocks That Could Pop
>>7 Undervalued IPO Stocks for 2012 Rebounds
Follow Stockpickr on
and become a fan on
Facebook.
At the time of publication, author had no positions in stocks mentioned.
Jonas Elmerraji is the editor and portfolio manager of the Rhino Stock Report, a free investment advisory that returned 15% in 2008. He is a contributor to numerous financial outlets, including Forbes and Investopedia, and has been featured in Investor's Business Daily, in Consumer's Digest and on MSNBC.com.