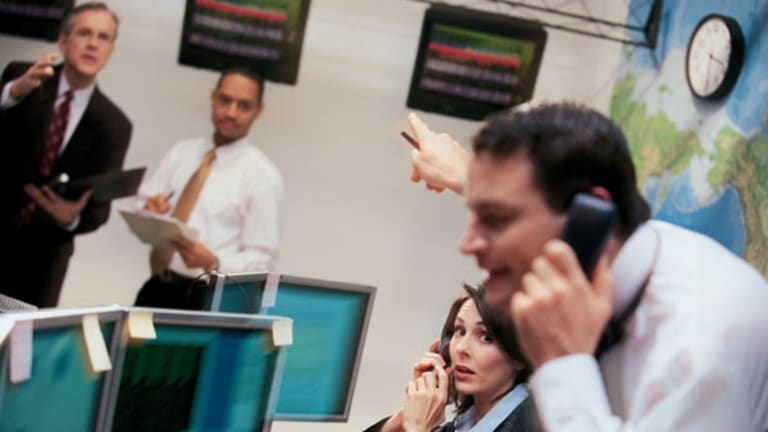 5 Big Stocks to Trade for Gains
Here's a look at how some of the biggest stocks on Wall Street are trading technically.
BALTIMORE (Stockpickr) -- It's "data day" on Wall Street again, as traders bite their nails waiting for a slew of economic data to hit the market. Jobs numbers, quarterly GDP, and consumer confidence results are just a handful of the data points that are impacting the broad market this morning, and investors should expect volatility to continue to reign stocks as a result.
That's especially true after deep revisions to housing data that revealed that post-2007 home sales were much worse than economists had thought.
At this point, frankly, many traders have thrown in the towel for the year, opting to recharge from this exhausting market over an extended holiday. While that's probably the best move to make in many cases, it's leaving a handful of technical trading opportunities on the table right now.
>>5 Stocks Setting Up to Break Out
If you're new to
, here's the executive summary:
Technicals are a study of the market itself. Since the market is ultimately the only mechanism that determines a stock's price, technical analysis is a valuable tool even in the roughest of trading conditions. Technical charts are used every day by proprietary trading floors, Wall Street's biggest financial firms, and individual investors to get an edge on the market. And research shows that skilled technical traders can bank gains as much as 90% of the time.
Every week, we take an in-depth look at large-cap stocks that are telling important technical stories. Here's this week's look at the
technicals of five must-see stocks
.
Exxon Mobil
It's been a roller coaster of a year for shares of the world's most valuable company,
Exxon Mobil
(XOM) - Get Report
. While the stock is up more than 13% since the first trading day of January, that appreciation has come with some hair-raising swings, from massive gains in late April to large losses as recently as September.
Now, though, it looks like Exxon could be about to end the year on a high note.
Shares of Exxon broke out above $82
yesterday, pushing above a price ceiling that had been in effect since the end of October. That breakout above $82 indicates that buyers have absorbed the glut of selling pressure that had previously taken place at that level.
As a result, now's a good time to be a buyer of Exxon.
There's a caveat to that, of course. Exxon has overhead resistance at the $85 level, a price that could potentially act as a stumbling block for shares -- especially if there's any weakness in either the broad market or in oil prices when it's met.
For short-term traders, a move to $85 is a solid bet. I'd recommend keeping a protective stop just below older support at $80.
For another take no Exxon, one of
, it's one of
5 Stocks JPMorgan Warns to Absolutely Avoid
, and I also recently featured it in "
5 Stocks Fund Managers Hate for 2012
."
Marathon Oil
Marathon Oil
(MRO) - Get Report
is showing traders a similar, if more timely, trade right now. Unlike Exxon, which has already broken out above resistance, Marathon is currently in the process of forming its setup. That factor could mean much larger upside potential from this much smaller stock.
In Marathon, the setup to watch is an ascending triangle with resistance at $28.50. In an ascending triangle, two key technical levels are at work: a horizontal resistance line to the upside, and uptrending support below. As share prices bounce in between those two barriers, they get closer and closer to breaking out above that resistance level -- a move that acts as a "buy" signal.
It looks like we could potentially see a breakout above the $28.50 price level today. When that happens, I'd recommend keeping a protective stop at the 50-day
.
Marathon, one of
, shows up on a recent list of
Merrill Lynch's 10 Favorite Stocks for 2012
.
Coca-Cola
Coca-Cola
(KO) - Get Report
is another name that's trying to capitalize on a year-end push. Shares of the $158 billion beverage giant pushed through $69 resistance yesterday, capping off a setup that's much like the one in MRO.
Like Marathon Oil, Coke is forming an ascending triangle with horizontal resistance to the upside, and uptrending support (higher lows) below. But unlike MRO, Coke's resistance level isn't a single price -- instead, it's a range that falls between the $69 level shares broke yesterday and the $71 level that acted as a price ceiling back in September.
Unless you're planning on trading this stock to the top of its resistance range, I wouldn't recommend becoming a buyer of Coke just yet.
Instead, wait for shares to crack $71. When they do, it's a much stronger signal that this stock can run higher. The strength of the uptrending support level below shares helps to reduce the risk profile of this trade.
Coca-Cola shows up on recent lists of the
10 Best Dow Dividend Stocks for 2012
and
Goldman Sachs' Consumer Stock Best Buys for 2012
.
Wells Fargo
From the get-go,
Wells Fargo
(WFC) - Get Report
has stood out as the best-in-breed of the major banks. Not only does the bank operate with fewer risks than its higher-profile peers, it also took advantage of bargains during the financial crisis to balloon its footprint for pennies on the dollar. That combination of a low-risk profile and massive scale makes WFC the go-to name for investors looking for safe financial sector exposure.
That fundamental strength is also showing up in Wells'
right now. Shares of the firm are currently forming an inverse head-and-shoulders setup, a formation that indicates exhaustion among sellers. The $27 neckline is the breakout level that we'll want to see shares move above before WFC becomes a high-probability buying opportunity.
Even though the head-and-shoulders (inverse or not) is likely the most well known technical pattern, it's still a valuable one: an academic study conducted by the
Federal Reserve Board of New York
found that the results of 10,000 computer-simulated head-and-shoulders trades resulted in "profits
that would have been both statistically and economically significant." That's a good reason to keep an eye on WFC this week.
After the breakout, I'd recommend placing a protective stop at the 50-day moving average.
Wells Fargo shows up on recent lists of
5 Bank Stock Picks for 2012 by Goldman Sachs
and
Big Bank Stocks Set to Rebound in 2012
.
Amazon.com
Things aren't quite so rosy over at
Amazon.com
(AMZN) - Get Report
. Shares of the world's No. 1 e-tailer have been sliding significantly lower since early October in spite of strong sales numbers on Cyber Monday. A head-and-shoulders top in shares (the opposite setup from the Wells Fargo trade) spurred much of the selling going into December -- but now, there's a second reason to sell this stock.
Yesterday, Amazon broke down below support at $177, a move that indicates that the pocket of demand for AMZN shares that previously existed at that price isn't there anymore. That greatly increases the chances that Amazon will move down to its next support level at $160, where it's more likely that the stock will be able to catch a bid.
That setup presents a solid shorting opportunity for Amazon right now. If you decide to bet against AMZN, I'd recommend keeping a protective stop just above $183.
For investors looking for a spot to buy Amazon, it makes sense to wait for this stock to find it's next support level and bounce higher before taking a position.
I also featured Amazon, which shows up on a list of
5 Holiday Stock Picks Sure to Please Investors
, in "
5 Stocks the Big Funds Love for 2012
."
To see this week's trades in action, check out the
High Volume Technicals portfolio
on Stockpickr.
-- Written by Jonas Elmerraji in Baltimore.
RELATED LINKS:
>>5 Beaten-Down Stocks That Could Rebound in 2012
>>5 High-Yield Stocks That Could Pop
Follow Stockpickr on
and become a fan on
Facebook.
At the time of publication, author had no positions in stocks mentioned.
Jonas Elmerraji is the editor and portfolio manager of the Rhino Stock Report, a free investment advisory that returned 15% in 2008. He is a contributor to numerous financial outlets, including Forbes and Investopedia, and has been featured in Investor's Business Daily, in Consumer's Digest and on MSNBC.com.