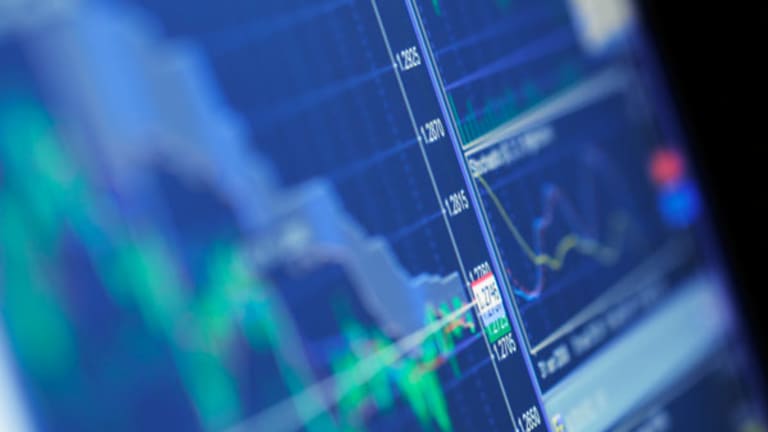 5 Big Stocks to Trade for Gains
Here's a look at how some of the biggest names on Wall Street are trading technically.
BALTIMORE (Stockpickr) -- Tomorrow, millions of families across America will be sitting down to their Thanksgiving turkeys, kicking back for some football (featuring my beloved Ravens, no less) and slicing up some pumpkin pie. But the best part is that U.S. stock markets will be closed.
As delicious as the Thanksgiving holiday may be, price action in the broad market has been absolutely gut-wrenching for the past two weeks. All told, the
S&P 500
has gotten dragged 6.89% lower over that period, pushing Mr. Market definitively into the red for 2011 (more on that in a minute). A reprieve from trading is a much-needed way to shake out the volatile cycle of overreactions and overcorrection that have plagued the market in November.
>>Are Stocks Headed for a Year-End Rally?
But while stocks have been pretty unwieldy, they haven't exactly been impossible. For traders willing to get tactical, we've seen some very compelling technical trades pop up in Wall Street's most popular names -- the 11.8% short trade
is a good example of that. This week, we'll take a look at new technical setups worth watching ahead of Thanksgiving.
In case you're new to
, here's the executive summary:
Technicals are a study of the market itself. Since the market is ultimately the only mechanism that determines a stock's price, technical analysis is a valuable tool even in the roughest of trading conditions. Technical charts are used every day by proprietary trading floors, Wall Street's biggest financial firms, and individual investors to get an edge on the market. And research shows that skilled technical traders can bank gains as much as 90% of the time.
Every week, we take an in-depth look at large-cap stocks that are telling important technical stories. Here's this week's look at the technicals of
.
SPDR S&P 500 ETF
It makes sense to start off looking at the broad market. We'll do that with the
SPDR S&P 500 ETF
(SPY) - Get Report
, one of the most heavily traded ETFs out there thanks to the fund's ability to track its namesake index. The big technical move last week was SPY's breakdown below $122.50 support (1225 in the real S&P 500), which was confirmed on Friday.
The breakdown puts SPY back in the wide trading range that this fund had been stuck in since the start of August. That's not a good sign for the end of 2011 -- it suggests that we'll remain stuck in that sideways channel for a while. Even though we've got plenty of intermediate support levels (those dashed horizontal lines) between here and ultimate support at $110, we're talking about things looking "less bad" rather than "good" right now.
>>6 S&P 500 Stocks Poised to Outperform the INdex
At this point, we have little reason to believe that we're on the verge of any sort of colossal bear move -- instead, I'd expect SPY to catch a strong bid at $110. But chances of a meaningful bullish push to end 2011 aren't looking very likely now that stocks have to contend with that support level at $122.50 again.
Bank of America
The technical story playing out in the S&P is also shaping up in its constituent stocks. The bank everyone loves to hate,
Bank of America
(BAC) - Get Report
still can't catch a break right now -- and shares look like they could be headed lower in the near-term.
Bank of America is testing key support at $5.50 this week, a support level that shares broke down below yesterday. At this point, that breakdown isn't confirmed. Today's price action will be a much better indication of whether the breakdown is tradable. At the same time, ultimate support still exists at the intraday lows BofA set back on Oct. 3. The best way to trade this name is to scale into a small position if the breakdown is confirmed early in today's trading, then increase the position size if shares slide down below that dashed line.
While somewhat more unlikely at this point, if Bank of America manages to catch support for a second time right around that $5.50 level, it could be a good opportunity to enter a long (even if just playing a bounce back up to the 50-day
). I wouldn't suggest trading this stock in either direction until one of those criteria is met.
Bank of America, one of
, shows up on a recent list of
5 Banks Analysts Understand Least
.
Wal-Mart Stores
Right now,
Wal-Mart
(WMT) - Get Report
is gearing up for the Black Friday spectacle that's sure to be seen at its retail stores this week. But shares of the $196 billion retailer are gearing up for some potential carnage of their own.
Wal-Mart is currently forming an inverse head-and-shoulders setup, a formation that indicates exhaustion among buyers. Until now, those buyers have been in clear control of WMT, driving massive relative strength in the last several weeks. A breakdown below WMT's $56 neckline tells us that trading control has shifted to the sellers. A break below that neckline level is the trigger to short this stock.
When that trigger gets thrown, past resistance at $53 is the price target to shoot for. I'd recommend placing a protective stop just above the right shoulder at $57.50.
Wal-Mart, a stock in
, is one of the
highest-yielding retail stocks
.
iShares Barclays 20+ Year Treasury Bond ETF
The
iShares Barclays 20+ Year Treasury Bond ETF
(TLT) - Get Report
has had a strong run in 2011, rallying nearly 29% as investors fled from stocks and poured into treasuries. Many fundamental investors made the mistake of believing that treasury yields were too low to attract investors - and ignored names like TLT. But fundamentals aren't what's driving TLT's price action; fear is. As investors search out return of capital rather than return on capital, treasuries should continue to rally.
One of our best indicators of that is the ascending triangle that's forming in shares of TLT. An ascending triangle is formed by a horizontal resistance level and uptrending support. As shares bounce in between those two technically significant price levels, they get squeezed closer and closer to a breakout above resistance - all the while absorbing some of the supply of shares that's acted as a price ceiling.
In TLT's case, we got a confirmed breakout above $120 resistance yesterday, our buy signal today. If you decide to take this trade, I'd recommend keeping a protective stop right at the 50-day moving average.
>>5 Stocks Setting Up to Break Out
Groupon
Finally, let's recap
Groupon
(GRPN) - Get Report
, the 11.8% short-side gain from
. Last week, Groupon was trading sideways in a range, bouncing between a weak resistance level at $25 and support at $23.50. At the time, there was considerable attention on the artificial floor in shares of the recent IPO, created by a tiny public float.
For that reason, I believed that "the floor in Groupon is likely to be temporary. While its float provides some protection from shorts, prices can still decline just as easily from longs eager to exit their positions amid waning demand. A breakdown below $22.76 is a good sign that that's taking place."
We got that break yesterday, spurring a selloff that accelerated as shorts got eager enough to eat the hard-to-borrow fees being charged to bet against Groupon. From that $22.76 breakdown level, shares have slid 11.8%. At this point, it'll be important to see how this stock opens in today's trading to determine if it makes sense to hold the position; most shorts will be eager to take gains quickly -- that could cause a squeeze higher today.
To see this week's trades in action, check out the
High Volume Technicals portfolio
on Stockpickr.
-- Written by Jonas Elmerraji in Baltimore.
RELATED LINKS:
>>5 Technical Setups From the Twittersphere
>>7 Stocks Dishing Out Bigger Dividends
>>3 Cheap China Stocks Without the Risk
Follow Stockpickr on
and become a fan on
Facebook.
At the time of publication, author had no positions in stocks mentioned.
Jonas Elmerraji is the editor and portfolio manager of the Rhino Stock Report, a free investment advisory that returned 15% in 2008. He is a contributor to numerous financial outlets, including Forbes and Investopedia, and has been featured in Investor's Business Daily, in Consumer's Digest and on MSNBC.com.