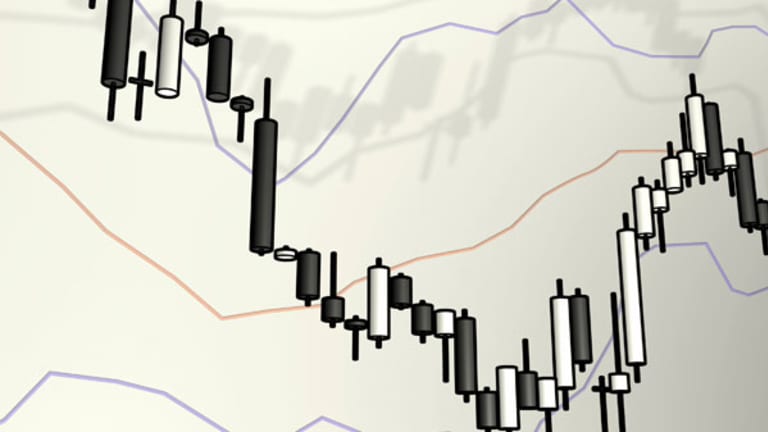 5 Big Stocks to Trade for Gains
Here's how some of the biggest names on Wall Street are trading technically.
BALTIMORE (Stockpickr) -- It's Thursday, which means that economic data is going to be front and center today as Wall Street digests the impact of everything from home sales to GDP estimates on stocks.
By now, though, investors should be used to being beholden to macroeconomic factors. Europe's continuing crisis is a perfect example of the impact that worldwide economic factors can have on U.S. stocks; yesterday's German parliament vote to ratchet up the European Financial Stability Facility is helping to hold up equities following yesterday afternoon's conspicuous reversal in the
and the
Dow
.
From a technical standpoint, major indexes aren't looking much clearer.
>>7 Low-PEG, High-Momentum Stocks
The S&P 500 has been locked in a sideways channel for the last month and change, bounded to the upside by 1220 resistance and to the downside by a support level at 1119 that's been successfully tested five times intraday since the market's August 8 bottom. Until we see a
outside of that range, the S&P isn't showing a whole lot of directional bias. In short, traders and investors are waiting for some sort of "thumbs up" from the economic data to take a strong position in either direction.
With earnings season just a couple of weeks away, I suspect we'll get that sooner rather than later.
In the meantime, there are still some serious, worthwhile trades setting up right now. I'm talking about technical trading opportunities this week in some of Wall Street's biggest-name stocks.
In case you're new to
, here's the executive summary.
Technicals are a study of the market itself. Since the market is ultimately the only mechanism that determines a stock's price, technicals are a valuable tool even in the roughest of trading conditions. Technical charts are used every day by proprietary trading floors, Wall Street's biggest financial firms, and individual investors to get an edge on the market. And research shows that skilled technical traders can bank gains as much as 90% of the time.
Every week, we take an in-depth look at large-cap stocks that are telling important technical stories. Here's this week's look at the technicals of
.
General Electric
If any stock serves as a good proxy for the broad market right now, it's
General Electric
(GE) - Get Free Report
. This prototypical blue-chip has been sporting almost the exact same chart as the S&P 500 for the last several months, a symptom of the
incredibly high correlations in the market
right now. That said, there are a couple of key differences that make GE's current setup a more attractive trade than the S&P 500.
The first is the stock's consolidation range. While the swing highs in the S&P 500 have been less precisely constrained by resistance, GE has hit its head almost perfectly at $16.40 resistance the last three times it was tested. Support is equally strong at $14.91 right now. Simply put, traders should wait for a breakout outside of that range, then take a position in the direction of the move.
The other factor in GE's favor is
. Momentum, as measured by a 14-day RSI, has been in an uptrend since the August bottom. That's a bullish divergence from price action that indicates an upward bias among investors. Remember, momentum is a leading indicator of price.
Either way this trade progresses, I'd recommend placing a protective stop just back within the channel.
GE, one of
Warren Buffett's top 10 dividend stocks
, is also one of the
largest holdings of Ken Fisher's Fisher Investments
.
Netflix
Another if/then trade is taking place in shares of
Netflix
(NFLX) - Get Free Report
, arguably one of the most high-profile stocks this month. Netflix was one of the biggest post-2008 gainers, climbing from $20 in October of that year to a high of $304.79 back in July. This stock's fall from grace has been just as prolific. Shares have fallen by more than 50% as a number of questionable management decisions (namely a major price hike and the split-up of the firm's DVD and streaming businesses) have shaken investor confidence.
Now investors are understandably wondering whether it's an opportunity to buy shares on the cheap -- or whether the freefall is about to resume.
To answer that question, it's important to take a look at the basing action that shares are currently forming. This base is still small, but it's well-defined by support at $126 and resistance at resistance at $136 -- that's the consolidation channel that traders should be looking for a breakout above or below. As with GE, you want to take a position in the direction of the breakout.
>>Does Technical Trading Really Work?
A lot of traders have been pointing to the oversold momentum readings in Netflix as a justification to go long. Yes, Netflix is dramatically oversold right now, but that's a bad reason to buy shares. From a statistical standpoint, stocks that become oversold are more likely to get more oversold than they are to reverse. Use a breakout in price action to determine your position in this stock.
Netflix, one of TheStreet Ratings'
top-rated Internet catalog and retail stocks
, was featured recently in "
5 Stocks Showing Relative Strength in a Weak Market
."
Ford
Ford
(F) - Get Free Report
is another stock that's been getting shellacked in the last few months. Unlike Netflix, the selloff has been more controlled in Ford -- shares of the automaker have been trading lower within a downtrending channel. That channel provides a solid shorting opportunity in Ford right now.
Essentially, the downtrending channel in Ford represents the high-probability moves of the stock. An ideal entry comes when Ford is bouncing lower off of trend line resistance, in anticipation of a move back down to the stock's support level. Shares are approaching that trend line resistance level right now; as a result, traders should be on the lookout for an entry in this short candidate.
The key to this trade is the
bounce
off of resistance. Support and resistance levels do invariably fail when the supply and demand equation changes for a particular stock. Because of that, you'll want to wait for confirmation that trend line resistance still holds for Ford before taking a position. Keep a protective stop just above the channel.
Ford, one of TheStreet Ratings'
, was featured recently in "
5 Loser Stocks Poised for Rebounds
."
Amazon.com
Online retailing giant
Amazon.com
(AMZN) - Get Free Report
made serious news yesterday with the release of the firm's Kindle Fire tablet, a $199 iPad competitor -- that's less than the price of a single share of Amazon's stock. Investors are anticipating the new Kindle offering to boost the firm's sales in a meaningful way. Traders should also take note: This stock is showing us bullish technicals right now.
That's because Amazon.com is currently forming a pennant pattern, a continuation pattern that generally comes at the halfway point in a rally or decline. Because this pennant comes after a strong push from $180 to $230, the trading implications are that there's significant additional upside to be had in Amazon over the new few weeks.
A pennant is a short-term pattern, and as such, it should be treated with a bit more skepticism than a longer-term setup. Even so, the setup in Amazon looks strong right now; the buy signal comes on a breakout above the upper trend line in the pennant. I'd recommend keeping a protective stop just below $225.
Amazon shows up on recent lists of
3 Tech Stocks Shining Through the Gloom
and
5 Growth Stocks Loved by Technical Analysts
.
Apple
Finally, we're following up on shares of
Apple
(AAPL) - Get Free Report
this week.
, we looked at a likely throwback in this stock. That is, a strong chance that shares of Apple would retrace to their nearest support level following the breakout that shares made above the $400 mark.
Sure enough, that's exactly what's happened in the last five trading sessions.
Apple is looking strong from both a fundamental and technical standpoint right now, and the throwback is just another opportunity to build a position at a lower cost. With shares looking to push off of $400 early in today's trading, now looks like a good chance to pick up shares. The firm's October 4 product event could be another fundamental catalyst for upside in this stock.
If you're interested in Apple from a trading perspective only, I'd recommend placing a protective stop just under the firm's
level, currently at $385.
Apple shows up on recent lists of
4 Resilient Tech Stocks for a Tough Economy
and
7 Goldman Tech Stocks Still Standing
.
To see this week's trades in action, check out the
High Volume Technicals portfolio
on Stockpickr.
-- Written by Jonas Elmerraji in Baltimore.
RELATED LINKS:
>>7 Low-PEG, High-Momentum Stocks
>>5 Stocks You Can Buy at a Discount
>>5 Stocks to Trade for End-of-Month Gains
Follow Stockpickr on
and become a fan on
Facebook.
At the time of publication, author had no positions in stocks mentioned.
Jonas Elmerraji is the editor and portfolio manager of the Rhino Stock Report, a free investment advisory that returned 15% in 2008. He is a contributor to numerous financial outlets, including Forbes and Investopedia, and has been featured in Investor's Business Daily, in Consumer's Digest and on MSNBC.com.