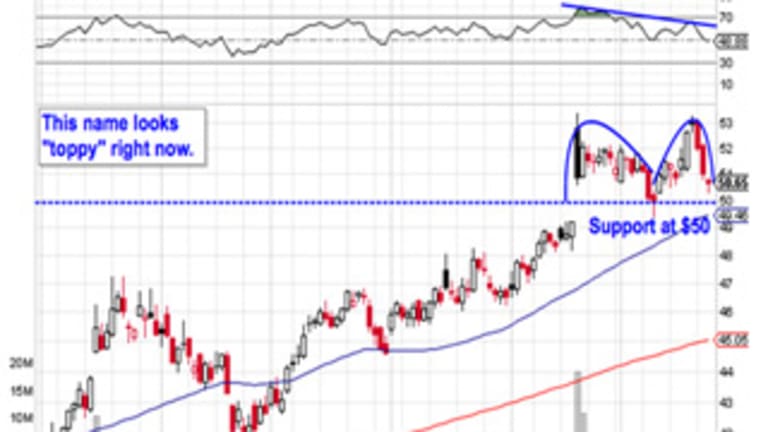 5 Big Stocks to Trade for Big Gains
Here's a technical look at five of the biggest names on Wall Street.
BALTIMORE (
) -- Up, up and away! That's the battle cry of the broad market in the final quarter of 2013. But then again, it's also been the
S&P 500's
battle cry in the first, second and third quarters as well. Nope, this isn't a bad time to be an investor.
>>5 Stocks Insiders Love Right Now
Earnings season is well underway this week, with hundreds of earnings releases still set to hit Wall Street
this week alone
. So far so good this quarter, with corporate earnings by and large falling a bit ahead of analysts' tempered outlooks.
In short, there's a lot of open runway for stocks to takeoff in the final months of the year. But which individual names should you grab now, and which should you avoid? We'll answer that today by taking a technical look at five of the biggest names on Wall Street.
If you're new to
, here's the executive summary.
Technicals are a study of the market itself. Since the market is ultimately the only mechanism that determines a stock's price, technical analysis is a valuable tool even in the roughest of trading conditions. Technical charts are used every day by proprietary trading floors, Wall Street's biggest financial firms, and individual investors to get an edge on the market. And research shows that skilled technical traders can bank gains as much as 90% of the time.
>>5 Sin Stocks to Protect Your Portfolio
Every week, I take an in-depth look at big names that are telling important technical stories. Here's this week's look at
five high-volume stocks to trade this week
.
Thompson Reuters
It's been a solid year for
Thompson Reuters
(
); since the calendar flipped over to January, this $30 billion financial media firm has rallied more than 22%. But don't worry if you've missed out on the move -- TRI looks well-positioned for higher levels thanks to the pattern that's been setting up in shares.
>>5 Hated Earnings Stocks You Should Love
Thompson Reuters is currently forming an ascending triangle pattern, a bullish setup that's formed by horizontal resistance above shares at the $35.50 level and uptrending support to the downside. Basically, as TRI bounces in between those two technically-important price levels, it's getting squeezed closer and closer to a confirmed breakout above that $35.50 price level. When the breakout happens, it's time to be a buyer.
TRI closed above the $35.50 level in yesterday's session, but it's a little early to call it a
just yet. If shares can hold above that breakout level all through today's session, then the buy signal is worth heeding.
HSBC Holdings
Big bank
HSBC Holdings
(
) is forming a triangle of its own, albeit one of a different variety than the setup in TRI. HBC is currently forming a symmetrical triangle, a pattern that's formed by converging trendlines squeezing in on the stock's price at a nearly even rate. The symmetrical triangle has less upside bias than the ascending triangle we just looked at, but the trading trigger is essentially the same -- a breakout outside of the pattern is the signal to make a move.
>>4 Financial Stocks Rising on Big Volume
Because the pattern in HBC is less biased, it's not a pure bullish setup; a breakdown through the bottom of the pattern is a signal that it makes sense to either sell or go short. That floor is currently in place at
. A breakout above the channel's upper trendline (currently right around $56) is the signal to buy.
That doesn't mean that a downward or upward breakout are equally likely in HBC. Higher lows in
, as measured by 14-day RSI, is adding some extra probability to the upside right now. Still, don't actually put a position in on HSBC until the breakout happens. That's when it becomes a high-probability trade.
Agilent Technologies
Things look a little less auspicious in shares of
Agilent Technologies
(
) right now. Yes, Agilent has rallied 23% since the calendar flipped over to January. And yes, shares are just a few dollars shy of the highest water mark they've seen in more than a decade. But a double top setup in shares is making this tech firm look "toppy" in the intermediate term.
>>3 Tech Stocks Spiking on Big Volume
The double top is a price setup that's formed by two swing highs that peak at the same level -- those two tops happened in early September and then again in the middle of this month. A move through $50 is the signal that it's time to be a seller in A. Since $50 is a round number that's more apt to get attention from investors, it carries a little more significance than the norm.
Whenever you're looking at any technical price pattern, it's critical to think in terms of those buyers and sellers. Triangles and other pattern names are a good quick way to explain what's going on in a stock, but they're not the reason it's tradable. Instead, it all comes down to supply and demand for shares.
That support level at $50 is a price where there had been an excess of demand of shares; in other words, it's a place where buyers were more eager to step in and buy shares at a lower price than sellers were to sell. That's what makes a breakdown below $50 so significant -- the move would indicate that sellers are finally strong enough to absorb all of the excess demand above that price level. Wait for that trigger before you sell.
Discover Financial Services
You don't have to be an expert technical analyst to figure out what's going on in shares of
Discover Financial Services
(
) right now. This payment network has seen its shares rally more than 33% year-to-date thanks to a textbook uptrending channel. Technical price patterns don't get much more textbook than that.
Price channels are valuable for traders because they provide high probability ranges for a stock's price action. In other words, Discover's price is unlikely to trade outside of those two bands on the chart above -- and that's exactly what makes this stock tradable right now. The best time to be a buyer comes on a bounce off of support, a level we could see very soon.
Buying off a support bounce makes sense for two big reasons: it's the spot where shares have the furthest to move up before they hit resistance, and it's the spot where the risk is the least (because shares have the least room to move lower before you know you're wrong). Remember, all trendlines do eventually break, but by actually waiting for the bounce to happen first, you're ensuring the DFS can actually still catch a bid along that line.
Wells Fargo
I mentioned that trendlines do eventually break.
Wells Fargo
(
) is the perfect case in point. Wells spent most of the year chugging higher in a well-established uptrend, but shares rolled over back in late July, and WFC has been tracking lower ever since. With the transition from bull to bear trend established in the intermediate term, traders should be looking for the exits in this stock right now.
>>Do You Own These Blue-Chips? Sell Them!
Basically, the optimal way to trade Wells Fargo is just like the approach to Discover, only reversed. A bounce off of trendline resistance is the ideal exit point for this stock. Right now, shares are hitting their head on resistance for a fourth time since the downtrend started this summer - it makes sense to wait for a bounce before betting against WFC (trendlines can break upwards too, after all).
Then, keep a
above the upper red line.
To see this week's trades in action, check out this week's
on Stockpickr.
-- Written by Jonas Elmerraji in Baltimore.
RELATED LINKS:
>>5 Stocks in Breakout Territory With Big Volume
>>5 Dogs of the Dow to Stomp the Market
>>4 Stocks Under $10 Spiking Higher
Follow Stockpickr on
and become a fan on
Facebook.
At the time of publication, author had no positions in stocks mentioned. Jonas Elmerraji, CMT, is a senior market analyst at Agora Financial in Baltimore and a contributor to
TheStreet
. Before that, he managed a portfolio of stocks for an investment advisory returned 15% in 2008. He has been featured in
Forbes
,
Investor's Business Daily
, and on
CNBC.com.
Jonas holds a degree in financial economics from UMBC and the Chartered Market Technician designation. Follow Jonas on Twitter @JonasElmerraji