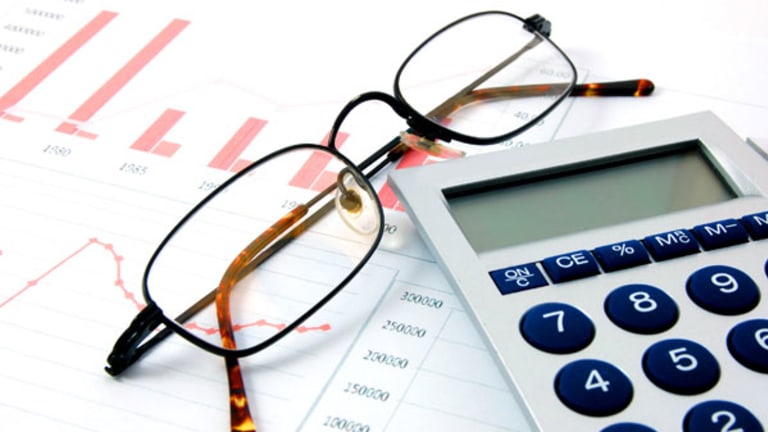 5 Big Stocks to Sell Now
Here's a technical look at how to trade some of Wall Street's biggest names.
BALTIMORE (
) -- It ain't over till it's over, as they say. In this case, I'm talking about the market correction that kicked off with Japan's market meltdown last week.
Even though the
S&P 500
has given back 2.3% from last week's highs, there's still some room to the downside for Mr. Market right now, a fact that's becoming more evident thanks to the relative weakness we're seeing in more of Wall Street's biggest names. Then again, it's important to look at the correction we're in with some perspective; a 2% retracement isn't exactly a big move for a market that's still up 15.5% since the calendar flipped over to 2013.
>>5 Defensive Stocks to Protect Your Portfolio Gains
But for investors looking to maximize their performance this year, the market's strength signals are worth heeding. After all, a correction in a major index can be caused by a crash in a smaller group of individual stocks. Overall, I still think that this broad market rally has the fundamental and technical legs to keep climbing higher -- but I also think that it makes sense to put your finger on the "sell" button for the individual stocks that are looking winded right now.
That's why we're taking a technical look at
worth selling now.
If you're new to
, here's the executive summary.
>>4 Huge Stocks Ripe for a Sharp Pullback
Technicals are a study of the market itself. Since the market is ultimately the only mechanism that determines a stock's price, technical analysis is a valuable tool even in the roughest of trading conditions. Technical charts are used every day by proprietary trading floors, Wall Street's biggest financial firms, and individual investors to get an edge on the market. And research shows that skilled technical traders can bank gains as much as 90% of the time.
Every week, I take an in-depth look at big names that are telling important technical stories. Here's this week's look at
five high-volume stocks to trade
.
>>5 Dividend Stocks Ready to Hike Payouts
Pfizer
First up is pharmaceutical firm
Pfizer
(
), a stock that's been a stellar performer up until shares topped out in April. Now PFE is showing signs that it could be in store for a more significant drop. Here's how to trade it.
>>5 Trading Setups With Upside This Week
Pfizer is forming a descending triangle pattern right now, a setup that's formed by a horizontal support level below shares and a downtrending resistance level to the upside. As PFE bounces in between those two important price levels, it's been getting squeezed closer and closer to a breakdown below support at $28.50 -- and shares finally closed below that price level at the end of yesterday's session. That close below support is a sell signal for PFE right now.
Normally it makes sense to wait for more meaningful confirmation before jumping on a triangle trade, but, at this point, it looks unlikely that PFE will "right itself" in today's session, and cancel out the sell signal. If you decide to go short here, I'd recommend keeping a
just above the
.
Johnson & Johnson
Johnson & Johnson
(
) is another pharma name that's sending traders a sell signal this morning. JNJ has been on an absolute tear in 2013, rallying more than 22% year-to-date, but it's yesterday's 2.24% drop that investors should be more concerned with right now. No, a 2% correction isn't a big deal for a stock that's moved up so far so fast -- but it's the price level that 2% correction pushed JNJ through that investors should be concerned about right now.
>>5 Rocket Stocks to Buy as Stocks Bounce
You don't have to be an expert technical analyst to figure out what's going on in Johnson & Johnson. This stock has spent all of 2013 in an uptrending channel, bounded to the downside by a trendline support level that's been unbroken all the way up -- until yesterday, that is. Yesterday's breakdown below JNJ's trendline is a signal that it's time to be a seller in the healthcare giant.
At this point, it's a little unclear where JNJ's downside target is likely to fall, but the 50-day moving average looks like a pretty reasonable bet, at least short-term. Investors waiting for a lower-priced entry point after yesterday's decline may want to keep on waiting.
Microsoft
Another stock that's looking "toppy" right now is
Microsoft
(
). The tech firm has seen some huge relative strength in 2013, climbing more than 30% this year already after snapping significantly higher starting in mid-April. But now, a double top pattern points to downside in this stock, at least in the short-term.
>>3 Tech Stocks Under $10 to Watch
The double top is formed by two swing highs that top out at approximately the same price level, and it triggers when shares fall through support that's at $34 in MSFT. For MSFT longs, the good news is that this setup could look at whole lot worse right now. Because the pattern is small in terms of length and amplitude, the trading implications are equally short. That makes MSFT's double top look much more like a correction than an outright crash signal.
Support at $32 is the downside target if the MSFT trade triggers. Investors looking for an entry point in this stock should try to get in as close to that level as possible. On the upside, this pattern gets negated on a confirmed move above $35.
Verizon
Verizon's
(
) price action isn't looking quite so tentative right now. The $141 billion telco has been forming a rounding top pattern for the last month and change, and yesterday's selling sent shares below the setup's support level. That makes VZ a sell this morning.
>>5 Stocks Insiders Love Right Now
The rounding top pattern is a setup that indicates a gradual shift in control from buyers to sellers. Verizon's move down through $51 support was the watershed event that signaled a sell in the stock. That puts VZ's high probability price action below it in the near-term. Investors shouldn't count on this stock's relative weakness to abate anytime soon.
, measured by 14-day RSI, adds some extra confidence to Verizon's bearish trading setup. Momentum broke its uptrend back in late April, and it's been making lower highs ever since. Momentum is a leading indicator of price, so the implication is for more downside ahead.
Wal-Mart
We're seeing the exact same setup in shares of
Wal-Mart
(
) right now, but the pattern isn't quite as far along as the one in Verizon. WMT is currently forming a rounding top with a breakdown level at $76; if shares manage to close below that price barrier, then we've got a sell signal in this retail giant. Also like VZ, Wal-Mart's momentum gauge showed a reversal in April. A downtrend in RSI points to the same in WMT's share price.
Whenever you're looking at any technical price pattern, it's critical to think in terms of buyers and sellers. After all, head and shoulders setups and other pattern names are a good quick way to explain what's going on in this stock, but they're not the reason it's tradable - instead, it all comes down to supply and demand for shares. The support level at $76 is a place where WMT has been able to catch a bid - it's a price level that, if broken, tells us that sellers have overwhelmed any buying pressure down at that price.
That's why it makes sense to be a seller if that $76 level gets taken out in WMT.
To see this week's trades in action, check out this week's
on Stockpickr.
-- Written by Jonas Elmerraji in Baltimore.
RELATED LINKS:
>>5 Stocks Poised for Breakouts
>>5 Stocks Poised to Pop on Bullish Earnings
>>4 Stocks Under $10 Making Big Moves
Follow Stockpickr on
and become a fan on
Facebook.
At the time of publication, author had no positions in stocks mentioned. Jonas Elmerraji, CMT, is a senior market analyst at Agora Financial in Baltimore and a contributor to
TheStreet
. Before that, he managed a portfolio of stocks for an investment advisory returned 15% in 2008. He has been featured in
Forbes
,
Investor's Business Daily
, and on
CNBC.com.
Jonas holds a degree in financial economics from UMBC and the Chartered Market Technician designation. Follow Jonas on Twitter @JonasElmerraji