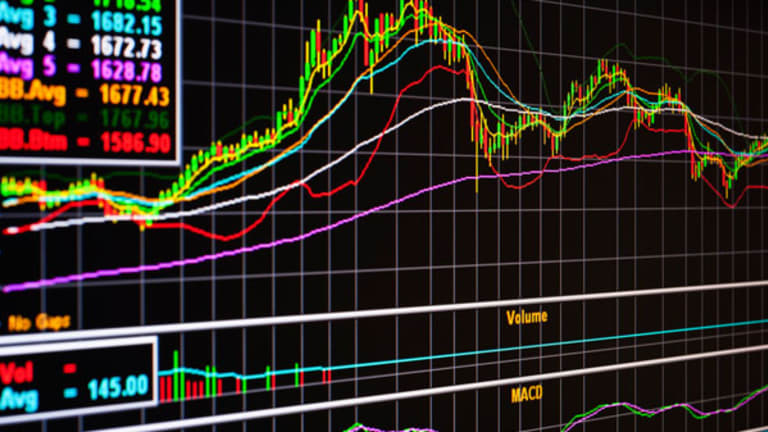 5 Big Stocks That Could Drop in May
The market rally might have the fundamental and technical legs to keep climbing, but keep your finger on the 'sell' button for these five stocks.
BALTIMORE (
) -- The
S&P 500
"suffered" the biggest correction of the month in yesterday's session, dropping 0.83% to close at 1,655 and change. Then again, anyone who thinks that an 83-basis-point dip in the S&P counts as a correction probably only started trading on May 1.
Mr. Market has been on a breakneck pace this month, racking up total returns of 4.8% since the calendar flipped over to May. Even factoring in yesterday's dip, that's an annualized 126% pace for stocks.
>>Warren Buffett's 5 Favorite Stocks for 2013
Clearly, that straight-up trajectory couldn't last forever. And now, with brutal selling overnight in Japan, stock investors are going to be giving back some of their gains in today's session. For reference, Japan's Nikkei 225 closed 7.32% lower in its most recent session; now
that's
a correction.
Europe's following suit across most major indexes today too. This correction has shoved the Euro STOXX 50 down 2.28% as I write in the trailing hours of Eurozone sessions.
But a correction isn't a crash. Overall, I still think that this broad market rally has the fundamental and technical legs to keep climbing higher, but I also think that it makes sense to put your finger on the "sell" button for the individual stocks that are looking winded right now. That's why we're taking a technical look at five big stocks that could drop in May.
>>5 Trades to Take as Stocks Soar in May
If you're new to
, here's the executive summary.
Technicals are a study of the market itself. Since the market is ultimately the only mechanism that determines a stock's price, technical analysis is a valuable tool even in the roughest of trading conditions. Technical charts are used every day by proprietary trading floors, Wall Street's biggest financial firms, and individual investors to get an edge on the market. And research shows that skilled technical traders can bank gains as much as 90% of the time.
Every week, I take an in-depth look at big names that are telling important technical stories. Here's this week's look at
five high-volume stocks to trade
.
>>5 Stocks With Big Insider Buying
AutoDesk
Up first is design and engineering software maker
Autodesk
(
). Autodesk has gotten ramped-up trading attention lately, most recently thanks to a conspicuous earnings and guidance miss last week that
shares down considerably lower. Now ADSK could be in store for even lower ground thanks to the technical setup in shares.
>>5 Earnings Stocks Everyone Hates -- But You Should Love
Autodesk is currently forming a head and shoulders top, a price setup that indicates exhaustion among buyers. The head and shoulders is formed by two swing highs that top out around the same level (the shoulders), separated by a bigger peak called the head; the sell signal comes on the breakdown below the pattern's "neckline" level, which is right at $36 for ADSK. A drop below that $36 level would be a major sell signal for the stock.
A drop through $36 puts Autodesk's downside target down at $31, a price that's acted as support in the past. If you own ADSK, I'd recommend selling on the $36 break unless you can stomach taking a 14% near-term haircut on your position. If you decide to short this stock, I'd recommend a tight
in place.
Opko Health
Small-cap pharma firm
Opko Health
(
) doesn't normally qualify for "big name" status, but the nearly parabolic price action that this stock saw earlier this year put it on plenty of traders' radar. Shares of OPK slingshotted more than 43% higher to start the year, and they've been consolidating sideways ever since. But the price action during this stock's sideways slugging points to a drop.
>>4 Health Care Stocks Spiking on Big Volume
Like Autodesk, Opko is forming a head and shoulders top. For OPK, the neckline level comes in at $6.50 -- if shares drop below that price, we've got a sell signal. The pattern's minimum measuring objective puts a best-case price target down at $5.25; that's a 20% drop from the neckline. I said that $5.25 was best-case because it's a level that hasn't really acted as support in the past. As a result, it's unclear just how well OPK can catch a bid if it falls down to that level.
, measured by 14-day RSI, adds some extra confidence to the head and shoulders top in OPK. RSI has been in a downtrend since all the way back in January. Since momentum is a leading indicator of price, that downtrend points to downside in OPK's chart.
Cliffs Natural Resources
Cliffs Natural Resoures
(
) is another small name that's been seeing huge trading activity lately. This stock has gotten summarily shellacked in 2013, nearly halved since the start of trading this year. And while it looked like CLF investors were due for a reprieve, the latest short-term price action begs to differ.
>>How to Use a Stock Screener to Scan for Hot Stocks
CLF is forming a head and shoulders top like OPK and ADSK - the big difference with this chart is the fact that Cliffs' setup is extremely short-term. The stock's slanting neckline comes in at $20 as I write.
Whenever you're looking at any technical price pattern, it's critical to think in terms of buyers and sellers. After all, head and shoulders setups and other pattern names are a good quick way to explain what's going on in this stock, but they're not the reason it's tradable. Instead, it all comes down to supply and demand for shares. The neckline at $20 is a place where CLF has been able to catch a bid -- it's a price level that, if broken, tells us that sellers have overwhelmed any buying pressure down at that price.
That's why it makes sense to run when the neckline is broken, even if the setup only has short-term trading implications.
Kellogg
Kellogg
(
) has been enjoying a solid run in the last six months - as a prototypical consumer blue chip, Kellogg's stock chart has moved up and to the right like clockwork, boosting the stock's value by close to 20%. But since April, that uptrend hasn't been moving up. Here's how to trade Kellogg from this point.
>>5 Rocket Stocks Ready for Blastoff
In short, Kellogg is in make or break mode right now. Shares have been forming a bearish double top pattern over the last two months, setting up a downside move on a breakdown below $63. While the uptrend support line in K (the grey dashed line in the chart) is still tentatively intact right now, it gets broken just before $63 gets knocked out. That would make for a double-whammy of broken support levels if Kellogg fails here.
Today's early trading doesn't look promising for Kellogg here, but I doubt that we'll see an actual test of the $63 level until next week. If the break happens, you won't want to be left holding the bag in Kellogg.
Bank of Montreal
Last up on the list today is the
Bank of Montreal
(
), a $40 billion Canadian bank that's been doing a whole lot of nothing in 2013 despite some volatile price swings over the course of the year, BMO is only 0.6% lower today than it was on Jan. 2. But it's those swings that investors should be paying attention to in May.
BMO is currently forming a broadening pattern, a setup that indicates increasing volatility in a stock. Resistance is fairly flat at $63 for BMO, and support has been dropping with a series of lower lows, which tells us that sellers at holding their ground at $63, and buyers are getting beaten down to decreasing prices as time goes on. Those aren't signs you want to see in a stock you own.
Statistically, broadening patterns tend to resolve to the downside. That means that we're more likely to see BMO shove through that dropping support line than we are to see it crack resistance at $63. With strong support in place at $55.50, that price could be a stopping point for a drop in BMO, but it's a long way away from here.
If you want to bet against shares, wait until shares break down through support, then keep a stop at the
.
To see this week's trades in action, check out this week's
on Stockpickr.
-- Written by Jonas Elmerraji in Baltimore.
RELATED LINKS:
>>5 Dividend Stocks That Want to Pay You More
>>4 Stocks Rising on Unusual Volume
>>4 Stocks Under $10 Spiking Higher
Follow Stockpickr on
and become a fan on
Facebook.
At the time of publication, author had no positions in stocks mentioned. Jonas Elmerraji, CMT, is a senior market analyst at Agora Financial in Baltimore and a contributor to
TheStreet
. Before that, he managed a portfolio of stocks for an investment advisory returned 15% in 2008. He has been featured in
Forbes
,
Investor's Business Daily
, and on
CNBC.com.
Jonas holds a degree in financial economics from UMBC and the Chartered Market Technician designation. Follow Jonas on Twitter @JonasElmerraji