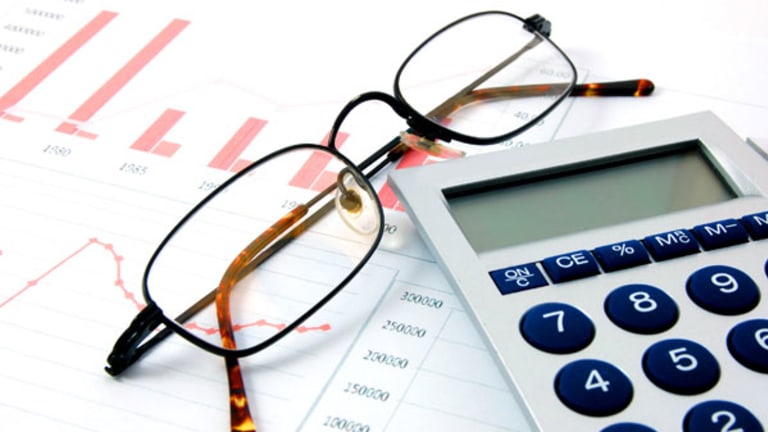 Publish date:
5 Big Stocks That Can't Afford a Deep Recession
A handful of major corporations are quite vulnerable to a tougher climate.
A handful of major corporations are quite vulnerable to a tougher climate.
NEW YORK (Stockpickr) -- Over the course of the summer, the U.S. economy has looked weaker and weaker with each passing economic report.
At this point, economists have been forced to sharply lower their forecasts for the remainder of 2012, and some are suggesting that we may end up back in recession as we head into 2013, especially if the much-discussed "fiscal cliff" comes to pass.
Thankfully, most major companies used the last economic crisis to get in better shape, cutting costs and raising cash. But some companies just never learn. They muddle along with high levels of debt and are simply unprepared to handle a slumping economy.
>>5 Toxic Stocks You Need to Sell Now
We're not talking about little mom-and-pop companies, either. A handful of major corporations, residing in the
S&P 500
, are quite vulnerable to a tougher climate. They carry lots of debt or must pay high levels of interest on their bonds every quarter. If cash flow shrinks or even turns negative, those weak balance sheets could turn into time bombs.
Here are
five stocks that look especially vulnerable
.
Pitney Bowes
Even as the economy has rebounded from the 2008/2009 slump,
Pitney Bowes'
(PBI) - Get Report
metrics keep deteriorating. Sales have fallen for three straight years and analysts expect to see sales drop further again in 2012 and 2013. And that forecast assumes the U.S. economy will keep expanding.
But what about if the economy enters into recession again next year? After all, this company is hardly well-positioned to begin with. Pitney Bowes offers a range of products and services that help companies with their mailing needs. As mail volumes drop, the need to pursue new equipment evaporates. Companies are better off spending their money elsewhere. This wouldn't be cause for concern except that Pitney Bowes carries more than $4 billion in debt (against less than $1 billion in cash).
>>5 Stocks Getting Ready to Pay Bigger Dividends
For now, Pitney Bowes stands by its roughly $1.50 annual dividend. Yet the 11% dividend yield should tell you something: Investors are increasingly dubious that the dividend can be maintained, especially with so much debt on the books.
The likely outcome: A decent economic backdrop still won't keep this company from sharply cutting or eliminating the dividend. A recessionary economy would make shares even more vulnerable as the weak balance sheet comes into the spotlight.
Avery Dennison
Avery Dennison
(AVY) - Get Report
, which makes a wide range of packaging products, always likes to carry a hefty debt load. At the end of June, it had $671 million in short-term debt and roughly $700 million in long-term debt. As long as the economy hums along, the company can be counted on to generate enough cash flow to manage its debt obligations.
But there's a reason why shares slumped from $60 in late 2007 to less than $20 by early 2009. The tough economy during that stretch caused demand and pricing to slump, leading to a $927 million operating loss in 2008. At the time, investors grew spooked that Avery Dennison might run into trouble with banks, as it not only had to come up with $70 million in annual interest payments, but also faced the threat of its short-term loans getting called in.
>>5 Companies That Are Distressing Investors
Bankers like to see cash flow that is multiples higher than interest expense, and negative cash flow led to some nail-biting discussions. This company dodged a bullet last time around but still hasn't wizened up and carries too much debt.
Owens-Illinois
Owens-Illinois
(OI) - Get Report
, a leading global producer of glass bottles and other containers, seemingly forgot about the scary times of 2008. Back then, Owens-Illinois carried $3.3 billion in total debt, but that figure now exceeds $4 billion. Annual interest expense now exceeds $300 million per year, which equates to roughly half of the average annual cash flow of 2009, 2010 and 2011.
What if the economy slumps and cash flow takes a hit? Well, that could spell trouble as more than $450 million of the company's debt is tied up in short-term notes. The company's current $336 million cash balance isn't enough to meet that challenge. Indeed any time you see that cash is less than short-term debt, you should be a bit concerned.
>>4 Hot Stocks to Trade (or Not)
Signs of stress may already be emerging. Second-quarter sales in Europe fell more than 5% compared with a year ago, and the company can only hope that the U.S. economy doesn't follow suit. Merrill Lynch notes that investors need to remain concerned that Owens-Illinois has "operating leverage and potentially greater-than average vulnerability should macroeconomic conditions worsen."
Textron
Textron
(TXT) - Get Report
, a maker of helicopters, small planes and other defense-oriented equipment, did indeed heed the lessons of 2008: Long-term debt has fallen from around $9 billion at the end of 2009 to a recent $4 billion. But that still may be too much. Annual interest expense stands at around $250 million, which is greater than the three-year average operating cash flow of around $100 million.
>>8 Industrial Stocks With Big Upside Potential
This business model has a great deal of sensitivity to the global economy. So investors should have taken pause when Textron announced that backlog in the second quarter fell $196 million sequentially to $1.5 billion. If backlog falls further over the next few quarters, it will become harder for Textron to meet sales and profit targets for 2013 and 2014.
For a company with $250 million in annual interest expense, Textron needs to keep its factories humming.
Lennar
Economists are increasingly convinced that the housing market is getting healthier. Home prices are no longer dropping and sales activity has started to perk up in some markets. But might a fresh bout of weakness in the U.S. economy change that view? After all, there remains a glut of unsold existing homes on the market, and many more still need to come out of the foreclosure process.
The still-weak economy makes homebuilder
Lennar's
(LEN) - Get Report
balance sheet moves quite curious. Total debt has been steadily rising over the past four years, roughly doubling to a recent $4.5 billion. And rising debt equals higher annual interest expenses, which now approach $100 million.
>>7 Stocks for a Housing Rebound
The key metric to watch is free cash flow. Lennar is expected to generate a roughly $100 million free cash flow loss in 2012, according to Goldman Sachs. That firm, along with other analysts that follow the company, expects Lennar to post improved results in 2013 and beyond as they assume the housing market finally gets stronger. But if they're wrong, and the housing market remains weak, then Lennar will be hard-pressed to meet free cash flow forecasts, and the still-weak balance sheet will come right back into focus.
Meanwhile, shares of Lennar have just hit a five-year high, seemingly ignoring the economic challenges that still remain in place.
To see these stocks in action, visit the
portfolio.
RELATED LINKS:
>>5 Stocks Poised for Big Breakouts
>>5 Stocks With Big Insider Buying
>>5 Huge Stocks Set to Slingshot Higher
Follow Stockpickr on
and become a fan on
Facebook.
Stockpickr is a wholly owned subsidiary of TheStreet.com.
At the time of publication, author had no positions in stocks mentioned.