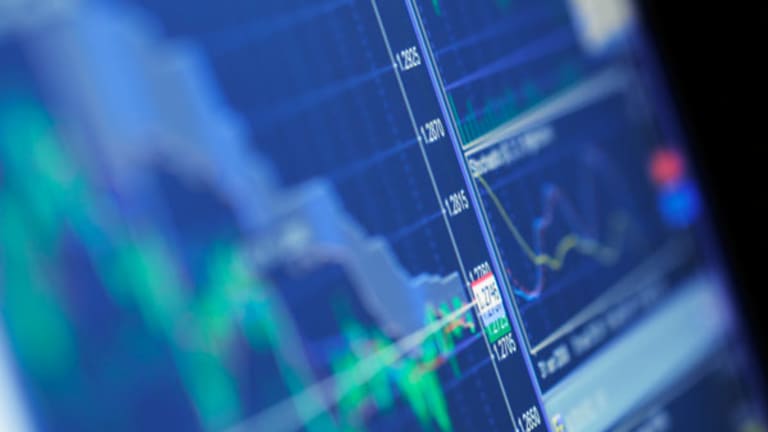 5 Big Names to Trade for Earnings Season
Here's a look at how some of the biggest names on Wall Street are trading technically.
BALTIMORE (
) -- Earnings season is dragging on this week, as firms post an unsurprising level of earnings surprise to Wall Street. Try saying that five times fast.
As I write, just over 175
components have released their earnings for the quarter, and the numbers have been extremely consistent on average. Earnings are up around 3% on the quarter, and more importantly, 73% of those firms have beaten their consensus estimate so far. Translation: analysts are still too bearish on corporate fundamentals.
>>5 Hated Earnings Stocks That Deserve Your Love
But there's a more interesting story in the technicals right now.
, as the S&P was dropping hard, I said that "until the technicals say otherwise, we're still in a market where it's paid off to buy the dips. And the technicals don't say otherwise until the S&P falls through its
." Sure enough, that bounce off of the 50-day proved to be a great buying opportunity.
>>5 Toxic Stocks You Need to Sell
Now, as long as that rally remains intact in the S&P, we're going to be in an attractive environment for trading. Today, we'll take a technical look at five big name stocks worth trading for earnings season.
If you're new to
, here's the executive summary.
Technicals are a study of the market itself. Since the market is ultimately the only mechanism that determines a stock's price, technical analysis is a valuable tool even in the roughest of trading conditions. Technical charts are used every day by proprietary trading floors, Wall Street's biggest financial firms, and individual investors to get an edge on the market. And research shows that skilled technical traders can bank gains as much as 90% of the time.
Every week, I take an in-depth look at big names that are telling important technical stories. Here's this week's look at
five high-volume stocks to trade for gains
.
>>Fight Your Urge to Fight the Fed
Las Vegas Sands
Up first is gaming stock
Las Vegas Sands
(
), a stock that's been churning out some stellar performance this year. Shares of the $45 billion casino resort operator have rallied more than 18% year-to-date -- and now a bullish setup on the chart points to even more upside in the second quarter of 2013.
>>Invest Like a Drunk: 5 Booze Stocks to Buy in 2013
LVS is currently forming an ascending triangle pattern, a bullish price setup that consists of a horizontal resistance level above shares and an uptrending support level to the downside. As LVS bounces in between those two technical levels, it's been getting squeezed closer and closer to a breakout above that resistance level at $56. When that happens, traders have a buy signal for shares.
The 50-day moving average has been acting as a decent proxy for support over the course of the pattern (even if it's been a conservative one). If you decide to take this trade once LVS moves through $56, I'd recommend keeping a
right on the other side of the 50-day.
Dollar Tree
We're seeing the exact same setup in shares of
Dollar Tree
(
) right now. Like Sands, Dollar Tree has nearly doubled the S&P 500's rally since the calendar flipped over to 2013 -- and now it's pointing to a move to even higher ground thanks to an ascending triangle pattern.
>>4 Turnaround Stocks With Major Upside
For DLTR, the resistance level to watch is $48.50. Once shares push up through that resistance level, traders have a buy signal in this discount retail stock. With shares edging extremely close to that $48.50 breakout level today, that buy signal could come very quickly. If you're thinking about building a position in this stock, I'd recommend keeping a close eye on DLTR in today's session.
adds some extra confirmation to the price action in DLTR here: 14-day RSI has maintained a stable uptrend since all the way back in November. Since momentum is a leading indicator of price, that bodes very well for DLTR this week. Still, it's crucial to actually wait for $48.50 to get taken out before you put your money on the line. Until then, this isn't a high-probability trade.
WPP Group
London-based advertising and PR firm
WPP Group
(
) has seen some impressive performance of its own in the last six months. Shares of the $20 billion stock have rallied more than 25% over that time. Since then, they've taken a breather, trading sideways since early February. But even though WPP hasn't seen much excitement in the last couple of months, there's still a trade to be made here.
>>5 Rocket Stocks to Buy as Stocks Bounce
That's because WPP's sideways churn has been extremely orderly. In fact, trading has been constrained within a rectangle pattern since the uptrend turned sideways. A rectangle is a pattern that's formed by two horizontal price levels: in this case, resistance above shares at $82 and support below at $78. Rectangles give traders a chance to take a breath and figure out their next move after a big share price change. As a result, it makes sense to make a bet in the direction of the
from the channel.
While WPPGY has a large number of
in its price chart, traders should pay too much attention to them. Those gaps, called suspension gaps, are the result of WPPGY's off-hours trading on the London Stock Exchange; they can be ignored for technical analysis purposes.
Since this consolidation is coming after a prolonged uptrend, WPP looks likely to resume upside once this rectangle has run its course. I'd recommend keeping a close eye on $82.
Zimmer Holdings
Zimmer Holdings
(
) is another stock that's consolidating in a rectangle pattern right now. Resistance comes in at $76 in the pattern, while support is down at $72. Like WPP, this stock is bull-biased, so it makes sense to watch for a move above $76 as a buy signal.
>>5 Stocks Fund Managers Love for 2013
With any technical pattern, it's critical to think in terms of buyers and sellers -- not shapes. After all, triangles, head and shoulders patterns and the like are a good way of describing what's happening on a chart, but they're not the reason why it's tradable. Instead, that all comes down to the supply and demand caused by those buyers and sellers.
The horizontal resistance level at $76 is a place where a glut of sellers has been willing to step in and put a ceiling in the stock. A breakout means that increasingly eager buyers have absorbed all of the excess supply for shares sitting at that level -- and without that barrier in place, shares have room to rally to the upside (the opposite is true on a drop through $72).
Either way, if you trade ZMH, keep a tight protective stop in place.
Procter & Gamble
Last, but certainly not least, is
Procter & Gamble
(
), the mammoth consumer product maker behind brands like Tide, Charmin and Cover Girl. Yesterday, Procter posted a conspicuous earnings miss - and shares sold off by more than 6.5%. That's a hugely volatile drop given the relatively tight range that PG has been trading within for the last few months.
More importantly, the drop shoved PG down through support, breaking the uptrend that bad been in place since the end of January. That break makes more downside look likely over the near-term, even if shares are correcting higher early in this morning's session. If you're looking for a place to build a position in PG, don't get lured by its lower prices here. Wait for this stock to find a more meaningful support level before you put money into it.
While yesterday's selling stopped at the 50-day moving average, it's still a little too premature to call that level a price floor for shares. Instead, investors should be watching for lower highs in PG.
I also featured Procter & Gamble recently in "
5 Stocks Fund Managers Love for 2013
."
To see this week's trades in action, check out this week's
on Stockpickr.
-- Written by Jonas Elmerraji in Baltimore.
RELATED LINKS:
>>4 Stocks Spiking on Big Volume
>>5 Stocks Insiders Love Right Now
>>Fight Your Urge to Fight the Fed
Follow Stockpickr on
and become a fan on
Facebook.
At the time of publication, author had no positions in stocks mentioned. Jonas Elmerraji, CMT, is a senior market analyst at Agora Financial in Baltimore and a contributor to
TheStreet
. Before that, he managed a portfolio of stocks for an investment advisory returned 15% in 2008. He has been featured in
Forbes
,
Investor's Business Daily
, and on
CNBC.com.
Jonas holds a degree in financial economics from UMBC and the Chartered Market Technician designation. Follow Jonas on Twitter @JonasElmerraji