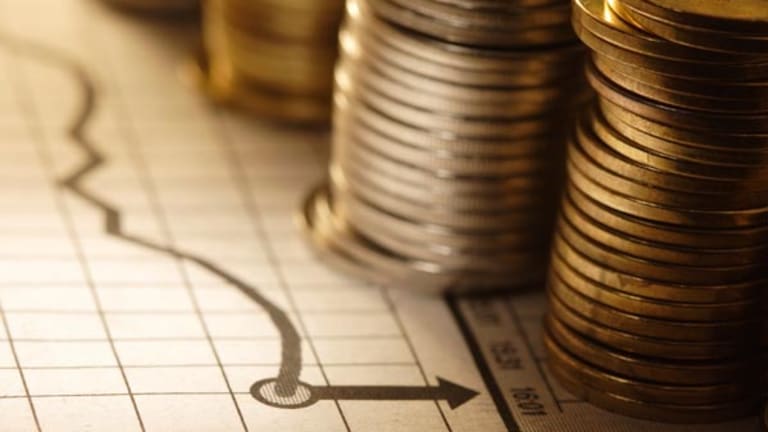 5 Best Energy Stocks for $100-Plus Oil
A growing global economy may lift crude prices, propelling these oil and gas stocks.
BOSTON (TheStreet) -- Crude oil futures fell on Friday for a fourth consecutive day, with contracts dropping beneath $90 a barrel. Chinese monetary tightening and a report from the Energy Department signaling rising inventories hurt the commodity.
However, a robust global recovery has some Wall Street analysts predicting a move past $100 in 2011. Energy stocks typically perform well at this stage in the economic cycle and the recent pullback, with S&P 500 oil-and-gas stocks flat last week, is creating a setup for those who want energy exposure.
Large-cap oil-and-gas stocks have jumped an average of 5.7% in the past four weeks, ranking as the best-performing industry group, as investors have rotated into equities poised to benefit from accelerating growth. By comparison, oil-and-gas was the fifth worst-performing industry group in 2010 and ranks as the third worst-performing group over a three-year period. Peak profits were achieved in 2008 when crude spiked to almost $150 a barrel shortly before the Great Recession took hold. Many large-cap energy stocks are still historically cheap.
Here is a closer look at the five highest-rated large-cap oil-and-gas stocks, based on analysts' aggregate reviews. Below, they are ordered by percentage of "buy" ratings, from plenty to most. Of note: 58% of crude-oil forecasters surveyed by
Bloomberg
expect a decline through Jan. 28, perhaps hurting oil-related stocks. The recent strength in these equities is a signal of longer-term prospects, but it's best to wait for a pullback in order to buy shares.
5.
Chevron
(CVX) - Get Chevron Corporation Report
is the world's second-largest energy company, after fellow
Dow
component
Exxon Mobil
(XOM) - Get Exxon Mobil Corporation Report
.
But, analysts favor Chevron's stock, which receives positive reviews from 76% of researchers in coverage. In contrast, Exxon receives positive reviews from 42% of analysts, ranking third-worst in the Dow. Chevron is scheduled to report fourth-quarter results on Jan. 28. Its third-quarter adjusted earnings tally of $1.87 (reflecting 8.7% year-over-year growth) missed the consensus forecast of $2.15 by 13%, sending shares down modestly. The sales figure, at $49 billion, missed by 1.9%. Chevron has integrated global operations and sells at a peer discount.
Its stock trades at a trailing earnings multiple of 11, a forward earnings multiple of 8.9, a book value multiple of 1.8, a sales multiple of 1 and a cash flow multiple of 6.2, 43%, 52%, 58%, 67% and 32% discounts to oil-and-gas industry averages. Based on forward earnings, Chevron is the fourth cheapest Dow stock. It also pays a 72 cent quarterly dividend, translating to a 3.1% dividend yield, seventh highest in the Dow. It has boosted the payout 7.9% a year, on average, over a three-year span and 10% a year, on average, over a five-year span. Chevron has $15 billion of cash, compared to $11 billion of debt.
Bullish Scenario
:
Macquarie
expects Chevron's stock to rise 21% to $114 in 12 months.
Bearish Scenario
:
JPMorgan
, despite rating Chevron "overweight", has a $90 target.
4.
El Paso
(EP)
is a natural gas transmission, exploration and production company. It receives "buy" ratings from an impressive 80% of analysts.
El Paso has significant interests in the 42,000 mile North American natural gas pipeline system, which will increase in importance in coming years as the U.S. segues from foreign-produced oil to domestically-abundant natural gas. El Paso has grown net income 7.2% a year, on average, since 2007, but cut its dividend from a high of five cents in 2009, hurting its perception with investors. Currently, the company pays one cent a quarter, equaling an annual yield of 0.3%. Analysts don't expect a near-term boost.
Still, El Paso is an attractive investment because it has pricing power over those who need to transport or store natural gas and has ample profit margins. In the third quarter, the gross margin jumped from 54% to 64% and the operating margin rose from 34% to 44%. In addition to its stable pipeline business, El Paso's exploration unit has interest in many of the so-called emerging shale plays in the U.S., including the Haynesville, Eagle Ford and Wolfcamp properties.
JPMorgan
, which rates El Paso "overweight", recently cut its 2011 natural gas price forecast to $4.35 per thousand cubic feet from $5.06 and its 12-month target for El Paso to $15.50.
From a longer-term perspective, El Paso is particularly attractive relative to exploration stocks because it has lucrative prospects, coupled with stable transportation cash flow. Also, it remains undervalued relative to peer investments, selling for a trailing earnings multiple of 11, a forward earnings multiple of 13, a book value multiple of 2.2, a sales multiple of 2.1 and a cash flow multiple of 5.4, 43%, 29%, 50%, 32% and 41% industry discounts.
Bullish Scenario
:
BMO Capital Markets
forecasts an advance of 31% to $19.
Bearish Scenario
:
Goldman Sachs
ranks the stock "neutral", with a $14 target.
3.
Occidental Petroleum
(OXY) - Get Occidental Petroleum Corporation Report
is an integrated oil-and-gas company, with operations in the U.S.
The Los Angeles-based company has strong operating momentum, having grown 12-month sales 27% and net income 76%. Its stock has been a top performer over a three-year span, having gained 12% a year, on average. Occidental has a market capitalization of $78 billion. It receives positive rankings from 84% of researchers. It is scheduled to report fourth-quarter results on Jan. 26. Analysts forecast a 17% year-over-year rise in adjusted earnings and a 7.6% gain in sales. Occidental has an average earnings surprise rate of 6.6%. It beat the consensus expectation by 8.2% last quarter.
Like Chevron and El Paso, what is most attractive about Occidental is its relative value amid strong secular growth. Its stock sells for a forward earnings multiple of 13 and a book value multiple of 2.5, 28% and 43% peer discounts. Its PEG ratio, the stock's P/E divided by researcher's long-term growth forecast, of 0.3 represents a 70% discount to estimated fair value, a compelling bargain. Occidental pays a quarterly dividend of 38 cents, converting to an annual yield of 1.6%. It has grown the payout 16% and 18% annually, on average, respectively, over three- and five-year spans. JPMorgan, optimistic about Occidental's long-term trajectory, is skeptical of the recent rally.
Bullish Scenario
:
Goldman Sachs
has a target of $111, suggesting a 13% advance.
Bearish Scenario
:
JPMorgan
has a target of $90, implying that the stock will drop 8%.
2.
Schlumberger
(SLB) - Get Schlumberger NV Report
is an oilfield-services company, selling project management, technology and information services to oil and gas companies.
Its business is gaining momentum. Schlumberger released fourth-quarter numbers Friday. Its adjusted earnings tally of 85 cents, representing 25% year-over-year growth, beat analysts' consensus expectation by 9.5%. By comparison, Schlumberger has an average historical earnings beat of 3.8%. Its fourth-quarter sales, up an impressive 58% year-over-year, beat the consensus by 3.9%. In classic sell-the-news fashion, Schlumberger dropped 2.1% on the earnings report. It is up 31% over three months.
Schlumberger receives "buy" recommendations from 86% of researchers, who all see major upside in the stock. A median price target of $97.71 suggests an impending one-year gain of 17%. Schlumberger purchased
Smith
, another energy services company, in an $11 billion all-stock deal last February. Smith contributed $275 million of quarterly operating income. Revenue synergies are "increasing in each successive quarter", according to management. Schlumberger's net profit margin dropped from 14% to 11% during the quarter due to higher costs across the board. Still, that net spread compares favorably to both peers' and other industries' net margins.
Schlumberger is costly. It commands a forward earnings multiple of 23, a book value multiple of 3.8, a sales multiple of 4.8 and a cash flow multiple of 22, all industry premiums.
Bullish Scenario
:
UBS
expects Schlumberger's stock to advance 24% to $103.
Bearish Scenario
:
HSBC
has a 12-month target of $80, consistent with a 4% decline.
1.
Halliburton
(HAL) - Get Halliburton Company Report
, like Schlumberger, is an oilfield-services company, with completion and production as well as drilling and evaluation segments. Halliburton is scheduled to release fourth-quarter results this morning. Analysts forecast an adjusted profit of 63 cents, equivalent to 126% year-over-year growth, and $4.9 billion of sales, equivalent to 32% year-over-year growth. In the third quarter, Halliburton posted 87% profit growth, beating the consensus expectation by 3.4%, but its stock still fell 4.8% on the announcement. Analysts are bullish on Halliburton, with 89% advising clients to purchase shares. A $53.21 median target implies 37% upside.
Bullish Scenario
:
Deutsche Bank
predicts that the stock will soar 61% to $63 in 2011.
Bearish Scenario
:
Sanford Bernstein
rates the stock "market perform" with a $46 target.
-- Written by Jake Lynch in Boston.
5 Best Energy Stocks Portfolio
.
RELATED STORIES:
10 Cheapest Dow Dividend Stocks for 2011
Become a fan of TheStreet on Facebook.
Disclosure: TheStreet's editorial policy prohibits staff editors, reporters and analysts from holding positions in any individual stocks.