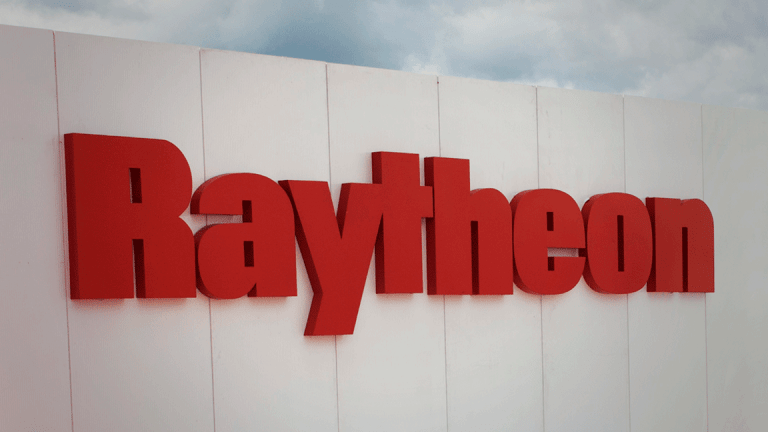 5 Best Defense Stocks to Buy on Trade Wars
Today's headlines may bring uncertainty, but this sector still looks good.
Let defense stocks be your shield.
The Aerospace and Defense industry led markets yesterday on a day led by the Industrials in general. Do today's headlines bring uncertainty to the group? Of course. If you follow me often, then you know that I follow this group closely and I trade it often.
Last week, Action Alerts PLUS holding Raytheon (RTN) - Get Report , one of my long time favorites within this group reported top and bottom line beats for the second quarter. The firm guided both earnings per share and revenue higher for the full year. The stock sold off in a panic, along with another Sarge fave, Northrop Grumman (NOC) - Get Report . The problem? For Raytheon, it boiled down to significantly reduced guidance for operating cash flow.
Reduced Guidance
The cause here was the need to reduce pension obligations that was accomplished through the purchase of a group annuity contract to the tune of $923 million. Though costly, there is no operational impact, and obviously nothing there that impacts future demand. In fact, the firm ended the second quarter with an order backlog of $39.8 billion, which was more than 10% higher than it was at the end of the first quarter.
Receive the 'Market Recon' Column Each Day
For me as a trader, I had to buy more Raytheon and more Northrup as those shares probed bottoms last week. So far, so good. I cashed out my least-favorite name in the space, which is General Dynamics (GD) - Get Report to help pay for it. Fortunately, for this guy, General Dynamics spiked on the same day that these two bottomed. That was just luck. I would have dumped General Dynamics regardless.
Defense Spend
One thing that I think I do know is that the entire planet will for now continue to spend more on missiles, missile intercept, and on airborne, seaborne, and land-based drone capability. I do not expect to be wrong about this.
Here is a chart of Raytheon.
View Chart »View in New Window »
What I see here is that support has kicked in for Raytheon on multiple occasions since June at a 38.2% retracement of the move that began with election night 2016. As you can see, this year, since peaking in April, the name has also hit resistance at Fibonacci levels whenever attempts to rally have been made. This tells me as the investor that I have to use, at least for now, established levels as a guide.
I still like the name. I still like the group. I will continue to be as agile as possible regarding the use of options in the management of my net basis. I had some puts that I had written against the name expire on Friday, and will likely reload this week if only to raise some cash. My new target levels across the industry names I currently have skin in are as follows. (Note: I'll do Boeing (BA) - Get Report separately.)
Raytheon: Last $198.03
Target Price: $228, Panic Point: $178
Northrop Grumman (NOC) - Get Report : Last $300.49
Target Price: $339, Panic Point: $272
Lockheed Martin (LMT) - Get Report : Last $326.10
Target Price: $333, Panic Point: $290
Kratos Defense & Security (KTOS) - Get Report : Last $12.92
Target Price: $14, Panic Point: $11
Free White Paper: 7 Things All Investors Must Know in 2018. Start the second half off right with our free white paper on seven key things to watch this year. From how much cash to have on hand to the three reasons this bull market might die, our white paper features key takeaways from an all-star panel that TheStreet and Fisher Investments recently hosted in New York. Click here to register for your free online copy.
At the time of publication, Guilfoyle was long RTN, NOC, BA, LMT, KTOS equity.