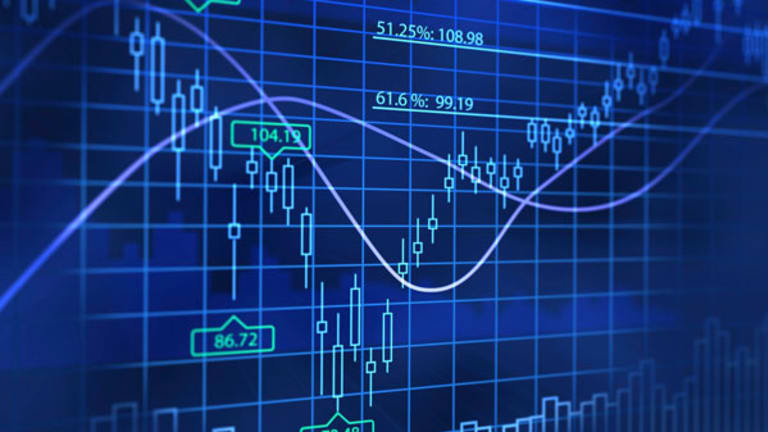 5 Beaten-Down Stocks to Invest in Now
Declines in the broader market are creating some excellent buying opportunities in individual stocks.
MILLBURN, N.J. (Stockpickr) -- Since the end of the first quarter, the S&P 500 has declined nearly 7% and the Nasdaq 100 has declined nearly 8%. This is creating some excellent buying opportunities in stocks that have sold off sharply during that time.
One or more of the following factors could be responsible for many of these stocks' declines:
1. Lower second-quarter estimates, despite good first-quarter earnings reports, due to concerns over exposure to Europe
2. Negative impact from the rising dollar and sinking Euro and emerging-market currencies
3. A continuation of concerns over the five-year-old housing and financial crisis
4. Profit-taking after trading at all-time highs in April
5. Being a good stock in a bad sector or being associated with a company that has problems.
>>5 Rocket Stocks for the Snapback Rally
Let's take a closer look at
five of theses beaten-down stocks
that are presenting excelling investment opportunities now.
Fossil
Fossil
(FOSL) - Get Fossil Group, Inc. Report
, the luxury watch, handbag, footwear and apparel retailer, took one of the biggest one-day hits to its stock price in many years when the company reported its first-quarter results earlier this month. The company had reported better bottom-line results but disappointed on the top line. Then the company lowered full-year guidance by 10 cents. That is just 2% of a reduction to guidance. Still, second-quarter sales are expected to rise 16% in total and 19% in constant dollars.
As a result, the stock got pummeled. Of course, there were negatives. Sales missed targets for the period. Jewelry and eyewear product lines experienced sales declines. European sales are expected to be weak due to the economic problems over there. The strong U.S. dollar is impacting sales by about 3%.
Once you dig deeper, you see that all is not so bad. Asian and direct-to-consumer sales are screaming. Wholesale sales rose 9.3% in North America, 18.8% in Asia, 4.7% in Europe, and 18.7% for direct-to-consumer on a constant currency basis and when adjusted for foreign exchange rate variations, sales grew by 8.8%, 19.5%, 0.7% and 18.1%, respectively. The company is getting rid of underperforming stores and products lines. The integration of the Skagen Designs acquisition and related transactions costs will be a one-time 7-cent drag on earnings in the second quarter.
Fossil remains a premier brand and did not deserve a selloff of the magnitude that it received as the growth story is well intact. The stock now stands at about 48% below its all-time high set in April.
As of the most recently reported quarter, Fossil was one of
Lone Pine Capital's top holdings
. It was also featured recently in "
8 Stocks Spiking on Unusual Volume
."
Apple
It is hard to put anything but superlatives onto the performance of
Apple's
(AAPL) - Get Apple Inc. Report
operations over the course of the past several years, let alone its two most recent blowout quarters. The company has managed to cripple
Nokia
and
Research In Motion
( RIMM) in the global smartphone business and is taking market share away in desktop computing.
An updated version of the iPhone is expected later this year. Stories are also circulating about yet another version of the iPad, an iPad mini to compete on a price basis with
Amazon's
(AMZN) - Get Amazon.com, Inc. Report
Kindle and
Barnes & Noble's
(BKS) - Get Barnes & Noble, Inc. Report
Nook. Furthermore, some dramatic and hopefully well-received changes will be made to its laptop line later this year. A fully integrated Apple television is rumored to hit stores late next year. The iTunes store is a huge cash cow for the company.
>>10 Stocks Poised to Rise in Apple's Wake
Speaking of cash, Apple is slated to initiate a quarterly dividend of $2.65 per share beginning in its July quarter. Furthermore, a $10 billion share repurchase program will begin in the company's first fiscal quarter of 2013, which begins on Oct. 1.
The stock has surged so far this year but has pulled back from its high level of $644 set in April by over 10%. Earnings are expected to surge 70% in 2012 and 15% in 2013, both of which may be conservative estimates when considering all that I mentioned before. Yet the stock now sells for just about 12 times current year's earnings and 10 times forward estimates.
Apple has a tendency to rise dramatically, pause with a shallow pullback of about 10%, base and then surge again. I think we are entering that basing phase.
Apple, one of the
top holdings at David Tepper's Appaloosa Management
, was also featured recently in "
5 Huge Stocks Breaking Out This Week
."
Priceline.com
Priceline.com
(PCLN)
, the "Negotiator," had certainly seen its stock price negotiated lower the past few weeks. The stock is nearly 15% below its all-time high set in April.
The company is a quintessential UPOD: under-promise and over-deliver. That is what it did again this time around. The company over-delivered for the first quarter and under-promised for its second quarter. The earnings report was a blowout, with earnings of $4.28 exceeding estimates of $3.95. The company has reported an average 8% beat on estimates over the last five quarters.
But when guiding forward, the company issued these painful words: "Economic conditions in Europe remain a challenge and are reflected in the lower relative growth rates in southern peripheral countries and a weakening of the euro, which puts pressure on our dollar-denominated results. We also now see changes in the political environment which add additional uncertainty."
>>5 Tech Stocks to Buy Instead of Facebook
We know that in the U.S. and for U.S. citizens, travel is up.
Walt Disney
(DIS) confirmed that to investors with its earnings report. The strong U.S. dollar should actually help with travel abroad.
Priceline.com is set to grow earnings by 35% in 2012 (despite the disappointing guidance) and by 25% in 2013, yet the stock sells for about 21 times current year's earnings. That is a PEG of well below 1, making it one of the cheapest stocks in this portfolio.
As of the most recently reported quarter, Priceline shows up in
and is also one of the
top holdings at Lee Ainslie's Maverick Capital
.
Ford Motor
U.S. automobile sales are expected to rise to 14.3 million vehicles in 2012, from 12.8 million units in 2011 and 11.6 million vehicles in 2010 and after cars sales hit their lowest levels in decades during 2008 and 2009 of about 10.4 million to 10.5 million vehicles. We are headed for the best year in domestic sales since 16.1 million vehicles were delivered in 2007.
For March,
Ford
(F) - Get Ford Motor Company Report
reported that sales rose 5% percent for cars and 9% for its signature F-series pickup truck. Ford and Chrysler will be curtailing or slimming down typical summer shutdowns to keep production moving along.
>>5 Stocks Poised to Pop on Positive Earnings
Ford is expected to earn $1.48 in 2012 vs. $1.51 in 2011. On a preliminary basis, earnings per share of $1.72 are expected by analysts in 2013. Why are expectations off for 2012 despite the strong showing in the U.S.? The answer is quite simple: Europe.
After nearly six years of not paying a dividend, Ford reinstated the dividend in 2012. The stock is hated by traders, having fallen over 28% from its 52-week high.
Selling at 7 times this year's earnings, Ford is just too good of a bargain and too oversold to overlook.
As of the most recently reported quarter, Ford was one of the
top holdings at David Tepper's Appaloosa Management
.
Caribou Coffee
Caribou Coffee
( CBOU) is plagued by guilt by association with
Green Mountain Coffee Roasters
(GMCR)
, which reported a poor quarter and guided significantly lower for the near future.
Green Mountain suffers from inventory problems -- specifically, from having too many Keurig machines and K-Cups on hand and in channels. It is also still under the cloud of an SEC investigation into its accounting practices. Finally, the company ousted its founder and CEO.
So when Caribou Coffee reported results that were 2 cents better than expected, the company warned that because of moderating K-Cup demand, the company was lowering its growth expectations to a range of 6% to 8%, from 10%. When you read between the lines, we see that Caribou is suffering because of Green Mountain's problems, not because of any mistake that Caribou made itself.
Caribou stock now sells at 37% below its all-time high set in April and is an excellent long-term investment. Falling coffee prices will be offsetting any perceived sales slowdown in the future.
To see these stocks in action, visit the
5 Beaten-Down Stocks to Invest in Now
portfolio.
RELATED LINKS:
>>5 High-Yield Stocks Ready to Boost Dividends
>>5 Stocks Poised for Braekouts
>>5 Value Stocks Insiders Are Snapping Up
Follow Stockpickr on
and become a fan on
Facebook.
At the time of publication, Rothbort was long AAPL stock and calls and CBOU, PCLN and FOSL stock, although positions can change at any time.
Scott Rothbort has over 25 years of experience in the financial services industry. He is the Founder and President of
, a registered investment advisor specializing in customized separate account management for high net worth individuals. In addition, he is the founder of
, an educational social networking site; and, publisher of
The LakeView Restaurant & Food Chain Report
. Rothbort is also a Term Professor of Finance at Seton Hall University's Stillman School of Business, where he teaches courses in finance and economics. He is the Chief Market Strategist for The Stillman School of Business and the co-supervisor of the Center for Securities Trading and Analysis.
Mr. Rothbort is a regular contributor to
TheStreet.com's RealMoney Silver
website and has frequently appeared as a professional guest on
Bloomberg Radio
,
Bloomberg Television
,
Fox Business Network
,
CNBC Television
,
TheStreet.com TV
and local television. As an expert in the field of derivatives and exchange-traded funds (ETFs), he frequently speaks at industry conferences. He is an ETF advisory board member for the Information Management Network, a global organizer of institutional finance and investment conferences. In addition, he is widely quoted in interviews in the printed press and on the internet.
Mr. Rothbort founded LakeView Asset Management in 2002. Prior to that, since 1991, he worked at Merrill Lynch, where he held a wide variety of senior-level management positions, including Business Director for the Global Equity Derivative Department, Global Director for Equity Swaps Trading and Risk Management, and Director for secured funding and collateral management for the Global Capital Markets Group and Corporate Treasury. Prior to working at Merrill Lynch, within the financial services industry, he worked for County Nat West Securities and Morgan Stanley, where he had international assignments in Tokyo, Hong Kong and London. He began his career working at Price Waterhouse from 1982 to 1984.
Mr. Rothbort received an M.B.A., majoring in Finance and International Business from the Stern School of Business, New York University, in 1992, and a B.Sc. in Economics, majoring in Accounting, from the Wharton School of Business, University of Pennsylvania, in 1982. He is also a graduate of the prestigious Stuyvesant High School in New York City. Mr. Rothbort is married to Layni Horowitz Rothbort, a real estate attorney, and together they have five children.