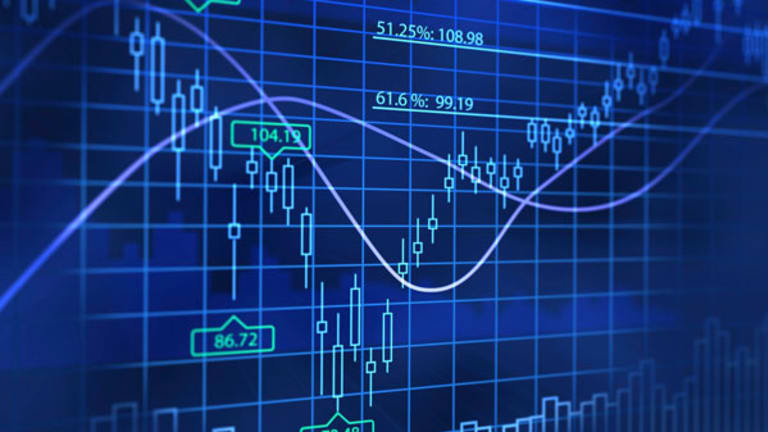 5 Bargain Stocks With Tons of Cash
These cash-rich companies have plenty of options.
NEW YORK (Stockpickr) -- There's an old adage: "Whether you're rich or poor, it's good to have money." That sentiment surely applies to companies as well. Money in the bank means you never have to worry about creditors taking control of your business. And it provides all kinds of flexibility when it comes time to think about a stock buyback, a dividend boost, R&D or a strategic acquisition.
Yet investors often overlook a company's cash balance. They indiscriminately sell off all kinds of stocks when the market falls, failing to distinguish between debt-laden companies and cash-rich ones. As a result, companies in a very strong financial position can see their shares sold off to levels that make little sense.
>>5 Stocks Under $10 Set to Soar
That spells opportunity for value investors. They can snap up these stocks before the crowd realizes just how oversold these stocks have become.
What kind of money are we talking about? In recent weeks, we've seen a number of stocks fall so much that their net cash position (which is cash and investments minus debt) is equal to 40%, 60% or more of their entire stock market value.
>>ACTIVE STOCK TRADERS: Check out Stockpickr's special offer for Real Money, headlined by Jim Cramer, now!
Here are
five cash-rich bargains you should be checking out
.
GM
It's no secret that
GM's
(GM)
stock has been a bust since late 2010. Shares initially approached the $40 mark but are now around $22.
The challenging global economic environment gets some of the blame -- GM makes money here in the U.S., but weak sales are leading to losses in Europe and elsewhere. A sclerotic corporate culture also gets some of the blame. Management recently took the unusual step of telling
The Wall Street Journal
that many longstanding GM employees are hindering the company's progress with their hidebound ways.
GM remains decently profitable, even with those problems. The automaker is expected to earn around $3.50 a share this year and perhaps $4.50 a share in 2013, according to analysts. A more supportive global economy and an eventual improvement in GM's bureaucracy could push that earnings power close to $6 a share by mid-decade. Not bad for a stock in the low $20s.
>>5 Big Stocks Ready to Slingshot Higher
Yet that stock price is really inaccurate. Back out GM's net cash of $27 billion from the company's $34 market value, and the auto business is really valued at around $7 billion, or less than $5 a share. To be sure, GM is expected to make more payments to meet pension obligations, but should still end up with more than $20 billion in cash by mid-decade.
This has been a busted IPO, but better days lie ahead.
As of the most recently reported period, GM was one of
Appaloosa Management's holdings
and also showed up on in
.
Safeguard Scientifics
All the way at the other end of the spectrum (in terms of market value) is
Safeguard Scientifics
(SFE)
, which takes stakes in young, fast-growing companies. Right now, Safeguard has $155 million tied up in these investments, and management hopes to harvest those deals when the acquired assets generate higher prices down the road.
Yet investors should also focus on Safeguard's balance sheet. The company has $231 million in cash and just $46 million in debt, equating to $185 million in net cash. That's more than half of the company's $317 market value.
Digital River
Digital River
(DRIV)
was a hot tech stock in the last decade, thanks to a leading role as a provider of e-commerce platform development for a number of e-tailers and industrial firms. Sales shot up from $100 million in 2003 to $400 million in 2009. Trouble is, demand for such services has cooled and sales are expected to stay around $400 million this year as well.
Even in the absence of growth, the current revenue base is remarkably profitable. Consider that Digital River has generated, on average, more than $100 million in annual free cash flow over the past six years. That helps explain why this company is now sitting on roughly $465 million in net cash. What's harder to explain is the company's market value, which now stands at $489 million after a sharp selloff.
If you back out that cash, that means Digital River is being valued at just $24 million, which is pretty absurd when you consider that the company generates that much free cash flow each quarter. That kind of valuation has attracted the interest of legendary investor George Soros, whose investment firm now owns more than 10% of the company.
Humana
Health care insurance company
Humana
(HUM)
has a problem on its hands. Over the last two years, it has generated a combined $3.6 billion in free cash flow, and is a bit uncertain what to do with all that money. The company's cash balance has been rising quickly, and now sits at a hefty $11.3 billion (net of debt), not far from the insurer's entire $13 billion market value.
Management now concedes that it needs to take action. Humana intends to start spending some of its dough to acquire other health care insurers, especially those that work with Medicaid. Frankly, Humana could make series of deals out of its cash flow and keep its cash balance intact. Perhaps then it could apply some of its cash to a dividend boost, which currently yields a paltry 1.3%, or look to do a major stock buyback program.
For another take on Humana, it was also featured recently in "
7 Value Stocks to Buy in Facebook's Wake
."
Zynga
Online gaming developer
Zynga
(ZNGA)
is surely a busted IPO, rising from $10 at its December, 2010 IPO into the mid teens before crashing to $5. While shares were higher, management was wise enough to go back to the well, raising a further $500 million in a secondary stock offering. As a result, the company is sitting on nearly $1.5 billion in cash and carries no debt. That cash accounts for nearly 40% of the company's entire market value, which is a key reason why value investors are now sniffing around this broken stock.
That cash pile will be quite handy for Zynga, enabling the company to aggressively develop a slate of new gaming titles while privately-held rivals must make do with much more limited funds.
Zynga shows up on recent lists of
Stocks to Buy While Others Are Afraid
and
5 Stocks Hedge Funds Have Been Buying
.
To see these stocks in action, visit the
portfolio.
RELATED LINKS:
>>4 Stocks the Pros Hate -- Buy You Should Love
>>5 Household-Name Stocks Ready to Boost Dividends
>>5 Stocks Insiders Are Jumping Into
Follow Stockpickr on
and become a fan on
Facebook.
Stockpickr is a wholly owned subsidiary of TheStreet.com.
At the time of publication, author had no positions in stocks mentioned.