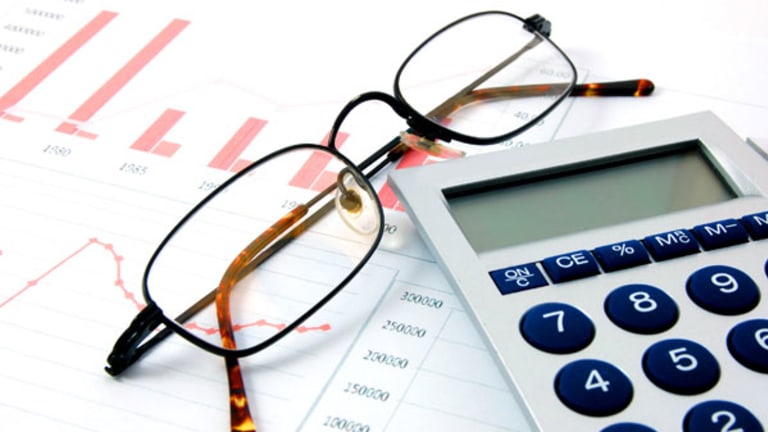 Publish date:
5 Bargain Stocks With High Free Cash Flow Yields
In this environment, investors have the rare chance to snap up stocks sporting FCF yields in excess of 10%.
In this environment, investors have the rare chance to snap up stocks sporting FCF yields in excess of 10%.
Hed 5 Free Cash flow PowerhousesNEW YORK (Stockpickr) -- So many investors focus on earnings per share or EBITDA (earnings before interest, taxes, deductions and amortization) as a key measure of a company's profitability. But it's an open secret that these numbers can be fudged by accountants that are looking to "meet their number." Besides, those profits may not mean much if a company has little left over after paying for capital spending.
That's why it pays to look at free cash flow, which is operating cash flow minus capital expenditures. Positive free cash flow means real money is coming in the door, fattening up the balance sheet in the process.
>>6 Dividend Stocks With Strong Payout Ratios
Yet in the current tough market environment, even companies with a track record of consistent solid FCF are being shunned. That provides investors with the rare chance to snap up these stocks while they are sporting FCF yields (free cash flow divided by enterprise value) in excess of 10%.
With that in mind, here's a look at
.
>>ACTIVE STOCK TRADERS: Check out Stockpickr's special offer for Real Money, headlined by Jim Cramer, now!
Humana
Health insurer
Humana
(HUM) - Get Report
is the poster child for free cash flow yields. That's because Humana's cash balance is so large, that the company's enterprise value (market value plus debt minus cash) is just $1.4 billion. That's less than the free cash flow this company spits out every year, creating a free cash flow yield above 100%.
Why is this company worth so little when cash and debt are excluded? Because investors fret that the overhaul of our nation's health care delivery will impinge upon the profits of health care insurers. That's likely true. Still, these insurers are likely to remain nicely profitable.
>>5 Health Care Stocks Setting Up to Break Out
Analysts have trimmed EPS forecasts for Humana by 5% to 10% since the Supreme Court issued its verdict on "Obamacare." That means Humana is still on track for at least $1.25 to $1.5 billion in FCF annually. That's impressive for a company worth just $1.4 billion.
Humana was also featured in "
7 Value Stocks to Buy Instead of Facebook
."
Best Buy
Best Buy
(BBY) - Get Report
is widely loathed. Competitors such as
Amazon.com
(AMZN) - Get Report
and
Wal-Mart
(WMT) - Get Report
, have been taking market share, and there has been a great deal of turnover in upper management. Investors await signs that new management will be able to come up with a solid turnaround plan.
Shares have fallen from nearly $50 in early 2010 to a recent $19. But in their zeal to sell this stock, it appears as if investors have overlooked one impressive metric: Best Buy generated a hefty $2.3 billion in free cash flow in fiscal (January) 2012. That equates to a FCF yield of 30%.
>>5 Big Stocks Ready to Slingshot Higher
Yet it's fair to wonder if best Buy's current challenges will lead FCF to slump. That's likely to be the case. Analysts at Citigroup see free cash flow falling to $1 billion in the current fiscal year (before rebounding to $1.4 billion in fiscal 2014). That means shares still sport a double-digit free cash flow yield (and close to a 20% based on fiscal 2014 projections).
Few retailers are this cheap right now.
Best Buy, which shows up on a list of
6 Sucker Stocks to Avoid at All Costs
, was also featured recently in "
7 Dividend Stocks That Want to Pay You More Cash
."
Symantec
Security software vendor
Symantec
(SYMC) - Get Report
has seen better days. Shares now trade for half of the levels seen back in 2004. That's because sales growth has been anemic, never rising more than 9% in any of the past four years. In the current fiscal year that ends next March, sales are expected to grow just 2% to around $6.9 billion.
Yet in a series of meetings held with analysts in late May, Symantec's management spelled out a host of drivers that could bump up growth. The key catalyst: The company has reduced its sales management team by 17% over the past three quarters, and re-invested those funds directly back into commission-earning salespeople. As these folks gain traction (which typically takes several quarters), Symantec thinks sales can start rising again at a nearly 10% annual clip.
>>3 Tech Stocks to Trade (or Not)
Yet even as Symantec struggle to boost sales, it remains a free cash flow powerhouse. The company has generated at least $1.4 billion in FCF in each of the past five years. That works out to be a free cash flow yield in the upper teens.
DeVry
It's been a brutal few years for the for-profit education stocks. It's become increasingly apparent that many of the newer operators weren't doing a great job of teaching, and as their graduates were unprepared for the workforce, they were hard-pressed to find good jobs that can help pay back student loans.
But
DeVry
(DV)
, an operator for-profit technical schools, has a much longer -- and more effective -- track record, with roots going back to 1931. DeVry churns out graduates with technical and administrative skills that are always in demand, from health care to accounting to education.
>>5 Rocket Stocks to Buy for Earnings Season
DeVry had been able to ride the wave of rising demand, boosting free cash flow for six straight years to a recent $260 million. That streak likely ended in the fiscal year that just ended (June), but analysts still think DeVry generated nearly $200 million in free cash flow and should keep doing so in the years ahead, good for a double-digit FCF yield.
Merrill Lynch, which rates shares a buy with a $41 price target, thinks DeVry is "a higher quality operator whose diversification strategy should lead to smoother growth over time."
McKesson
In the move to contain health care costs, many insurers are compelling customers to use generic drugs in place of branded drugs whenever possible. That plays right into the hands of
McKesson
(MCK) - Get Report
, which is the largest distributor of generic drugs in the country. It's a solidly profitable business, as seen by annual free cash flow.
The recent Supreme Court decision is actually a benefit for McKesson, according to Goldman Sachs, "given the expected volume boost with 32 million uninsured Americans expected gain coverage by 2019." Analysts don't expect McKesson's FCF to grow sharply, and instead stay in the $2 billion annual range as the company steps offsets rising operating cash flow with increases in capital spending. Still, the chance to buy a stable company that capitalizes on the ongoing migration to generic drugs and sports a 10% FCF yield is a solid bet in an otherwise choppy economy.
To see these stocks in action, visit the
5 Free Cash Flow Powerhouse Stocks
portfolio.
RELATED LINKS:
>>5 Stocks Under $10 Set to Soar
>>5 Telecom Stocks Breaking Out Ahead of Earnings
>>5 Stocks With Huge Insider Buying
Follow Stockpickr on
and become a fan on
Facebook.
At the time of publication, author had no positions in stocks mentioned.
Stockpickr is a wholly owned subsidiary of TheStreet.com.