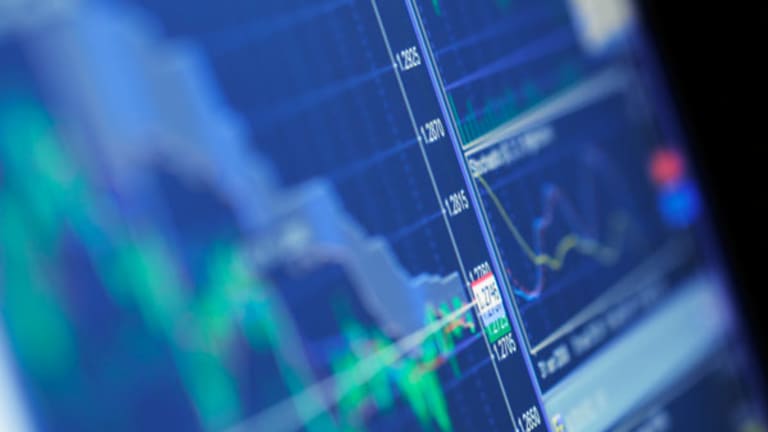 5 Bargain Stocks to Play the Resurgent U.S. Consumer
These stocks stand to benefit from a rising tide of consumer spending in 2013.
NEW YORK (Stockpickr) -- Economists think the U.S. economy is poised for its strongest year in half a decade in 2013, thanks in large part to a solid upturn in consumer spending. Why are they optimistic? Because household finances are finally in good shape.
According to the Federal Reserve, consumers now use 15.7% of their monthly take home pay on mortgages, car loans and other forms of debt. You'd have to go back 30 years to find such a low reading. That's the result of a steady pay down in consumer debt over the past half decade.
>>5 Stocks Set to Soar on Bullish Earnings
And what do U.S. consumers do when they feel flush? They go shopping.
Here are
five companies that stand to benefit from a rising tide of consumer spending in 2013
.
>>5 Rocket Stocks to Buy This Week
Kohl's
Spending at department stores has been on the mend for several years and should rise even higher in 2013, especially as the national unemployment rate continues to drift lower. Investors have already bid up the shares of national chain operators such as
Target
(TGT) - Get Free Report
and
Macy's
(M) - Get Free Report
, both of which trade just below their all-time highs.
In the year ahead, many investors may take note of the fact that retailer
Kohl's
(KSS) - Get Free Report
offers much better value. Shares have fallen more than 20% since mid-November, down to levels seen back in 2000. To put that in perspective, Kohl's base of sales and profits are now 100% higher than they were back in 2000.
Of course, it's been half a decade since Kohl's was able to generate double-digital annual sales gains, thanks to moribund consumer spending. And analysts are anticipating more of the same in the fiscal year that begins in February, as sales are forecasted to grow just 1%. Still, as the U.S. consumer strengthens, Kohls' pace of sales should start to rebound in tandem, perhaps back toward the 5% mark by next year.
Meanwhile, shares are remarkably inexpensive, at just four times likely (January) 2013 EBITDA, on an enterprise value basis. That's roughly half the EBITDA multiple this stock garnered when retail sales were more robust in the last decade.
CitiTrends
The Great Recession of 2008 took a tremendous toll on lower-income consumers, as unemployment rates spiked sharply. And the spending slowdown was surely evidence at urban retailer
CitiTrends
(CTRN) - Get Free Report
, which saw same-store sales fall in each of the past four years.
Despite the weakness in same-store sales, management has still been pursuing a broader growth strategy, opening up new locations at a brisk clip. That helps explain why total sales were able to grow at a double-digit pace in fiscal (January) 2009, 2010 and 2011. Yet with an expanded base of stores (which now totals more than 500), a stabilization and eventual rebound in same-store sales should help this retailer to generate improving top and bottom-line results.
Meanwhile, share have totally washed out, falling from $45 back in 2007 to a recent $13. Back then, this was seen as a solid retail operator targeting inner-city consumers. Once the resurgent consumer is back in evidence later this year, investors are likely to seek out the former highflyers like CitiTrends as turnaround plays.
Sony
"We're still here!" That's the rallying cry being heard around
Sony's
undefined
headquarters these days. The company technology leadership in the 1980s and 1990s, led by its Walkmans and Trinitron TVs, has been supplanted by companies such as
Apple
(AAPL) - Get Free Report
,
Apple's growth has surely been impressive, as sales are likely to reach $190 billion in the current year, compared with an expected $75 to $80 billion for Sony. Still, Apple is worth nearly $500 billion, but Sony's market value has fallen to a paltry $11 billion. Said another way, Apple has a sales base that is 150% larger than Sony's but a market value that is 4,000% larger.
In a bid to fight for market relevance, Sony is taking several steps. First, it is heavily investing in a family of new high-end smart phones that it hopes to launch later this year. The company is already a major player in the video game market, with its PlayStation gaming console, and the company aims to regain traction in the TV market, showing off a line of Ultra-HD TVs at the recent Consumer Electronics Show.
This is a stock that moved above $100 in the late 1990s, was as high as $60 in 2007, was at $40 in early 2011 and now sits at just $15. The long selloff has made this into an intriguing turnaround play, if management can execute on its plans.
Casual Male
In a world in which department stores offer a huge range of items in just one location, other retailers need to seek out niche markets. That's what
Casual Male
(DXLG) - Get Free Report
does, offering a ling of clothes and accessories aimed squarely at large men (in terms of either height or weight).
Several years ago, Casual Male embarked upon a vast streamlining of its business, which led to firming gross margins and higher inventory turns. Trouble is, the slow economy blunted those efforts, and annual sales remain below the $460 million level seen back in 2007 and 2008.
But a perkier economy should start to help bolster results. Analysts predict that sales will rise around 6% in fiscal (January) 2014 to around $425 million, and by mid-decade, sales should return to their former heights. The key difference, this time around, Casual Male is likely to have more solid profit margins, and EPS may approach 50 cents a share -- or more.
It's not a stretch. This retailer earned 99 cents a share back in fiscal 2007, the last time the economy cooperated.
Marine Max
Investors have been anticipating an upturn in leisure spending by bidding up shares of
Winnebago
(WGO) - Get Free Report
, from a low of $6 in late 2011 to a recent $19.
A similar move may be in the offing for Marine Max
(HZO) - Get Free Report
, which is a big player in the boating market. History shows that spending on recreational vehicles (RVs made by firms like Winnebago) tend to move in tandem with boat sales. In addition to boat sales at its company-owned marinas, management has boosted sales of services such as repairs, spare parts, insurance and financing, all of which carry robust profit margins.
As a result, sales and profit trends are improving, even as overall boat sales rebounding at a tepid pace. A firmer consumer economy in 2013 could finally turn this into a solid rebound play.
RELATED LINKS:
>>5 Stocks Setting Up to Break Out
>>5 Stocks Setting Up to Break Out
>>5 Stocks That Want to Pay You More This Quarter
Follow Stockpickr on
and become a fan on
Facebook.
Stockpickr is a wholly owned subsidiary of TheStreet.com.