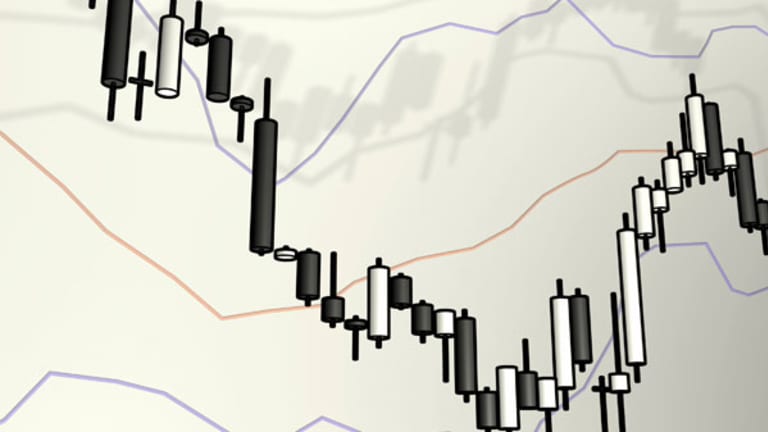 5 Bargain Stocks to Buy Before 2013
It might not feel like there are any glaring bargain stocks out there -- but oh, there are.
BALTIMORE (Stockpickr) -- With the S&P 500 up double digits this year, it certainly doesn't feel like there are any glaring bargain stocks out there -- but oh, there are.
Back in April, "stocks are cheap" was the cool thing to say on Wall Street. But as stocks rallied hard from June to today, investors suddenly changed their tunes:
Stocks may be cheap, but we don't want to buy them
. The rally has been used as an excuse to stay that stocks are overpriced, but a closer look shows that they're not.
>>5 Stocks Poised for Breakouts
Yes, this quarter's rally has been sizable, but fundamentals like earnings and dividend payouts have more than made up for the price appreciation in big indexes like the S&P 500. That's left a handful of ignored stocks looking like bargains in this market - and with investor sentiment at an extreme low right now,
have an opportunity to grab them while they're cheap.
Of course, I'll throw in my standard caveat when I'm talking about value in the stock market: stocks are cheap doesn't mean that
all
stocks are cheap. Stock picking still matters in this market.
In our search, we're focusing in on stocks that currently trade at or under book value per share -- a number that (generally) means that a company costs less to buy than the value of the stuff it owns.
>>5 Stocks Hedge Funds Love -- and So Should You
Often, stocks trade under book value for good reasons. It could mean, for example, that a company has a major black cloud ready to disrupt its businesses, or that its liabilities are under-represented on its balance sheet. To combat those value traps, we're focusing on larger bargains with consistent profitability, and assets that are primarily financed with equity rather than debt.
Without further ado, here's a look at
from Wall Street's bargain bin.
Capital One Financial
When it comes to bargains, banks can be a dangerous place to look. That's a big part of the reason why all of the big U.S. banks trade for superficially low price-to-book ratios right now. But there's an exception in
Capital One Financial
(COF) - Get Capital One Financial Corporation Report
, the $35 billion bank that's probably best known for its commercials that feature rampaging Vikings. This bank's financial situation is as unique as its marketing.
>>10 Most Profitable Banks Trading Below Bank Value
That's because until recently, Capital One's traditional banking business has mostly been an afterthought. Instead, the firm focused on pushing its credit cards, rising to the point of becoming one of the biggest issuers in the U.S. Traditionally, the firm has limited its credit risk by securitizing that credit card debt and selling it to the market in order to finance new cards, but with the credit crunch of 2008, Capital One took advantage of some deeply discounted peers to build its base of dirt cheap deposits. The firm bought ING's U.S. online banking business and acquired smaller regional names for a brick-and-mortar presence as well. With rates at record lows and investors averse to risk, Capital One is able to acquire deposits for peanuts and lend them to consumers at much higher rates.
Capital One has proven adept at measuring its borrowers' risk in the last few years, and now, with increased lending transparency, it should be able to do an even better job keeping losses low. While lending competition is heating up, COF's household-name brand and non-big-bank status should help it to attract borrowers and depositors for the foreseeable future.
Capital One also shows up on a recent list of
9 Consumer Finance Stocks to Consider
.
State Street
State Street
(STT) - Get State Street Corporation Report
is another special case in the banking business. Unlike its traditional big banking peers, State Street is a trust bank. That means that it focuses on asset management, custody, and administration instead of retail and commercial lending. Because of that, State Street's revenues aren't earned on the spread between the rates they charge and the rates they pay; they're earned on stable fees.
>>5 Bank Stocks Bernanke Can't Hurt Anymore
There are a few tailwinds that should help State Street grow its income statement in the next couple of years. The first is stocks. With an equity rally that's already sent the S&P more than 13% higher this year, State Street is looking at expanding assets under custody -- and since the firm is paid on the size of the assets it's watching, a climbing market is a good thing for investors.
At the same time, the continued popularity of ETFs is another tailwind. State Street is one of the biggest ETF sponsors in the marketplace, so it benefits by having more products out there.
State Street made some big strides to shore up its financial condition during the financial crisis, and now, with that behind it, the firm's financials look attractive again. With shares trading just around book value right now, STT sports the type of discount that more traditional banks are trading for; that makes this trust bank a bargain right now.
Molson Coors Brewing
Shareholders of
Molson Coors Brewing
(TAP) - Get Molson Coors Beverage Company Class B Report
could use a drink right now. Since the start of 2012, shares of the $8 billion beer brewer have meandered sideways, missing out on the lion's share of the S&P's upward momentum. But that could be about to change once investors recognize the value in shares. Currently, TAP trades for book value.
Molson Coors is one of the biggest beer brewers in the world, and one of the big three in the U.S. The firm owns brands like eponymous Molson and Coors as well as Blue Moon, Keystone, and Miller Lite (the latter through a joint venture with
SABMiller
(SBMRY) here in the U.S.). Abroad, the firm owns around 40% of Canada's beer market, and nearly 20% of the beer market in the U.K. That international exposure has been a mixed blessing for TAP of late, giving the firm sales channels that are separated from the U.S., but hammering profitability due to the strength of the dollar since the recession started.
To counter those currency problems, Molson Coors has been looking for growth elsewhere. For starts, the firm has been pouring resources into the craft beer market, the fastest-growing space in the alcoholic beverage business. By introducing premium craft brands that are arms length away from the "big beer" Molson Coors name, the firm is starting to attract dollars from some of the most attractive high-volume beer consumers.
In the meantime, TAP's 3% dividend yield should help to keep investors satiated while they wait for that value to get unlocked.
Hess
New York-based integrated energy company
Hess
(HES) - Get Hess Corporation Report
is working hard to get less integrated right now. The firm shut down the majority of its refining capacity in the last year, finally cutting the cord on the most consistently unprofitable part of its downstream operations. That leaves Hess with total proven reserves of 1.5 billion barrels of oil equivalent in North America, Australia, North Africa and the Middle East, and more than 1,360 gas stations spread across the Eastern U.S.
Management showed guts by slashing at its refinery capacity. Disintegrating operations at an oil producer is a scary prospect for most, but with refinery operations becoming increasingly commoditized, it makes sense to unload the earnings drag. The fact that Hess was willing to do it means that management is willing to do more than just kick the can. I like that a lot.
Like other smaller oil producers, Hess carries some balance sheet leverage with around $7.5 billion in debt. But with more than $850 million in cash and investments and a $4 billion credit facility, Hess isn't likely to have any liquidity problems in 2012. The firm's price to book ratio of 0.89 means that Hess is trading at a bargain during a time when crude spot prices sit just below $90. That makes Hess a bargain right now.
Marvell Technology Group
No one likes chipmakers right now. In fact, no one likes anyone who has anything to do with chipmakers, either. Take,
Marvell Technology Group
(MRVL) - Get Marvell Technology Inc. Report
, for instance. Marvell designs chips used in data storage, networking, and personal electronics; the firm's share price has slid more than 44% in 2012.
So why should you buy this laggard? Because it looks cheap.
Marvell's bread and butter is supplying control chips to hard drive manufacturers. Data storage has been an in-demand market over the last several years as increased use of memory-intense technologies like HD video recording and cloud computing increase firms' storage needs. Hard drive shortages have helped to propel drive makers dramatically higher this year, but Marvell, one of their key suppliers, hasn't gotten the same treatment from investors.
To a lesser extent, Marvell has exposure to another high-growth corner of the technology sector: mobile handsets. With Marvell's wifi technology reaching faster speeds than many competitors on the market right now, the firm's silicon is likely to be featured in more phones in 2013. But the fact that MRVL only trades for 88% of book value doesn't reflect that. That's why this Irvine, California-based firm is one our bargain list this week.
To see these value-centric names in action, check out the
portfolio on Stockpickr.
-- Written by Jonas Elmerraji in Baltimore.
RELATED LINKS:
>>5 Dividend Stocks Ready to Give You a Raise
>>Dow 55,000? It's Closer Than You Think
>>5 Stocks With Big Insider Buying
Follow Stockpickr on
and become a fan on
Facebook.
At the time of publication, author had no positions in stocks mentioned.
Jonas Elmerraji is the editor and portfolio manager of the
Rhino Stock Report
, a free investment advisory that returned 15% in 2008. He is a contributor to numerous financial outlets, including
Forbes
and
Investopedia
, and has been featured in
Investor's Business Daily
, in
Consumer's Digest
and on
MSNBC.com
.