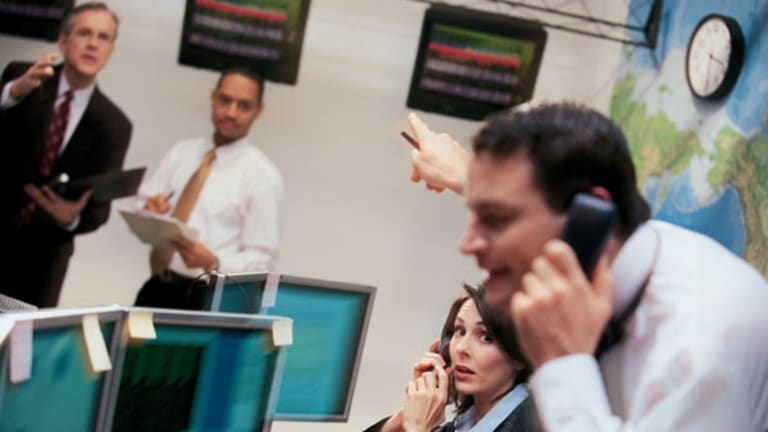 5 Bargain Bin Stocks to Buy in 2013
These book value bargains look cheap now.
These book value bargains look cheap now.
BALTIMORE (
) -- Who doesn't love a bargain?
>>5 Stocks Set to Soar on Bullish Earnings
Believe it or not, bargains aren't dead on Wall Street. Despite the prodigious rise in the broad market over the course of the past few years, fundamentals have largely kept up with stocks' ascent. So while stocks have rallied hard on an absolute basis, many haven't made such insane move on a valuation basis.
That doesn't mean that "stocks are cheap" as a rule right now. Unlike this time last year, there are many conspicuous movers that have reached the valuation stratosphere. But in general, stocks aren't
expensive
as a group -- and
still present bargain buying opportunities in 2013.
To find them, we're tearing the lid off of Wall Street's "bargain bin" today.
In our search, we're focusing in on stocks that currently trade at or under book value per share -- a number that (generally) means that a company costs less to buy than the value of the stuff it owns.
Often, stocks trade under book value for good reasons. It could mean, for example, that a company has a major black cloud ready to disrupt its businesses, or that its liabilities are under-represented on its balance sheet. To combat those value traps, we're focusing on larger bargains with consistent profitability and assets that are primarily financed with equity rather than debt.
>>5 Stocks Poised for Big Breakouts
Without further ado, here's a look at
from Wall Street's bargain bin.
WellPoint
First up is
WellPoint
(
), the $26 billion health benefit company. The firm is the licensee for Blue Cross/Blue Shield in some of the most populous states in the country, giving it a trusted brand name for corporate benefits administrators -- and a client list that spans 35 million Americans. WLP essentially trades for the value of its balance sheet; the firm trades for just 9% over book value right now.
>>5 Rocket Stocks to Buy for Earnings Season
As one of the biggest managed care organizations in the world, WLP has scale in an industry where scale matters. Not only do large operations help to bring down per-user administrative costs, they also give WellPoint considerable leverage when negotiating treatment and service costs with health care providers. And because switching costs are usually high in health insurance (users of employer-offered insurance, typically don't have a choice in providers), that huge scale is unlikely to get reduced in the foreseeable future.
Even though the overhaul of the U.S. health care system adds uncertainty to WellPoint's business, investors are now starting to realize that the downside risks are much smaller than originally imagined. Between a bargain price-to-book ratio and an earnings multiple of just 10, WLP trades for a big discount to peers. While the health insurance business isn't exactly the most exciting, this stock's upside potential is.
Corning
2013 is panning out to be a solid year for
Corning
(
). Shares of the $22 billion niche glass maker have rallied 19% so far this year, just barely edging out the
S&P 500's
year-to-date performance. But this stock is still cheap.
>>3 Hot Stocks to Trade (or Not)
Corning owns some of the most advanced glass technology in the business, providing companies such as
Apple
(
) with its patented Gorilla Glass for iPhone and iPad screens, as well as leveraging its expertise in manufacturing larger, thinner glass panels to serve other display makers. While Corning operates in a handful of businesses, glass used in displays (for everything from screens to internal components) makes up 40% of revenue. Overall growth in how fast consumers are churning their mobile devices should be a shot in the arm for Corning, especially as the firm works at full capacity to keep up with demand for Gorilla Glass.
Consumer discretionary spending is acting as fuel for Corning's other component uses; tech such as flat screen TVs and LCD monitors continues to move off shelves worldwide this year. Even so, GLW looks cheap: The stock trades for a mere 3% premium to book value and sports a 2.67% dividend yield at current share prices. Investors shouldn't ignore this stock's bargain price tag.
T-Mobile US
T-Mobile US
(
) may be a distant fourth in the mobile phone market, but investors shouldn't ignore this stock's bargain power in 2013. T-Mobile is a relative newcomer to the investment world -- the company only became publicly traded earlier this year after acquiring innovative prepaid wireless firm MetroPCS. The combined firm serves 43 million customers across the country.
>>4 Big Tech Stocks on Traders' Radars
Times are changing for T-Mobile. As the company consolidates its business (and puts all of its operations under a single nameplate), it should be able to establish itself as a value player in the mobile market at a time when larger rivals are focusing on its most lucrative customers. Despite its smaller size, TMUS still has enough customer scale to run an efficient business with a sizable infrastructure. The firm has been slower to deploy its LTE coverage than the likes of
AT&T
(
) and
Verizon
(
), but if the firm's focus stays on value, that delay shouldn't pose a competitive disadvantage.
TMUS' MetroPCS acquisition was well-timed. The firm got a bargain pricetag for PCS' nearly 10 million customers, and once it's able to transition them to its own network, substantial cost savings should follow. That only boosts the bargain argument in shares of TMUS right now. The firm trades for less than two times its book value, and it sports an earnings multiple that's just barely in the double digits. On an earnings basis, T-Mobile is currently the cheapest mobile carrier in the country by a long shot.
With shares in a well-defined uptrend, buyers need to be fast if they want to catch a bargain in shares.
Activision Blizzard
While, at first glance, it may look like
Activision Blizzard's
(
) price-to-book ratio of 1.47 disqualifies it from achieving book value bargain status, digging a little deeper into this stock's balance sheet reveals a very different picture. Activision Blizzard currently carries a $4.6 billion cash position, which is enough to pay for around 27% of this company's share price outright at current price levels. That's a bargain.
>>5 Dividend Stocks Ready to Pay You More
Activision Blizzard owns some of the hottest video game franchises in the world, including Call of Duty, World of Warcraft and Diablo. What's unique about ATVI's positioning is the exposure to subscription-based multiplayer games such as World of Warcraft. With WoW, for instance, some 8 million subscribers pay a monthly fee to play the game online with other players in real time. That subscription component provides ATVI with recurring, high margin revenues. And they're sticky too. Because gamers have a massive sunk cost in building characters and attaining status, they're a lot less likely to switch to a competing franchise and restart the process.
The most important result of that is free cash flow. Activision Blizzard converts around a quarter of its sales directly into free cash, which is a substantial amount of value generation for investors. The firm has ample wherewithal invest in new franchises and still make big payouts to shareholders. It's time to buy this stock before current owners get all that loot.
NRG Energy
New Jersey-based
NRG Energy
(
) is another name that's sported some solid performance this year. Since the calendar turned over to 2013, NRG has managed to rally nearly 23%. Compare that with a paltry 12% gain in the
Dow Jones Utility Average
-- there's no contest.
>>3 Stocks With Unusual Volume to Watch
NRG is the country's biggest independent power generation firm, with 47.7 gigawatts of generation capacity concentrated in Texas, California and the Northeastern U.S. NRG isn't just a big power producer outright -- it's also a major name in alternative energy generation. The company owns three major solar generation facilities, four wind farms, and a number of smaller solar generation assets, positioning that makes NRG one of the league leaders in green power.
On the retail side, NRG serves around 2 million customers' power needs. While that retail exposure takes some of the cyclical pressures off of NRG's income statement, the firm still doesn't benefit from the consistency of a more regulated name. That's evident in this stock's price action year-to-date.
With a price-to-book ratio of 0.93, this stock currently costs less than the value of its assets.
To see these value-centric names in action, check out the
portfolio on Stockpickr.
-- Written by Jonas Elmerraji in Baltimore.
RELATED LINKS:
>>3 Financial Stocks to Watch for Breakout Trades
>>5 Stocks Everyone Hates -- but You Should Love
>>5 Stocks Under $10 Set to Soar
Follow Stockpickr on
and become a fan on
Facebook.
At the time of publication, author had no positions in stocks mentioned. Jonas Elmerraji, CMT, is a senior market analyst at Agora Financial in Baltimore and a contributor to
TheStreet
. Before that, he managed a portfolio of stocks for an investment advisory returned 15% in 2008. He has been featured in
Forbes
,
Investor's Business Daily
, and on
CNBC.com.
Jonas holds a degree in financial economics from UMBC and the Chartered Market Technician designation. Follow Jonas on Twitter @JonasElmerraji