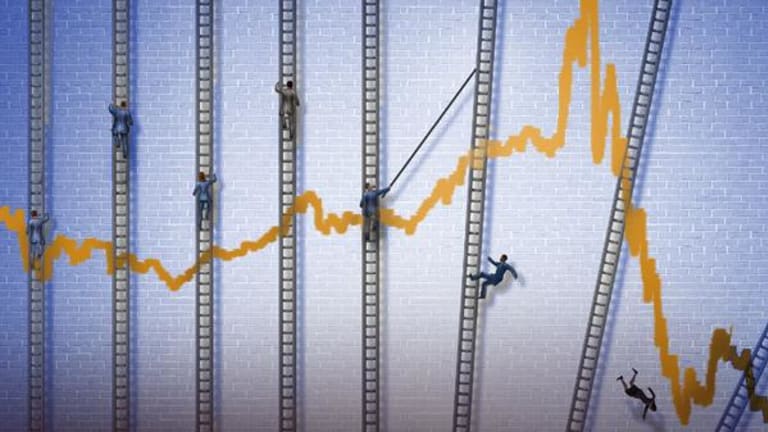 As we hit the eight-year anniversary of the Great Recession's official end, I see increasing risks that we're either about to experience a mild economic downturn or might already be in one. Here's a look at why -- and what smart investors can do to prepare.
Now remember, the Great Recession officially started in December 2007, but economists didn't recognize that we were in a recession until much later. So, I think we're looking down the barrel of a one- to three-quarter pullback, although the bad times might not rise to the level of an official "recession."
Here's why I think we're in trouble:
Disappointing Economic Data
The Citi Economic Surprise Index is one of my favorite starting points for accessing current conditions, and as you can see from this chart, U.S. economic data have been consistently missing expectations since March:
That's partly because economists had become very optimistic about U.S. growth and inflated their forecasts, but it's also because recent economic reports have been disappointing. New-home sales, existing-home sales and durable goods all recently came in weak. We've seen economic data turn weaker before in the past few years, but this time could be different.
Little Progress on President Trump's Business Agenda
Investors and businesspeople were originally optimistic that President Trump's election would usher in an era of less business regulation, more stimulus spending and an easier-to-navigate, much-lower federal-tax regime.
But now, Washington seems to be getting bogged down and splintering even further. It's difficult to believe that U.S. businesses are going to go forward with aggressive expansion plans when neither the latest economic data nor the signs out of D.C. seem particularly good.
The shift from "drain the swamp" to "business as usual" in Washington could serve as a catalyst for the pullback that I'm expecting in both the U.S. economy and the market.
The Russell 2000 Looks Worrisome
Another sign that the U.S. growth story is slowing is the performance differential between the Russell 2000 and the Nasdaq 100 index:
The Russell 2000 is a good indicator of smaller, domestic-focused companies' potential, and in the days immediately after Trump's election, it outperformed the Nasdaq 100 by well over 10% (the green line above).
But RUT has underperformed QQQ by more than 5% over the past few weeks, as you see in the red line to the right of the chart above. That's a large differential -- and one that makes me question the underlying U.S. economy's health.
The Bottom Line: A Pullback, Then More Growth
Now, markets aren't as exposed to a U.S. recession as much as they were in 2007, as we don't have the leverage that existed then and the global economy seems in better shape than it was 10 years ago.
So, I don't expect a deep recession, partly because the current recovery's "strength" has never felt as robust as the economic data make it seem. It just doesn't seem as though growth has benefited everyone in any material way.
This chart of the U.S. labor-force participation rate might explain why. Labor-force participation deteriorated when the Great Recession began, but has never truly rebounded:
While the chart above shows that there's been something unusual about the current recovery, I think it also shows some remaining slack in the economy. I believe that can help support another long recovery once we go through what I think will be a relatively brief dip in economic activity.
So, I look for economic conditions to deteriorate first, then resume another long leg of growth.
How to Play Things
Given all of the above, I'd recommend focusing on safety first, which is right in line with my "Sell in May and Go Away" thesis from last month.
My suggestions:
Avoid Global Oil Plays. Markets are already questioning oil's supply side despite the Organization of Petroleum Exporting Countries' latest cuts, and we should see the demand side called into question as well if the U.S. economy slumps. That said, I'd say you should consider buying energy-infrastructure plays on dips given that the Trump administration wants to boost domestic production.
Play It Safe on the Fixed-Income Side. Own some U.S. Treasuries here, but have little or no exposure to high-yield bonds.
Start Looking to Buy Banks. The market is starting to price in bad news for banks -- low yields, a flat yield curve and reduced trading profits. Look for some credit concerns to arise next. Add it all up and you can soon start to buy back some of what I said last month to sell. 
Beware the Dividend and Low-Volume Stocks. True, these are bond "proxies" -- but they're stocks first and foremost. As such, they'll perform poorly along with the rest of the market if we see a significant U.S. economic downturn.
More Suggestions
How should you prepare for the next recession, and how should you play the markets in June? Check out our special June Trading Strategies report for answers, including our columnists' take on: