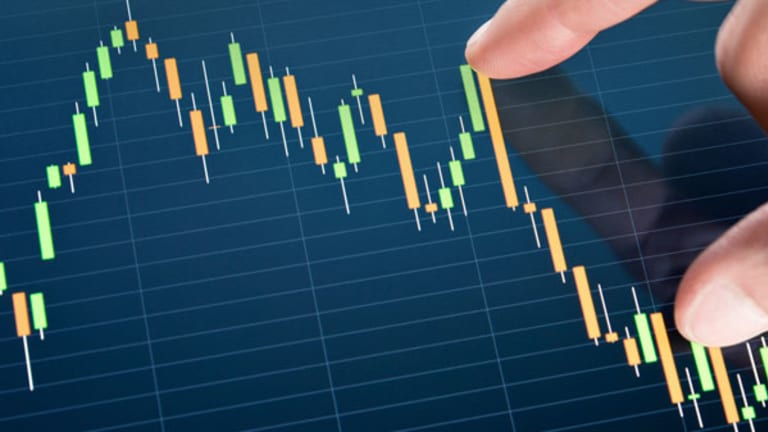 WINDERMERE, Fla. (Stockpickr) -- The U.S. stock market retreated for the second day in a row on Tuesday as investors continued to lock in gains following the news from over the weekend that al Qaeda leader Osama Bin Laden had been killed by U.S. Special Forces.
If you just look at how the overall U.S. averages performed on Tuesday, you would have completely missed some of the massive destruction that was going on underneath the hood. The
Dow Jones Industrial Average
finished the day virtually flat up 0.15 points to 12,807.51, while the
S&P 500
lost only 4.6 points to 1,356.63. The tech-heavy
Nasdaq
lost 22.46 points to close at 2,841.62, while the small-cap tracking Russell 2000 dropped 11 points to finish the day at 843.77.
The more sinister action was seeing in some market-leading stocks that were absolutely hammered during Tuesday's trading session.
Sina
(SINA) - Get SINA Corp. Report
dropped 9.4%,
Sohu.com
(SOHU) - Get Sohu.com Limited Sponsored ADR Report
fell 8.5%,
Baidu.com
(BIDU) - Get Baidu, Inc. Sponsored ADR Class A Report
lost 5.1%, and
Priceline.com
(PCLN)
traded off 2.8%.
Related:
30 Large-Cap Stocks to Beat the S&P 500
One market-leading sector that was completely trashed Tuesday was the silver complex. The
iShares Silver Trust ETF
(SLV) - Get iShares Silver Trust Report
dropped 5.2%, and the
ProShares Ultra Silver ETF
(AGQ) - Get ProShares Ultra Silver Report
traded down over 10%. Some nasty action was also seen in some of my favorite silver miners, such as
Endeavour Silver
(EXK) - Get Endeavour Silver Corp. Report
, which lost 6.5%,
First Majestic Silver
(AG) - Get First Majestic Silver Corp. Report
, which fell 5.1% and
Silvercorp Metals
(SVM) - Get Silvercorp Metals Inc. Report
, which finished down 3.9%.
Silver has been a
leading a sector for quite some time
now, as market players poured money into the precious metal to hedge against a weak U.S. dollar and rising inflation. There's no way to sugarcoat the recent selloff in silver. It's been violent, fast and extremely bearish. Despite those characteristics, silver had a massive run coming into this decline. Profit-taking was bound to happen, and it should be of no surprise that silver was hit hard with selling right after it tagged the psychological important $50 level.
I would now watch to see how the SLV acts as it approaches its 50-day moving average of $37.76 a share. I full expect that level to get hit very soon. If the SLV holds around that area and you see the selling volume lighten up, then look to be a buyer with a tight stop. In fact, I would look to get long everything silver-related I mentioned above if the SLV can hold its 50-day. I would suggest using call options on the AGQ for the most bang for your buck.
Remember, the longer-term uptrend for silver is still intact, but in the short-term, we're going to need to see silver stabilize and stop the sharp drops. It would be constructive to see some sideways trading action in the SLV so a base can be built before the short-term trend can reverse.
Despite all of the destruction underneath the market on Tuesday, there were a
number of stocks that displayed some relative strength and look poised for higher prices
.
Apple
One popular stock that showed some relative strength on Tuesday was
Apple
(AAPL) - Get Apple Inc. (AAPL) Report
, which designs, manufactures and markets a range of personal computers, mobile communication and media devices and related products. This stock is up around 7.8% so far in 2011.
While a number of tech leaders that I mentioned above got drilled, Apple held up and didn't sell off at all. That was an impressive performance for this tech giant, and it shows that the stock has some relative strength.
If you take a look at the chart for Apple, you'll see that is holding up well above its 50-day moving average of $344.41 a share. As long as the stock doesn't trade below this key technical level, then one could be a buyer here with a stop just below that level. Apple also looks poised to trade above a key descending trend line that has been in place since mid-Feb.
Traders should now watch for Apple to trade above that key descending trend line, which would start at around $355 a share. If shares of Apple can manage to trade above that level on strong volume, then the stock could easily be setting up for much higher prices. Look for volume that's well above the three-month average activity of 17 million shares. A move above $355 should start the run for Apple to challenge its
of $364.90 a share.
The way I would play Apple from here to limit some risk, is to buy some near-the-money call options a few months out if the stock trades above that key descending trend line. I would hold those options and let the trade run if the stock breaks out above $364.90 a share on strong volume.
Apple, one of
five tech stocks Goldman Sachs likes
, shows up on recent lists of
Three Stock Picks From Out-of-Favor Funds
and
.
Intel
Another stock that showed some relative strength on Tuesday was semiconductor chip maker
Intel
(INTC) - Get Intel Corporation (INTC) Report
, which develops advanced integrated digital technology products, primarily integrated circuits, for industries, such as computing and communications. Shares of Intel are off to a decent start in 2011, with shares up around 11.5%.
Intel was another tech name that didn't sell off with the rest of the sector on Tuesday, which could mean that traders aren't willing to sell this stock at present levels.
This is cash-rich company, with around $21.88 billion in cash on its books and just $2.3 billion of total debt. The stock is also extremity cheap trading at a trailing price-to-earnings of 11.66 and a forward price-to-earnings of 9.77.
If you look at the chart for Intel, you'll see that the stock has made a nice run off of its April lows at around $19.50 to its current price of just over $23 a share. That run has come on very strong volume with a number of recent up days clocking in at well over the three-month average activity of 62.1 million shares.
Now the stock looks poised to challenge its three-year high at around $23.63 a share, which would mark a major breakout if INTC can move above that level. If INTC takes that level out with strong volume, then watch for the stock to make a run at its next significant resistance levels at around $25 to 28 a share. A move above those levels will set this stock up for a run back to the mid-$30s.
Intel, one of the
top-yielding electronics stocks
, shows up on recent lists of
High-Quality Stocks With Price Momentum
and
Credit Suisse's 4 Stocks With Huge Upside
.
Molycorp
A stock that displayed some notable relative strength on Tuesday was
Molycorp
(MCP)
, a rare earth oxide producer in the Western hemisphere that owns a rare earth project outside of China. So far in 2011, this stock is off to a blazing start with shares up around 48%.
On Tuesday, shares of Molycorp started to break out above some past overhead resistance at around $76.22 a share on huge volume. Volume registered 13.5 million shares, which easily exceeded the three-month average activity of around 6.5 million shares. In early trading today the stock has now started to trade back below that breakout level and is now changing hands at around $70 a share. It is normal for a stock to consolidate some gains, keeping in mind that shares of MCP were up 8.4% on Tuesday.
What traders should watch for now is for MCP to hold its nearest support levels at around $70 to $68 a share. If those levels hold, then it means this stock is basing and consolidating before what could be another big run higher. I would be a buyer on any weakness in anticipation of another run at that breakout level of $76.22 a share. If we can clear that level again with solid volume above 6.5 million shares, then I think MCP will be off to the races. My near-term target here is for a move towards $100 a share, so buying this stock off of any weakness could lead to huge profits.
Related:
10 Commodities Stocks With Upside
The best part about trading MCP right here is that you have some clear defined support levels that will easily get you out of the trade if the stock isn't ready for prime time yet. Again, those levels are at around $70 to $68 a share. As long as those levels hold, then the current uptrend in the stock should remain in place. One way to play MCP to limit some risk is to buy some out-of-the-money call options that are a number of months out before expiration.
Keep in mind that MCP is heavily shorted with over 24.2% of the tradable float currently sold short by the bears. If this stock can break out again, then those shorts could be sent scrambling to cover their positions, which will push the stock up even higher.
Avalon Rare Metals
Another stock that displayed some relative strength on Tuesday was
Avalon Rare Metals
(AVL)
, a Canada-based mineral exploration and development firm. Avalon Rare Metals primary focus is on rare metals and minerals, including tin, lithium, tantalum, niobium, cesium, indium, gallium, zirconium and calcium feldspar. So far in 2011, this stock has been red hot, with shares up around 44%.
If you take a look at the chart for Avalon Rare Metals, you'll see that the stock is approaching two major technical levels that traders should be watching closely. First, the stock is within shouting distance of breaking above a key descending trend line that would be triggered at around $9.50 a share. Second, the stock is only about one point away from hitting a major breakout if it can trade above $10.11 a share.
Traders should be watching this stock very closely right now because volume on Tuesday was 7.5 million shares as the stock finished the day up 3.9%. That volume was well above the three-month average volume of 4.5 million shares. All we need now is for AVL to take out those two key technical levels I mentioned above and the stock should be ready to rip higher.
I would be a buyer of AVL if you see it trade above that key descending trend line. I would then add to the position if it takes out $10.11 a share. I would not feel confident about this stock until it takes out that descending trend line on the upside. One could be a buyer of the stock off of near-term support at around $8.55 to $8.70 a share with a stop just below the 50-day
of $8.12 a share.
To see more stocks that have displayed relative strength of late, check out the
portfolio on Stockpickr
-- Written by Roberto Pedone in Winderemere, Fla.
RELATED LINKS:
>>3 Stocks With Growth Potential
>>5 Defensive Stock Short-Squeeze Plays
>>5 Technical Setups to Kick Off May Trading
Follow Stockpickr on
and become a fan on
Facebook.
At the time of publication, author had no positions in stocks mentioned.
Roberto Pedone, based out of Windermere, Fla., is an independent trader who focuses on stocks, options, futures, commodities and currencies. He is also an outside contributor to Beconequity.com and maintains the website Maddmoney.net, which he sold to Blue Wave Advisors in 2008. Roberto studied International Business at The Milwaukee School of Engineering, and he spent a year overseas studying business in Lubeck, Germany.